Subscribe Now
Keep up with the latest news with our magazine and e-newsletter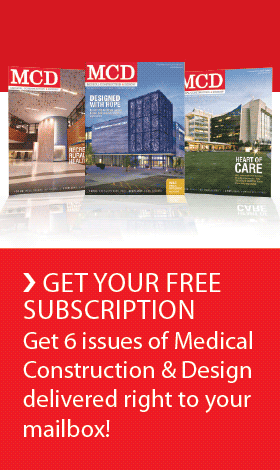 Subscribe to our E‑Newsletter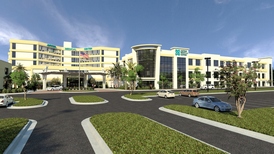 $44 Million Project Includes Three-Story Hospital Addition, 50,000 SF of Renovations
JACKSONVILLE, Fla. — The Haskell Company has been awarded the design-build contract to complete $44.2 million in additions and renovations to Jupiter Medical Center in Jupiter, Florida . Haskell will design and build the Florence A. De George Pavilion, a three-story, 75,000-square-foot hospital addition to be added to the existing hospital as well as renovate more than 50,000 square feet of the hospital on multiple floors and departments.

"The demand for the specialized healthcare Jupiter Medical Center provides is outpacing our capacity within our existing facility and we believe this is an opportune time to expand and renovate the hospital," said John Couris, CEO of Jupiter Medical Center. "As we expand our services to meet the growing needs of the community, we will maintain our reputation for clinical excellence and continue to strive toward our goal of becoming a Top 100 hospital in the United States ."
The first floor of the Florence A. De George Pavilion will include an entrance lobby, new executive offices, a cafeteria, kitchen and dining room, and a coffee shop. The second floor of the addition will house a new obstetrics unit with eight labor and delivery rooms, 15 postpartum rooms, two Cesarean birth and delivery rooms, a Level 2 Neonatal Intensive Care Unit, a holding nursery and miscellaneous support services. The third floor will include 28 private orthopedic and neurological patient rooms with a rehabilitation gymnasium. Haskell will also construct a new 9,000-square-foot Raso Education Center and upgrade the campus central energy plant.
Major renovations to more than 50,000 square feet of the existing Jupiter Medical Center will occur simultaneously with new construction. The renovations will take place on several floors and departments within the facility and will include a new entrance to the current hospital.
Construction on the new additions and renovations at Jupiter Medical Center will begin in the fall of 2011 and is expected to be complete in the spring of 2013. 
"We are honored to be selected as the design-build firm to help Jupiter Medical Center meet the needs of its patients and expand its services," said Paul Tyler , president of Haskell's Commercial Group, which includes the company's award-winning Healthcare Division recently named by Modern Healthcare magazine as the No. 1 Healthcare Facility Design-Builder in the United States. "Our proven design-build delivery process will allow us to stay on time and budget as we construct and renovate the hospital's facilities. It is our goal to create a modern hospital that delivers the best healthcare services efficiently and effectively to Jupiter Medical Center 's patients."
About Haskell
Haskell is one of America 's leading integrated design-build firms practicing in the general building and civil infrastructure markets. The company had 2010 revenues of approximately $450 million with offices in the United States and Mexico . Haskell was recently ranked the No. 1 Healthcare Facility Design/Builder in the U.S. by Modern Healthcare in its 2010 Construction and Design Survey. More information can be found at www.haskell.com or by calling one of its offices:
About Jupiter Medical Center
A not-for-profit 283-bed community medical center consisting of 163 private acute care hospital beds and 120 long-term care beds, Jupiter Medical Center provides a broad range of services, with specialty concentrations in orthopedics, long-term care, minimally invasive vascular procedures, cancer care and advanced diagnostics. Jupiter Medical Center is affiliated with the University of Miami Miller School of Medicine and is currently in the midst of a major, multi-year growth plan that includes an Emergency Department expansion. The Medical Center has approximately 1,500 employees, 490 physicians and 700 volunteers.
For more information about the services available at Jupiter Medical Center , call (561) 474-2234 or visit www.jupitermed.com.
Posted February 8, 2011
More Articles: