Subscribe Now
Keep up with the latest news with our magazine and e-newsletter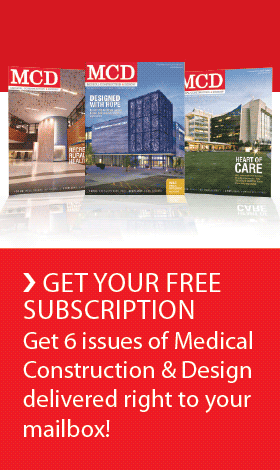 Subscribe to our E‑Newsletter
Leadership Enhances Commitment Towards Healthcare Planning and Design Solutions that Improve Patient Outcomes, Staff Satisfaction and Operational Efficiency
Nashville, Tenn. — Gresham, Smith and Partners, a leading multi-disciplinary design and consulting firm for the built environment, announces Orlando Lopez-Isa, AIA, LEED AP has been named executive vice president of Healthcare. His leadership will enhance firmwide efforts to provide design and planning solutions that improve patient outcomes, staff satisfaction and operational efficiency within healthcare organizations and facilities. GS&P has more than 40 years of healthcare design and planning experience and is currently working on projects across the globe in the United States, China, Korea and South America.
"Our staff is committed to working with Healthcare organizations to improve the quality of care they provide to their communities," commented James Bearden, AIA, chief executive officer, GS&P.  "Federal healthcare reform in the US, increasing urbanization in international communities and integration of advanced technologies are just a handful of issues that are having a dramatic impact on healthcare facility design.  Through Orlando's leadership efforts, GS&P will continue to utilize our comprehensive healthcare staff to address the needs of individual organizations facing these changes and help to position them with a facility that effectively supports their operational goals."
"The capabilities of our healthcare staff are excellent," commented Lopez-Isa.  "We will continue to utilize our multi-disciplinary talent to create evidence-based, fiscally responsible healthcare design solutions. Combining our knowledge on the latest design trends with an understanding of how changes in the healthcare industry are impacting patient care facilities, we are able to balance issues of today with a client's long-term goals to help sustain organizations and position them for continued growth."
GS&P's award-winning healthcare designs have been recognized not only for aesthetic appeal, but for the resulting impact they have on the operations of a facility and improved quality of life in the communities they serve. The firm received numerous local and regional awards in 2010 including a national award from the American Institute of Architects (AIA) and the Academy of Architecture for Health (AAH) for the design of Seoul National University Hospital Medical Mall. In addition to architecture, engineering, interior design and planning staff, GS&P employs a dedicated healthcare research staff. More than 25% of the firm's healthcare personnel have received the Center for Health Design's Evidence-Based Design Accreditation and Certification (EDAC) resulting in the firm becoming the first EDAC Advocate Firm. 
Prior to this promotion Orlando served as division vice president of the firm's Tampa office which he established 14 years ago. He has more than 30 years of experience working in all stages of project development with healthcare facilities. He was a gubernatorial appointee and served as Chair on the Board of Architecture & Interior Design within the State of Florida's Department of Professional Regulation. As Chairman, Orlando signed into effect the Privatization Act which enabled better utilization of resources for the betterment of the profession.  Orlando is active in the business community and is presently part of the Leadership Tampa '11 Class.  His service to the local community includes serving on the Board of Directors of the Children's Home and he is a supporter of various non-for-profits including the American Heart Association,  Juvenile Diabetes Foundation and the Shriners.
About GS&P Healthcare
Gresham, Smith and Partners (GS&P) is a leading design and consulting firm with staff that specializes in serving the healthcare industry in the United States and abroad.  Our ability to develop Healthcare solutions that meet the needs of today and the demands of tomorrow is grounded in research and a solid understanding of industry issues and trends.  For more than 40 years, we've helped create innovative healthcare facilities around the world that profoundly impact the patient experience, staff satisfaction and overall delivery of care.  From out-patient centers and community hospitals to regional healthcare systems and academic medical centers, we listen to our clients and tailor our services to effectively help them reach their operational goals and improve the quality of life within their community.

About Gresham, Smith and Partners
Gresham, Smith and Partners provides design and consulting solutions for the built environment that contribute to the success of national and international clients.  For more than 40 years, GS&P has focused on enhancing quality of life and sustainability within communities.  GS&P consists of industry-leading professionals practicing architecture and engineering design as well as scientists and highly specialized planning and strategic consultants in Aviation, Corporate and Urban Design, Environmental Compliance, Healthcare, Industrial, Land Planning, Transportation and Water Services.  GS&P consistently ranks among the top architecture and engineering firms in the United States.  For more information regarding GS&P, visit www.gspnet.com.
Tags:
Posted February 16, 2011
More Articles: