Subscribe Now
Keep up with the latest news with our magazine and e-newsletter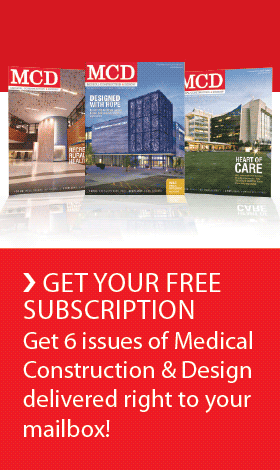 Subscribe to our E‑Newsletter
California Design/Build firm to perform all construction on the new Helen Bernardy Center
SAN DIEGO, Calif.  — ETC Building & Design announced recently that it has been awarded the $5.3 million project to perform all tenant improvement work on what is to be the new home of the Helen Bernardy Center for Medically Fragile Children, a skilled nursing and subacute facility for children and adolescents. The Center is relocating from its current facility to another building on the Rady Children's Hospital campus. The new 14,000-square-foot location will better accommodate the Center's growing needs into the future.

ETC was chosen out of eight submitting firms to perform this project from start to finish, with completion expected by the end of Summer 2011. ETC brings extensive relevant experience to this construction project, with its five-year track record of successful projects for Rady Children's Hospital, its veteran design/build team (with most members having worked decades in design/build), and its unique expertise working in hospital environments.
This challenging project will require intricate construction using a variety of very high-end materials and finishes to create a setting that is both soothing and visually stimulating. The design will incorporate such elements as sculpted wall panels, ceilings with myriad geometric elements, custom hand-welded flooring and innovative use of color. The architectural objective is to provide the most pleasant possible experience for the Helen Bernardy Center's young patients, many of whom are dealing with life threatening illnesses. This approach marks a distinct departure from more traditional clinical hospital environments and is designed to help kids better cope with their very difficult circumstances.
"ETC was one of eight general contractors invited to submit proposals on this project," said Timothy Jacoby, Vice President of Facilities and Planning at Rady
Children's Hospital. "The range of the proposals was very small and very competitive with ETC submitting one of the most competitive proposals. ETC, along with three other general contractors, made the short list for follow up interviews. At the end of the day, what set ETC apart was their enthusiasm for the project and the strength of their project team."
"To work on this project will be extremely rewarding for us," said Michael Essrig, president of ETC. "We've felt very fortunate to work with Rady Children's  Hospital for the past five years on a variety of construction projects to help them provide the best possible environments to children and their families. We strongly support Rady Children's Hospital vision of ensuring that all children in our community can get the very finest health care and we are honored to play a part in this."

About the Helen Benardy Center for Medically Fragile Children
The Helen Bernardy Center for Medically Fragile Children is a skilled nursing and subacute facility for children and adolescents. It is a non-profit corporation located on the campus of Rady Children's Hospital-San Diego. For the third consecutive year (2009, 2010, 2011), U.S. News & World Report has ranked
the Helen Bernardy Center for Medically Fragile Children among the best nursing homes in the country out of more than 15,500 facilities. Registered nurses,
licensed vocational nurses, licensed respiratory therapists, and certified nursing assistants provide 24-hour nursing care to all residents. Attending physicians monitor all residents regularly.
About ETC
ETC Building & Design is a privately held corporation specializing in the design and construction of health care and life science facilities. The firm has completed over 3 million square feet of hospital tenant improvements over the past nine years and recently formed a Biotech Division with a seasoned team of
professionals specializing in projects for the life science sector. ETC is also the foremost provider of seismic retrofitting to health care and biotech facilities in the Western United States, a specialization that is very unique in the construction industry. The variety and complexity of experience ETC has gained, coupled with the abilities of the firm's experienced staff, has earned ETC the reputation as one of the leading healthcare/life science construction firms. ETC is headquartered in San Diego, CA, with offices in Los Angeles and the San Francisco bay area.
Posted February 22, 2011
More Articles: