Subscribe Now
Keep up with the latest news with our magazine and e-newsletter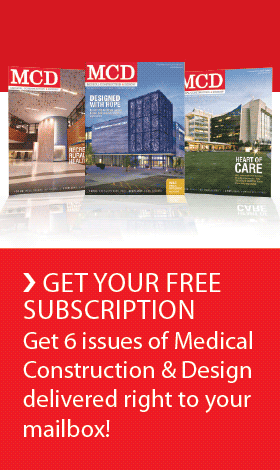 Subscribe to our E‑Newsletter
One of the nation's leading hospital construction management firms, R.J. Griffin & Company, a member of the JE Dunn Construction Group, has emerged as the top-ranked candidate to manage the construction of the St. John's Medical Center $25.9 million expansion and renovation. The Board of Trustees has authorized the hospital staff to negotiate a contract with Griffin. "Upgrading a hospital without disrupting its service to the public is a highly technical undertaking," said St. John's Board of Trustees Chairman Mike Tennican. "We wanted to find a construction manager with deep experience in meeting this challenge."

The role of the construction manager on the St. John's project is to provide pricing, assist St. John's in the selection of sub-contractors and manage all aspects of construction for the hospital. The project will renovate and expand facilities in Oncology, Obstetrics and Surgery and will be funded in part with Specific Purpose Excise Tax (SPET) funds approved by voters in August 2010. The Griffin team that will be on site for the St. John's project is the same team completing work in another mountain resort town at Valley View Hospital in Glenwood Springs, CO.
Along with their abundance of experience, a significant factor in the choice of Griffin included their commitment to maximize the use of local subcontractors. Griffin's INTown Local Purchasing Program creates a positive economic impact in the communities where the project is located. In addition to hiring local field labor, this program calls for purchasing locally as much of the required general conditions for the project (trailer rentals, small tools, printing, etc.) as possible.
Griffin was chosen from sixteen applicants for the construction manager position by the hospital's Facilities Committee, which includes the project's national and local architect team, three members of St. John's administration including CEO Pam Maples, hospital Facilities Director Jim Johnston and three members of the hospital board. In addition to Griffin, the final five candidates for the construction manager position included: GE Johnson Construction of Jackson, WY; Hazelden/ZCM of Casper, WY and Jackson, WY; Brasfield & Gorrie Construction of Birmingham, AL; and Layton Construction of Salt Lake City, UT.
At a special meeting of the hospital board on Wednesday, January 5, Facilities Committee member Joe Albright reported that the choice of construction manager had been narrowed to Griffin and a second firm, Layton Construction Company of Salt Lake City, UT. The full board then authorized the Facilities Committee to complete "due diligence" inquiries and choose a top-ranked candidate. Griffin was chosen on Thursday after extensive due diligence was performed by members of the Facilities Committee.
Posted January 14, 2011
More Articles: