Subscribe Now
Keep up with the latest news with our magazine and e-newsletter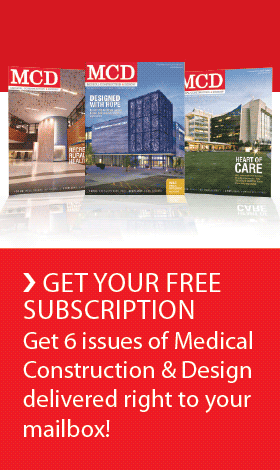 Subscribe to our E‑Newsletter
Where Luxury Meets Healthcare for the Ultimate Personalized Medical Experience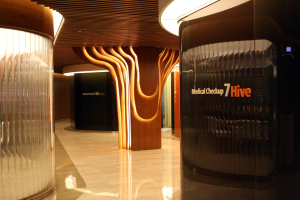 SAN FRANCISCO — KMD Architects, known for its work in both healthcare and hospitality design, merged these two areas of expertise when it transformed 400,000 square feet of existing retail space in Seoul, Korea into The Chaum Center.  Commissioned by world-renowned anti-aging expert and founder of CHA Health Systems, Dr. Kwang Yul Cha, The Chaum Center is an entirely new model of integrative medicine and personalized health care within a setting that feels far more like a five-star resort than a medical facility.

The Chaum Center, spanning six floors, offers complete medical services including a proactive, prevention-driven, highly customized healthcare plan for each member.  It also houses a world-class fitness center and spa offering services such as stem cell facials and a five-star restaurant serving meals nutritionally customized to each member's needs. http://www.youtube.com/watch?v=sWYbCizu9F8
The Chaum Center opened on October 28, 2010 with a star-studded reception that included actresses Kristin Davis and Suzanne Somers, actor Peter Fonda, singer Sheena Easton and Korea's Minister of Health and Welfare, Kim Won-Gil.  The celebrities in attendance were known for their interest in anti-aging lifestyle medicine.
"Dr. Cha came to us with a very clear vision of what he wanted to offer at Chaum, in terms of services and what he wanted to convey about life and health," said Ryan Stevens, Principal and Design Director, KMD Architects.  "Our job was to translate his ideas into tangible design elements and create a medical environment like the world has never seen before." 
"The Chaum Center is a model of how people can live longer, healthier and more vibrant lives by making healthcare social and stimulating," said Dr. Kwang Yul Cha, founder of CHA Health Systems.
KMD Architects designed The Chaum Center based on the philosophy of "diagnosis and care from arrival to departure" in a beautiful, serene environment.  Design elements are purposed to influence emotion and relaxation, creating an inviting, healing environment that blends the best of modern medicine, traditional therapies and integrative treatment.
The building's entrance and circular escalator set the tone of serenity and stimulating energy for futuristic treatments and lavish amenities. Fluid design elements such as continuous walls that ebb and flow, therapeutic colors and stimulating materials appear on each floor.  Upon arrival on the second floor, members are greeted by a dedicated personal care manager and ushered to examination pods for diagnostic testing. KMD Architects designed the examination pods to mimic the structure of a cell, reinforcing the core focus of The Chaum Center. The examination pods are spacious and open, yet private ensuring all tests and diagnoses are kept personal. Contrary to popular medicine and visits with doctors, members are not led from room-to-room to be treated, but rather all resources and equipment are hand-delivered with the utmost of care.
KMD Architects' created a beautiful indoor atrium at the heart of the building, offering the tranquility and lushness of an outdoor garden. Above the second and third floors is a three-story health club, which KMD Architects refreshed and incorporated in the stimulating but therapeutic essence of The Chaum Center. The health club features a five-star rated restaurant offering patients a gathering place for social interaction and epicurean and nutritional education.
About KMD Architects
Since 1963, KMD Architects has combined innovation and creativity to provide healthcare, academic, commercial and corporate architectural services. KMD Architects has offices in San Francisco, Portland, Seattle, Los Angeles, Dallas, Mexico City and the Middle East, and has completed projects in more than 30 U.S. states and 20 countries around the world. The firm has won more than 200 design awards, including 42 from the American Institute of Architects in the past two decades.
Posted January 5, 2011
More Articles: