Subscribe Now
Keep up with the latest news with our magazine and e-newsletter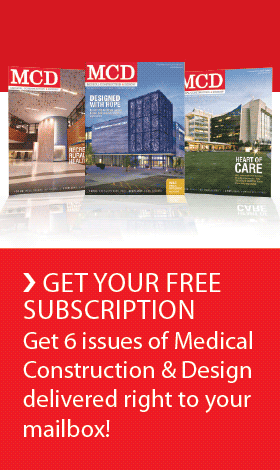 Subscribe to our E‑Newsletter
Scotland County Hospital in Memphis, Mo. is making progress this winter on its $10 million renovation and expansion project. Concrete has been poured on the south side of the hospital for the new emergency department addition.
This phase of the project provides for a new emergency department with triage & trauma exam and support space, new front entrance, new drive under canopy, new central reception, admitting and registration areas, new main lobby and waiting room, vending and public restrooms.
On the north side of the hospital, the new and renovated inpatient rooms are under construction. These new and renovated rooms include handicapped toilets and showers in each room.
Two of the new patient rooms are set up for special care, two more for isolation and two rooms for meeting the needs of the obese patient.
A new nursing station includes a medicine room, dictation area, nursing report room, lockers, administration areas and support, as well as a family waiting area with toilets, a consultation room and chapel.
The old nursing unit renovation will house I.V. and oncology therapy, pharmacy expansion, waiting and consultation rooms, physician's area and conference & education space. For the convenience of the patient and caregiver, a small shelter has been installed on the north side of the hospital, near the parking lot.
This shelter is lit between dusk and dawn and has heat and a bench; no smoking allowed. There is a call station inside the shelter and patients can summons assistance.
There are wheelchairs located at the north entrance, just inside the sliding doors and if patients require wheelchair assistance from the parking lot, the patient or caregiver should call ahead to the hospital at 660-465-8511 or summons wheelchair assistance from the shelter.
Additionally, the new and permanent Helipad has been constructed and is in use on the property that the hospital purchased from the City of Memphis, south of the hospital, off Mety Street.
As a reminder, patients entering the hospital for services, including emergencies are asked to use the North Entrance (off Sigler Avenue) and check in at the Registration/Admissions area just inside the north entrance doors.
Patrons with doctor appointments with physicians at Memphis Medical Services are reminded to use the entrance into the clinic gravel parking lot located off Watkins Street (east of the hospital). This entrance is called Doctors Drive. 
Patients (or family members) may call ahead if they want directions or instructions for parking or entrance into the hospital (660-465-8511) or Memphis Medical Services (660-465-2828) during the construction project.
This project is funded by the United States Department of Agriculture from loans and grants provided through President Obama's American Recovery and Reinvestment Act.
Posted December 25, 2010
More Articles: