Subscribe Now
Keep up with the latest news with our magazine and e-newsletter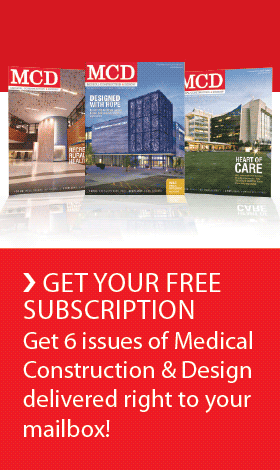 Subscribe to our E‑Newsletter
Only Hospital Expansion Mandated by the New York State Berger Commission on Healthcare Facilities Queens Hospital Center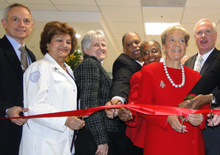 Jamaica, NY – Queens Hospital Center, a member of the New York City Health and Hospitals Corporation, recently announced the completion of 40 new inpatient Medical/Surgical beds to help meet the growing needs for healthcare services posed by recent hospital closures in the borough. The expansion follows the recommendation of the New York State Commission on Health Care Facilities in the 21st Century – known as the Berger Commission – which in 2006 mandated restructuring, consolidation and closing of numerous health facilities. Queens Health Network Senior Vice President Ann Sullivan, MD and Queens Hospital Center Executive Director Julius Wool presided at a ribbon-cutting ceremony today to mark the expansion project, and were joined by QHC Community Advisory Board Chair Julia Blair and Queens elected officials.
"Despite our economic challenges, our hospitals continue to serve as a reliable safety net system that often must fill existing healthcare gaps," said HHC President Alan D. Aviles. "We remain completely committed to providing broad access to quality care, and to rendering care in a manner that steadily improves the health of our communities."
"The Queens Health Network as a whole, and Queens Hospital Center in particular, have for some time managed the daunting aftereffects of the Mary Immaculate, St. John's and St. Joseph's hospital closures," said Ann Sullivan, MD, Senior Vice President of the Queens Health Network. "We welcome the 40 new beds to Queens Hospital's Inpatient Unit, knowing they will alleviate complications caused by the tremendous influx of patients seeking comprehensive healthcare services in their own borough."
"Since 2008, when the Caritas Hospitals closed, we have experienced an increasing demand for our services and have experienced higher volumes in the emergency department, inpatient Medical/Surgical service, primary care clinics, dental services and mental health services," said Julius Wool, Executive Director of Queens Hospital Center. "The 40 extra beds will help us meet the pressing need for inpatient services, while we continue to focus on also providing broader access to primary and preventive healthcare services to help keep our community healthy and out of the hospital."
The 40 new inpatient beds, which are expected to be fully operational by December 22, are part of a larger four-phase $22 million construction and renovation project funded by a New York State HEAL grant and Capital funds, and represent the only hospital expansion recommended by the Berger Commission. Other components of the renovation and expansion project include a 35-bed Psychiatric Unit (completed), the adult Emergency Department (scheduled to start in January 2012) and the Psych Emergency Department (under construction; completion anticipated in December 2011).
"The additional beds at this major healthcare provider are a welcome and necessary addition to the inventory of beds here in Queens, where we faced a shortage of beds for many years," said Queens Borough President Helen M. Marshall. "Our healthcare needs here in Queens are critical, brought on – in part – by recent hospital closings that have overburdened nearby hospitals. We have come to rely on the comprehensive services provided by Queens Hospital Center to enhance quality healthcare that is essential to a growing and aging population. This expansion, sanctioned by the State, will help to meet the challenges facing our healthcare network."
Between Fiscal Year 2007 and Fiscal Year 2010, demand for services at Queens Hospital Center increased as follows:
* Adult Emergency visits increased by 49.8 percent — from 39,979 to 59,746;
* Medical discharges increased by 9.5 percent — from 7,620 to 8,342;
* Hospital occupancy rate rose by 10 percent — from 89 percent to 99 percent capacity;
* Medical primary care visits increased by 9.5 percent — from 57,493 to 62,967; and
* Mental Health services increased by 14.3 percent — from 48,646 to 55,580.
"These 40 beds will in no way ameliorate the conditions caused by the loss of more than 400 beds in this borough, but it is a step in the right direction," said New York State Assemblymember Barbara M. Clark. "As a member of the New York State Assembly, I am glad that I, along with my colleagues in the State, stepped in to help — and it will be my goal to try and identify other ways to assist Queens Hospital Center in coping with the overwhelming demand for inpatient care services triggered by the closures of Mary Immaculate and St. John's Hospitals. One of our next priorities should certainly be the restoration of pediatric beds here at Queens Hospital Center, as we continue to remake this institution into a vital health services center for all members of the community."
"I applaud the addition of 40 new Medical/Surgical beds to Queens Hospital Center's Inpatient Unit," said State Senator Frank Padavan. "These new beds are urgently needed in light of the recent hospital closures in central and southeastern Queens and the resulting adverse effect this has had on the greater Queens community. Increasing Queens Hospital's bed complement, coupled with the expansion of its Emergency Department, can only enhance its growing reputation as a premier community hospital offering consummate healthcare services to all members of the public."
"These new medical beds will make an important contribution to the availability of healthcare services in Queens," said State Assemblymember Rory Lancman, "and begin to address the loss of Mary Immaculate and St. John's Hospitals last year."
A member of the New York City Health and Hospitals Corporation and the Queens Health Network, Queens Hospital Center is a major healthcare provider in the borough of Queens. Its foremost mission is to provide quality, comprehensive care to all members of the public regardless of their ability to pay. The year 2010 marks its 75th anniversary of serving the communities of central and southeastern Queens, having first opened its doors as Queens General Hospital in 1935. Newly modernized – the result of a four-year, $149 million capital project – the hospital officially reopened its doors to the community in January 2002 with a sprawling state-of-the-art facility. Encompassing 360,000 square feet, it is now comprised of 301 licensed beds, spacious ambulatory care suites featuring both primary and specialty services, and cutting-edge equipment. It also houses four Centers of Excellence in Cancer Care, Diabetes Management, Women's Health and Behavioral Health.
During Fiscal Year 2010, Queens Hospital Center had 17,866 discharges; 363,109 outpatient visits; 97,980 visits to the Emergency Department; and 2,093 births.
To learn more about Queens Hospital Center, visit www.nyc.gov/hhc.
Tags:
Posted December 16, 2010
More Articles: