Subscribe Now
Keep up with the latest news with our magazine and e-newsletter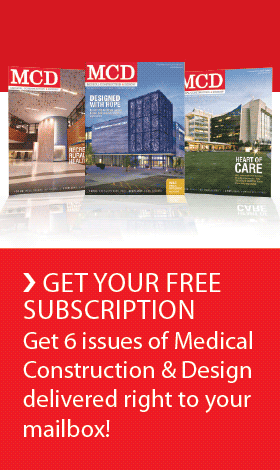 Subscribe to our E‑Newsletter
TAMPA, Fla. — St. Joseph's Hospital is growing to meet the needs of the community with a $35 million project that aims to serve more critical care patients and expand orthopedic services in a spacious and comfortable setting. The hospital recently welcomed its first patients to the new wing that includes 52 private patient rooms, including a brand-new intensive care unit.
"This is a very exciting time for St. Joseph's Hospital," said Pat Donnelly, vice president of patient care services.  "This is the first new wing added to our hospital that was built from entirely new construction.  We were able to build from the ground up with input directly from our nursing staff and patients."
Using evidence-based design, St. Joseph's created an environment with elements known to increase safety and reduce medical errors and infection. For example, each of the private rooms features an identical floor plan that allows the care team to work more efficiently with each patient.  The sink near the door allows visitors to take part in one of the most important patient safety practices: washing their hands while entering and exiting the room.  Decentralized nursing stations decrease walking distance for nurses, allowing them to spend more time at the patient's bedside.  Placement of medication, supplies and nutrition rooms are organized around the process of care delivery to keep resources close to nursing staff.
St. Joseph's Hospital's brand-new intensive care unit provides rooms with support space for families and overnight accommodations for visitors who can be collaborators in care.  Every private suite has a full bathroom and shower – not only for the patients but for their families, who are welcome to stay at the bedside.
A technology column system with physiologic monitors helps nurses keep an eye on the patient and contains controls for emergency assistance and nurse call.  Smart Beds with multiple language option provide simple commands with a recording option for family members who want to provide their loved one with familiar voices as they heal.  Observation rooms with ceiling-mounted monitoring and medical glass allow 360 degree views for nurses to monitor patients with complex medical and surgical needs.
Also included in the two-story, 25,000-square-foot addition is a family-focused care unit designed for patients requiring hospitalization following orthopedic surgery.  Twenty-six patient rooms large enough to accommodate rehabilitation equipment give patients more space to increase mobility and receive therapy services in the privacy of their room.
Bariatrics patients will find comfort in ten rooms designed with compassion for larger patients, who may need special accommodations, particularly if they cannot move easily.  Ceiling lifts help patients change position in their beds and bathrooms have comfortable commodes and showers.  Spacious suites allow these patients to move around their room as they heal.
Located on St. Joseph's Hospital's main campus near the emergency department entrance, the two-story tower expansion is primarily designed to meet the needs of St. Joseph's Hospital critical care patients, add an orthopedics unit and provide additional private patient suites to meet volume demands.
"In our continuing effort to provide the best patient-centered experience for those we serve, we have built two new patient floors designed with the nurse, patient and their family in mind," says Donnelly.  "The recent opening of our new intensive care and orthopedics units marks the beginning of more good things to come from St. Joseph's Hospital."
About BayCare Health System
BayCare Health System is the largest community-based health system in the region, providing expert medical care for a patient's lifetime.  Composed of hospitals and numerous affiliated services, the system connects patients to a complete range of services throughout the Tampa Bay area.  Together, BayCare organizations seek to advance the health of their patients and their communities. 
Member hospitals are Mease Countryside, Mease Dunedin, Morton Plant, Morton Plant North Bay, St. Anthony's, St. Joseph's, St. Joseph's Children's, St. Joseph's Women's, St. Joseph's Hospital-North, and South Florida Baptist.  On the web: www.baycare.org.
Posted December 10, 2010
More Articles: