Subscribe Now
Keep up with the latest news with our magazine and e-newsletter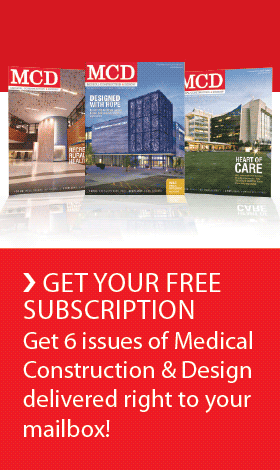 Subscribe to our E‑Newsletter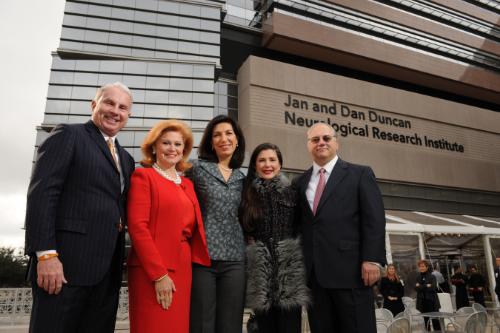 HOUSTON, Texas – – Texas Children's Hospital officially opened the Jan and Dan Duncan Neurological Research Institute (NRI), the world's first basic research institute dedicated to childhood neurological diseases.
Located in the heart of the Texas Medical Center in a uniquely designed 13-floor research tower, the NRI aims to increase the pace of discoveries by pioneering a multidisciplinary research approach to the complex challenge of understanding brain development and function. 
The NRI is directed by Dr. Huda Y. Zoghbi, a Howard Hughes Medical Institute (HHMI) investigator and one of the world's most renowned neurogeneticists. Joining her are 15 investigators and their research teams of 130 scientists recruited from around the world in diverse disciplines such as genetics, neurobiology, physics, mathematics, bioinformatics and behavioral psychology.  NRI researchers will work in specially designed "collaboratories" — open labs that facilitate the free exchange of ideas, information and resources.
Because many childhood neurological disorders share common symptoms and characteristics, NRI investigators will work across a spectrum of diseases including autism, epilepsy, Rett syndrome, cerebral palsy, ataxias and Batten disease.
"By design, the NRI's goal is to transform pediatric neurological disease research by bringing diverse expertise together, supporting it with a strong infrastructure of core facilities, and creating an efficient research environment to increase our understanding of the disease process to set the stage for the development of therapies" said Zoghbi, also a professor in the departments of Pediatrics, Neuroscience and Molecular and Human Genetics at Baylor College of Medicine (BCM).
Zoghbi noted that new scientific insights into the health of the developing brain will lead to greater understanding of the aging brain. For this reason, many NRI studies may also impact disorders such as ALS, Alzheimer's and Huntington's disease. 
The NRI will pioneer a new model of collaboration among researchers, rewarding its scientists for shared expertise and accomplishments as well as individual achievement. "The guiding principle of the NRI is collaboration at every level — interdisciplinary, interdepartmental and inter-institutional," Zoghbi said.
NRI researchers are faculty members of BCM, the academic partner of Texas Children's Hospital, and many are also affiliated with research institutions such as HHMI, Rice University and Telethon Institute of Genetics and Medicine (TGEM), based in Naples, Italy.
According to the World Health Organization, more than one billion people worldwide, including 300 million children, suffer from some form of neurological disease. While neurological diseases are more common than cancer and heart disease combined, the field has received fewer research dollars than either.
"The Jan and Dan Duncan Neurological Institute embodies the mission of Texas Children's Hospital as we embrace the complexity of pediatric neurological research and pledge to bring new understanding and hope to the many families affected by these diseases,"  said Mark A. Wallace,  president and CEO of Texas Children's Hospital.
Wallace cited the support of the Texas Children's Hospital Board of Trustees as instrumental in achieving the bold scientific vision embodied in the NRI and lauded the determination and generosity of many philanthropists, notably, Cynthia and Tony Petrello, and Jan Ellis Duncan, who with her late husband, Dan, made a $50 million transformational gift in 2007.
"This magnitude of pediatric neurological research isn't being carried out anywhere else and is so needed. I am grateful that Dan and I could support Texas Children's in leading the effort to find the causes of these diseases —the vital first step toward new treatments," said Duncan.
The NRI research building, designed by the architectural firm of Perkins+Will and constructed by Houston-based Tellepsen, provides flexible, productive, open laboratory spaces that foster collaboration and collegiality. The twisting tower acts as a vertical bridge that connects the main research floors, while a horizontal walkway connects the building to nearby institutions. With the intent of seeking LEED Silver certification upon opening, the NRI building incorporates several sustainable laboratory design strategies, a noteworthy feature given that research laboratories are high energy users.
A colorful "double helix" design threads playfully throughout the NRI building—both a reference to the research under way as well as a constant reminder of the beneficiaries of the NRI's work, children. 
The official NRI opening was marked by a festive outdoor celebration, followed by building tours, and attended by Texas Children's physicians, researchers, philanthropists, patient families and executives. For more information about the Jan and Dan Duncan Neurological Research Institute at Texas Children's Hospital, visit www.nri.texaschildrens.org.
Posted December 8, 2010
More Articles: