Subscribe Now
Keep up with the latest news with our magazine and e-newsletter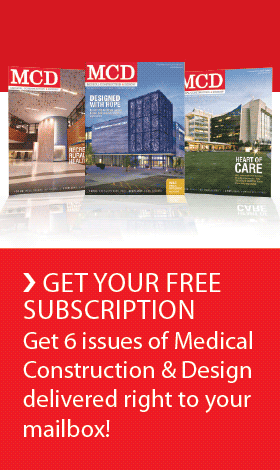 Subscribe to our E‑Newsletter

SAN DIEGO –  The joint venture design-build  team of Clark Construction Group, LLC, and McCarthy Building Companies, in association with architect HKS, Inc., broke ground today on the new $394 million Naval Hospital at Marine Corps Base Camp Pendleton.
The Clark/McCarthy joint venture was awarded a design-build contract for the Naval Hospital Replacement Project at Camp Pendleton by the Naval Facilities Engineering Command (NAVFAC) Southwest on September 1. The new hospital replaces an existing hospital at Camp Pendleton, the largest military training facility on the West Coast.


An official groundbreaking ceremony, hosted by the Commanding Officers of the Naval Hospital Camp Pendleton and Marine Corps Base Camp Pendleton, was held this morning outside the South Mesa Club adjacent to the project site. Remarks were provided by Vice Admiral Adam M. Robinson, Jr., Surgeon General of the Navy.
Planned on a 70-acre site near the south entrance gate just north of Oceanside, the new 500,000-square-foot, multi-level hospital is being funded by the American Recovery and Reinvestment Act (ARRA). The facility will accommodate inpatient medical facilities with 54 patient rooms and up to 60 beds, ancillary departments, emergency care, primary care, specialty care clinics, and support spaces and facilities for non-ambulatory patients who require stays in excess of 24 hours. The primary project goal is to create an appropriately-sized facility that will accommodate efficient staff and patient operations in order to provide modern, safe, and effective medical care for the region's military population and their beneficiaries.
The project also entails site development and construction of a central utilities plant, a 1,500-space, multi-level parking structure, and surface parking areas.
The Naval Replacement Project at Camp Pendleton will be designed and constructed in line with California's seismic safety standards and to receive LEED® Gold certification. 
The contract contains two planned modifications and one option. One of these modifications is to purchase conservation banking credits, which would be approved by the U.S. Fish and Wildlife Service. The second modification is to furnish and install furniture, fixtures, and equipment necessary to support the facility's functions and enhance the move-in coordination and turnover of the hospital. The option is for the construction of additional parking. The incorporation of these modifications and the option potentially would increase the cumulative value of the project contract to $451,248,000.
"We are honored to be designing and constructing a hospital that will play such a critical role for members of the military and their families," said Carlos Gonzalez, Vice President, Clark Construction Group. "In addition to delivering a state-of-the-art medical facility, Clark and McCarthy are committed to providing construction jobs to the local community, with a focus on enhancing opportunities for small and veteran-owned businesses." The project is expected to employ between 700 and 1,000 construction workers. Clark and McCarthy anticipate more than 65 percent small business participation.
HKS Architects, Inc. of Los Angeles is the project architect, and HDR, Inc., of San Diego is the master architect.
Project team members include Monaco/RPM, mechanical design-builder, Federal Logistics/G&C/Bergelectric, electrical design-builder; KPFF Consulting Engineers, San Diego, structural engineer; TMAD Taylor and Gaines, San Diego, mechanical engineer; X-nth, San Diego, electrical engineer; Flores Lund Consultants, San Diego, civil engineer; The EcoLogic Studio, San Diego, sustainability consultant; Tower Glass, San Diego, glass and glazing contractor; and Commsteel/Schuff Steel, structural steel subcontractor.
Navy Medicine West is the sponsor of the hospital representing the Navy Bureau of Medicine and Surgery, and NAVFAC Southwest is managing the project. Since April 2009, NAVFAC Southwest has awarded 107 ARRA projects with a total value of $814 million. The hospital replacement project at Camp Pendleton is the largest ARRA project awarded by the Department of Navy.
About Clark Construction
With its Western Region headquarters in Costa Mesa, Calif., Clark Construction Group – California, LP, is part of Bethesda, Md.-based Clark Construction Group, LLC, (www.clarkconstruction.com), one of the nation's leading providers of construction and design-build services. Clark is the nation's third-largest domestic general contractor (Engineering News-Record, May 2010) and is ranked among the nation's largest healthcare contractors and California contractors.
About McCarthy Building Companies
McCarthy is the nation's 10th largest domestic general contractor (Engineering News-Record, May 2010) and has been ranked among the top five healthcare builders in the nation and among California's top five green contractors (California Construction, May 2010). In Southern California, the firm has completed over $2.4 billion in healthcare work for the region's most elite healthcare institutions.  In addition to San Diego, McCarthy has offices in Newport Beach, Sacramento and San Francisco, Calif.; Phoenix; Las Vegas; Dallas; St. Louis and Atlanta. McCarthy is 100 percent employee owned. More information about the company is available online at www.mccarthy.com.
# # #
Posted December 6, 2010
More Articles: