Subscribe Now
Keep up with the latest news with our magazine and e-newsletter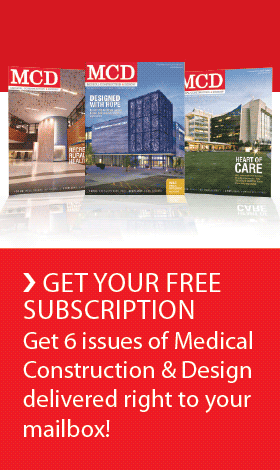 Subscribe to our E‑Newsletter
ALBANY, N.Y. — Albany businessman J. Spencer Standish has made a $1 million gift commitment to support the construction of the new Patient Pavilion being constructed at Albany Medical Center. Standish, who is chairman emeritus of the board of Albany International Corporation, served as a member of the Albany Medical Center board of directors from 1984-1993.

"If you are going to do the best job, you have to have the equipment to do that job," said Standish. "Medical breakthroughs are constantly occurring, and if you've got the latest equipment, which Albany Medical Center will have in the new Patient Pavilion, the community will be able to have better surgical care."
The new six-story Patient Pavilion, part of Albany Medical Center's $360 million expansion, will include enhanced adult and neonatal intensive care units as well as new operating and recovery rooms. The addition of 325,000 square feet of new patient care space will increase Albany Med's capacity to meet patient needs in critical service areas which include transferred patients, inpatient care, and surgical and ancillary services. Expected to be completed in 2013, the project will add 1,000 new permanent jobs and 800 project construction jobs.
A portion of the public space within the new Patient Pavilion will be named in honor of Standish.
"By building this state-of-the-art Patient Pavilion, we are showing our commitment casino australia to providing the very best health care for the people of online casino no deposit our region. Through this gift, Spencer Standish has shown that he shares that commitment," said James J. Barba, Albany Medical Center president and chief executive officer. "We are deeply grateful for all Mr. Standish has done for Albany Med slot machines over the years. He and his family are well-known for their good works play casino all over the region, and we are most thankful for this very generous gift which means so much not only to Albany Med, but to our greater community."
"This is a tremendous vote of confidence in the Patient Pavilion project," said Terri Cerveny, senior vice president for development at Albany Med. "The Standishes' generosity signals internet casino to others that a gift to Albany Med is a wise and important investment in the health and well-being of our families, friends, colleagues, and neighbors far into the future."
A longtime benefactor of Albany Medical Center, Standish made previous gifts to Albany Medical College to create the J. Spencer Standish Endowed Chair in Neurosciences, held by Anthony Ritaccio, M.D., professor of neurology and neurosurgery, and the John H. Carter Endowed Scholarship. Standish received an honorary degree from Albany Medical College in 1998 and in 2006 was named the Individual Philanthropist of the Year by the Albany Medical Center Foundation.
-30-
Albany Medical Center is northeastern New York's only academic health sciences center and the largest private sector employer in the Capital Region. The Center incorporates a 651-bed Albany Medical Center Hospital, one of New York's largest teaching hospitals that includes about 300 physicians of the Albany Medical College Faculty Practice. Albany Medical College, one of the nation's first private medical colleges, educates many of the doctors and other medical professionals that practice in the region and provides residency and continuing medical education programs. Albany Medical Center also supports a biomedical research enterprise to further understanding of illness and discovery of tomorrow's cures. Information about Albany Medical Center can be found at www.amc.edu or www.facebook.com/albanymedicalcenter.
Posted December 28, 2010
More Articles: