Subscribe Now
Keep up with the latest news with our magazine and e-newsletter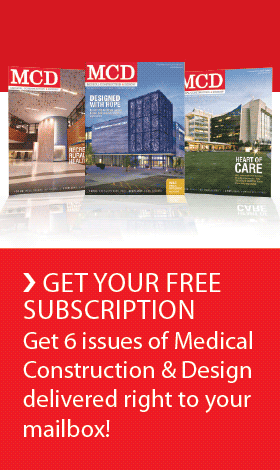 Subscribe to our E‑Newsletter
Suffolk's National Healthcare Group opens office in Nashville, Tennessee, the epicenter of the national healthcare market; seasoned leadership team to provide integrated approach, resources, and strong relationships to firm's rapidly expanding healthcare construction practice
BOSTON — Suffolk Construction Company, Inc., one of the largest privately held construction management companies in the country, announced it has expanded its presence in the healthcare sector by establishing a specialized National Healthcare Group consisting of experienced healthcare construction leaders and construction professionals. Suffolk's new National Healthcare Group will be headquartered in Nashville, Tennessee, a strategic location due to the number of top tier, national not-for-profit and for-profit healthcare organizations headquartered and/or present in the area.

Suffolk's National Healthcare Group and its team members' credentials will help bolster the company's already impressive healthcare project portfolio. In the past five years alone, Suffolk has delivered more than 500 healthcare projects nationwide worth an estimated total value of $2.5 billion. The National Healthcare Group will supplement and help reinforce Suffolk's existing regional teams, expertise, and relationships which will result in stronger momentum and a broader expansion of its healthcare presence nationally.
"Our company's healthcare division has grown by more than 20 percent over the past few years, which demonstrates the strong momentum of the healthcare sector on a regional and national level," says Suffolk CEO John Fish. "Establishing our national healthcare leadership team in Nashville gives us an even stronger presence at the epicenter of the national healthcare construction market, and will allow us to leverage our team's national reach and strong relationships across the entire country."
Extensive national resources supplements regional healthcare teams
A key differentiator of Suffolk's National Healthcare Group is its ability to pair its core team based in Nashville with skilled regional Suffolk teams on major projects. These highly qualified project teams located throughout the country are knowledgeable and experienced with local subcontractors and market dynamics. Regional teams can tap critical company resources including Building Information Modeling (BIM), in-house engineering, comprehensive preconstruction services, and sustainability/LEED programs. Suffolk also uses on-trac, a proprietary project management/tracking tool that supports Web-based, integrated information sharing and updates on live projects.
"This new healthcare construction operating model takes our regional experience and adds a very strong team of healthcare professionals in Tennessee to expand our coverage across the United States," says Rex Kirby, Suffolk President and General Manager, whose responsibilities include the Southeast Region and the National Healthcare Group. "Our regional teams have key relationships with local clients, suppliers and subcontractors while our Nashville team has national relationships and extensive experience in delivering healthcare projects. We will work together to offer our clients the best possible service to assure their healthcare projects are delivered on-time and on budget with the highest quality results."
Leading Suffolk's National Healthcare Group is Executive Vice President Terry Brantley, who has managed healthcare construction projects and programs across the country totaling more than $2.5 billion. During his 30-year career as a healthcare construction executive, he has managed major healthcare client programs for not-for-profit and for-profit systems, including Baptist Memorial Health Care Corporation, HCA, Triad Hospitals, Community Health Systems, and Quorum Health Resources.
Vice President, Director of Operations Chris Gilliam directs construction services for our National Healthcare Group. With a career including 20 years of healthcare construction delivery he has managed not-for-profit and for-profit healthcare construction projects and programs valued at more than $2.0 billion throughout the Southeast, Mid-Atlantic and Southwest.
Director of Preconstruction Services is Craig Mulliniks, C.P.E., who has extensive experience working directly with architects and owner's representatives to provide design-phase management. Throughout his 23-year career, he has been involved in the preconstruction process of more then 200 projects, of which, approximately 80 percent were healthcare facilities.
Project Executive, Paul Moffat, will assist with assembling and leading individual project teams for clients from preconstruction through project close-out. With 18 years of healthcare construction experience for both not-for-profit and for-profit clients, he has lead many substantial healthcare project deliveries in a very diverse geography ranging from Washington state to Florida and Pennsylvania to Texas.
Suffolk's impressive healthcare client portfolio includes notable names such as Massachusetts General Hospital, Partners Healthcare, Jupiter Medical Center, Dana Farber Cancer Institute, Harvard University Medical School, Torrey Pines Institute for Molecular Studies, Children's Hospital Boston, and Brigham and Women's Hospital, among many others. In addition to its newest location in Tennessee, Suffolk Construction has offices in Massachusetts, California, Connecticut, Florida, Pennsylvania, and Virginia. The Nashville metropolitan area is home to Vanderbilt University Medical Center, Ascension Health's Middle TN Medical Center, Baptist & Saint Thomas Hospitals, and headquarters for Hospital Corporation of American (HCA), LifePoint Hospitals, and Community Health Systems, among many others.
Suffolk is a national company with main offices in the Northeast, Mid-Atlantic, Southeast and West Coast. Suffolk's approach, capabilities and offerings are transforming the way clients achieve success in the construction industry. The firm has a commitment and passion for environmentally friendly business practices and sustainable building, a focus on state-of-the-art technologies to support key processes, such as Building Information Modeling (BIM), and a creative and comprehensive approach to preconstruction planning that has resulted in higher quality and lower overall costs for clients.
To contact Suffolk's National Healthcare Group, call 615-514-8100.
Posted November 8, 2010
More Articles: