Subscribe Now
Keep up with the latest news with our magazine and e-newsletter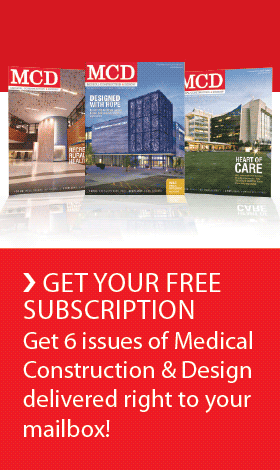 Subscribe to our E‑Newsletter
Replacement Facility Designed to Represent Infallible Spirit of New Orleans and is the First Hospital to be constructed there since Hurricane Katrina
NASHVILLE — Gresham, Smith and Partners, a leading multi-disciplinary design and consulting firm for the built environment, announces that ground was broken on a new three-story, 40-bed St. Bernard Parish Hospital in Chalmette, Louisiana.  The GS&P-designed facility will replace the hospital that was damaged by Hurricane Katrina and then later demolished. The hospital, the first to be constructed there since Hurricane Katrina struck in August 2005, is expected to be completed by March 2012.

The hospital design will provide the community will full healthcare services such as an emergency department, an intensive-care unit, general surgery, orthopedics, endoscopy, imaging and a catheterization lab.  The parish leadership including Wayne J. Landry, chairman, hospital service district, and George Cavignac, vice-chairman, hospital service district, have been integral to getting this project to this point.
"Since Hurricane Katrina destroyed their hospital five years ago, St. Bernard Parish and the surrounding communities have had to receive care from temporary health centers housed in double-wide trailers," Scott McQueen, AIA, Healthcare principal, Gresham, Smith and Partners. "We are thrilled that we have reached the milestone of breaking ground on a hospital that will improve the quality of life for the residents of this community.  The overall design concept seeks to represent the infallible spirit of the people of New Orleans while providing them a therapeutic environment in which to receive state-of-the-art care." 
The design concept for the building is reflective of its location along the Mississippi River.  A curtain wall system with four different shades of vision glass is specified to visually represent a river.  The varying shades of vision glass utilize energy efficient glazing in an innovative way while also allowing spandrel glass to blend among them.  Interior materials, finishes and imagery were also chosen to reflect the vibrant community and culture. 
Design elements were incorporated specifically to help the facility withstand future hurricanes and severe storms.  Because the entire city is below sea-level, the building is being built four feet above its current elevation.  The powerhouse has been raised to the second level so that the hospital can remain functional if the first floor is flooded.  This space can also serve as a make-shift Emergency or Radiology Department, with spaces easily converted for these functions.  Additional generators and emergency power sources will allow the facility to provide treatment to patients during and immediately following severe weather.
Sizeler Thompson Brown Architects and GVA Engineering are contributing to the efforts of the design team.  Hammes Company is the developer/program manager of the campus.
GS&P has provided a variety of services related to rebuilding the Gulf Coast in the aftermath of Hurricane Katrina. Working with Weston Solutions, Inc., GS&P engineers designed a temporary pumping station expansion on 17th Street and London Avenue in New Orleans.  Within eight months, the team designed and constructed two pumping stations to reinforce the levees and storm water pumping system.  These were designed to withstand a threshold category five hurricane and are capable of unmanned operation.
About Gresham, Smith and Partners
Gresham, Smith and Partners provides design and consulting solutions for the built environment that contribute to the success of national and international clients.  For more than 40 years, GS&P has focused on enhancing quality of life and sustainability within communities.  GS&P consists of industry-leading professionals practicing architecture and engineering design as well as scientists and highly specialized planning and strategic consultants in Aviation, Corporate and Urban Design, Environmental Compliance, Healthcare, Industrial, Land Planning, Transportation and Water Services.  GS&P consistently ranks among the top architecture and engineering firms in the United States.  For more information regarding GS&P, visit www.gspnet.com
Posted November 12, 2010
More Articles: