Subscribe Now
Keep up with the latest news with our magazine and e-newsletter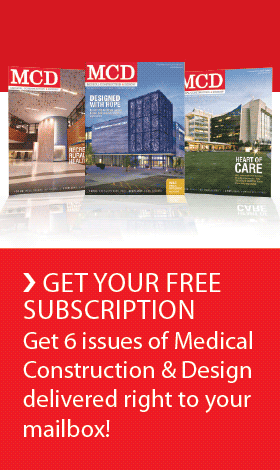 Subscribe to our E‑Newsletter
NORWALK, Conn., — EMCOR Group, Inc., a Fortune 500® leader in mechanical and electrical construction, energy infrastructure and facilities services for a diverse range of businesses announced that its Marelich Mechanical subsidiary has been awarded contracts for the installation of the HVAC and plumbing systems for the Kaiser Permanente San Leandro Medical Center Hospital Tower and the Central Utility Plant in San Leandro, California.

Marelich Mechanical will be the primary mechanical and plumbing contractor for the Hospital Tower and Central Utility Plant.  Marelich's involvement in the project began at its inception, coordinating the BIM (Building Information Modeling) for all major trades from its own offices prior to the site being ready.  Scope of work for the six-story, 434,000 square foot Hospital Tower—which will consist of 12 operating rooms and 264 beds—involves installing the underground utilities feeding the Hospital Tower from the Central Utility Plant, including the steam system, hydronic systems, emergency domestic water system, and medical gas systems.  Scope of work for the two-story, 30,300 square foot Central Utility Plant involves installing chillers, pumps, boilers and air handling units.   
"It's a real honor to be part of such a large and sophisticated project and have the opportunity to continue the relationship we have established with this valued client," stated Keith Atteberry, President and CEO of Marelich Mechanical.  "Marelich has a proven track record of delivering exacting, complex design requirements for mechanical and plumbing systems with reliability and integrity—it's what clients who work with us on a regular basis want, and have come to expect from our highly skilled and experienced resources."
About EMCOR Group, Inc.
A Fortune 500 company with estimated 2010 revenues of $5.0 billion, EMCOR Group, Inc. (NYSE: EME) is a global leader in mechanical and electrical construction, energy infrastructure, and facilities services.  A leading provider of critical infrastructure systems, EMCOR gives life to new structures and sustains life in existing ones by its planning, installing, operating, maintaining, and protecting the sophisticated and dynamic systems that create facility environments—such as electrical, mechanical, lighting, air conditioning, heating, security, fire protection, and power generation systems—in virtually every sector of the economy and for a diverse range of businesses, organizations and government.  EMCOR represents a rare combination of broad reach with local execution, combining the strength of an industry leader with the knowledge and care of 170 locations.  The 26,000 skilled employees of EMCOR have made the company, in the eyes of leading business publications, amongst the "World's Most Admired" and "Best Managed". EMCOR's diversity—in terms of the services it provides, the industries it serves and the geography it spans—has enabled it to create a stable platform for sustained results.  The Company's strong financial position has enabled it to attract and retain among the best local and regional talent, to undertake and complete the most ambitious projects, and to redefine and shape the future of the construction and facilities services industry. Additional information on EMCOR can be found at www.EMCORGroup.com.

This release may contain certain forward-looking statements within the meaning of the Private Securities Reform Act of 1995.  Any such comments are based upon information available to EMCOR management and its perception thereof, as of this date, and EMCOR assumes no obligation to update any such forward-looking statements.  These forward-looking statements may include statements regarding market opportunities, market share growth, gross profit, backlog mix, projects with varying profit margins, and selling, general and administrative expenses.  These forward-looking statements involve risks and uncertainties that could cause actual results to differ materially from the forward-looking statements.  Accordingly these statements are no guarantee of future performance.  Such risk and uncertainties include, but are not limited to, adverse effects of general economic conditions, changes in the political environment, changes in the specific markets for EMCOR's services, adverse business conditions, availability of adequate levels of surety bonding, increased competition, unfavorable labor productivity and mix of business.  Certain of the risks and factors associated with EMCOR's business are also discussed in the Company's 2009 Form
10-K, its Form 10-Q for the third quarter ended September 30, 2010, and in other reports filed from time to time with the Securities and Exchange Commission.  All these risks and factors should be taken into account in evaluating any forward-looking statements.
Posted November 10, 2010
More Articles: