Subscribe Now
Keep up with the latest news with our magazine and e-newsletter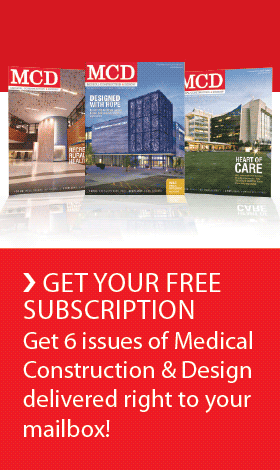 Subscribe to our E‑Newsletter
Maryland Proton Treatment Center Expected to Break Ground in 2011, Open in 2014
The University of Maryland School of Medicine, through its affiliated clinical faculty practice group, is playing a key role in plans for an estimated $200 million project to bring to Maryland for the first time the most advanced radiation technology in cancer treatment, called proton therapy. The School of Medicine's radiation oncology practice plan has signed a letter of intent with Advanced Particle Therapy LLC of Minden, Nev., thus entering into a final exploratory phase for the development of the Maryland Proton Treatment Center, anticipated to be located in a 100,000-square-foot facility in the University of Maryland BioPark on the University of Maryland's Baltimore campus.
The center will be the first in the Baltimore-Washington region to offer proton therapy, the most state-of-the-art technology in radiation treatment for cancer. The medical school's radiation oncology faculty experts, who are members of the University of Maryland Marlene and Stewart Greenebaum Cancer Center team, could begin providing treatments at the center as soon as 2014.
"This is the next-generation improvement in radiation oncology," says William F. Regine, M.D., professor and Isadore & Fannie Schneider Foxman Endowed Chair in Radiation Oncology and interim chair of the Department of Diagnostic Radiology and Nuclear Medicine at the University of Maryland School of Medicine. "It allows us the unprecedented ability to deliver a targeted dose of lifesaving radiation therapy directly to the tumor while minimizing radiation to the healthy tissue. It can result in more effective treatment for patients and fewer side effects. This technology is a powerful new addition to our tool box for fighting cancer."
According to the letter of intent signed by the radiation oncology arm of the medical school's faculty practice plan (University of Maryland Radiation Oncology Associates) and Maryland Proton Treatment Center LLC, the entity set up by Advanced Particle Therapy to handle this project, the University of Maryland School of Medicine faculty will provide clinical management and therapeutic services to the Maryland Proton Therapy Center, including physician services and medical direction. Maryland Proton Treatment Center LLC will design, build, equip, own and operate the center.
"As international leaders in the field of radiation oncology, it is appropriate that our research-intensive institution, in partnership with Advanced Particle Therapy, is taking the lead in working to bring this groundbreaking new cancer-fighting technique to Maryland," says E. Albert Reece, M.D., Ph.D., M.B.A., vice president for medical affairs at the University of Maryland and John Z. and Akiko K. Bowers Distinguished Professor and dean of the University of Maryland School of Medicine. "Our Greenebaum Cancer Center is a National Cancer Institute-designated center, ranked 21st among the nearly 900 cancer centers in the nation, by U.S. News and World Report. It is this world-class expertise that has attracted this project to Baltimore, along with the initial anticipated private investment of $200 million and the addition of new highly skilled, high paying jobs to operate the center."
"Governor O'Malley and I are proud of Maryland's innovative economy and we applaud the University of Maryland School of Medicine for creating this public-private partnership to create the Maryland Proton Treatment Center," said Maryland Lieutenant Governor Anthony G. Brown. "This center will serve 2,000 patients every year, saving lives and helping the state of Maryland build on its legacy as the nation's medical leader. During tough times, the Center will create 325 construction jobs and 110 permanent jobs in our state's growing life science industry.  It will also continue the state's and Baltimore City's investment in the communities of West Baltimore."
"We are excited about the opportunity to explore this important project, which holds the promise to save lives and help to bring additional jobs and businesses to the University of Maryland BioPark and to the West Baltimore community in which our campus has been located since the medical school's founding in 1807," says University of Maryland, Baltimore President Jay A. Perman, M.D.
Advanced Particle Therapy has taken on the same role in the development of a similar center in San Diego, teaming with Scripps Health and Scripps Clinic Medical Group. It is anticipated that the Maryland center will use technology developed by Varian Medical Systems of Palo Alto, Calif., a world leader in radiation oncology equipment.
"We're honored to team with the University of Maryland School of Medicine's nationally recognized radiation oncology faculty to bring this proton therapy center to the Baltimore-Washington region," says Jeff Bordok, president and CEO of Advanced Particle Therapy.
There are currently nine proton therapy treatment centers in the United States, with several more in development, and the technology is used in more than 30 cancer centers worldwide. The closest proton therapy center to the Baltimore-Washington area opened in 2009 in Philadelphia.
"This center certainly will offer our patients a unique approach to treatment in a convenient location close to I-95 and many amenities in downtown Baltimore," said Bill Tucker, assistant dean for Practice Plan Affairs at the School of Medicine and chief corporate officer of University Physicians, Inc., the faculty practice plan. "Location is key to this project, since patients who need proton therapy must come for daily treatments for weeks at a time."
The center, preliminarily scheduled to break ground in August 2011, is projected to generate $50 million in construction, according to Advanced Particle Therapy. The permanent jobs the center will add to the local economy include radiation oncologists, medical physicists, radiation technologists, other medical support personnel and administrative staff.
"Varian Medical Systems is pleased to participate in this exciting venture," said Lester Boeh, Varian's vice president for emerging businesses.  "Our mission at Varian is to focus energy on saving lives. To that end, we have devoted considerable resources toward developing a fully integrated proton therapy system capable of intensity modulated proton therapy.  We also have a long-standing and highly valued relationship with the University of Maryland Marlene and Stewart Greenebaum Cancer Center, and this project will enable us to take another step together toward achieving Varian's goal of helping to save another 100,000 lives per year."
Proton therapy is an advanced technology approved by the U.S. Food and Drug Administration and reimbursed by both Medicare and private insurance. The therapy has been used to treat nearly 70,000 patients worldwide since its inception in the 1950s, according to Advanced Particle Therapy. The technology for this therapy continues to evolve and will allow for its expanded use in treating cancer patients worldwide. The non-invasive, outpatient therapy requires patients to receive about 30 treatments over a four to five week period. Treatments last about 25 minutes each day for five to six days a week. After each 20-minute appointment, patients are free to leave the center and resume normal activities.
The technology uses a proton beam to deliver radiation more precisely to the tumor site than with standard x-ray radiation. "Proton therapy is more controlled, more precise and therefore produces more effective outcomes for certain cancer types," says Dr. Regine, who is also president of University of Maryland Radiation Oncology Associates. "We send the proton beam directly to the tumor and instruct it to release its energy only when it reaches the tumor. We calibrate the proton radiation to the precise size and shape of the tumor, while minimizing radiation exposure to healthy tissue."
Proton beam therapy provides treatment for many common and some rare cancers. This treatment option dramatically reduces the radiation exposure to the areas of the body in the path of the radiation beam. Children are a prime example of this issue, as they are particularly at-risk for the traditional side effects commonly expected from conventional radiation.
"This technology is undergoing rapid evolution, and we're looking forward to exploring its full potential," adds Dr. Regine. "As leaders in radiation oncology, we expect to be a part of the national team of experts that will determine the future of this new therapy. This center affirms our position in that leadership role."
Tags:
Posted October 13, 2010
More Articles: