Subscribe Now
Keep up with the latest news with our magazine and e-newsletter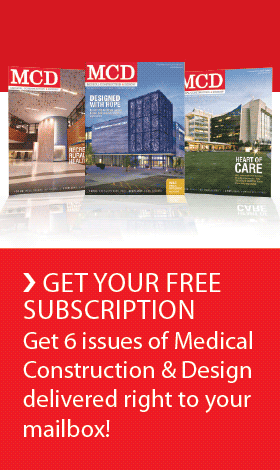 Subscribe to our E‑Newsletter
Veteran Designer Specializes in Proton Beam Cancer Therapy Centers
CHICAGO, Ill.–  Jim McMillen, a healthcare architect specializing in proton beam cancer therapy centers, has joined international architecture, planning and design firm RTKL as a principal in the Chicago office. 
McMillen is a radiation technology expert with extensive and varied experience designing highly specialized imaging and radiation therapy facilities, including several proton beam cancer therapy centers.
Proton therapy is a precise form of cancer treatment that delivers significantly higher doses of radiation with greatly reduced damage to healthy tissue compared to conventional radiation therapy. McMillen has specific expertise in designing the specialized facilities that accommodate proton beam treatment for various forms of cancer.
"Jim's expertise in designing and building technically complex proton therapy centers is vital to expanding RTKL's significant experience in this building type. His reputation in the field of proton therapy architecture is stellar, and he is well-known to the providers of this new modality," said Daniel C. White, AIA, RTKL Vice President and Group Practice Leader for Oncology Design.
An established industry expert, McMillen brings more than 25 years of experience to his position.  He joins RTKL's Healthcare Practice Group from WHR Architects. McMillen holds a master's degree in architecture from The Harvard University Graduate School of Design and a bachelor's degree from Villanova University.
About RTKL:
RTKL is a worldwide architecture, engineering, planning and creative services organization. Part of the ARCADIS global network since 2007, RTKL specializes in providing its multi-disciplinary services across the full development cycle to create places of distinction and designs of lasting value. RTKL works with commercial, healthcare, public clients on projects around the globe. Visit us at www.RTKL.com.
About ARCADIS:
ARCADIS is an international company providing consultancy, design, engineering and management services in infrastructure, environment and buildings. We aim to enhance mobility, sustainability and quality of life by creating balance in the built and natural environment. ARCADIS develops, designs, implements, maintains and operates projects for companies and governments. With 15,000 employees and EUR 1.8 billion in revenues, the company has an extensive international network that is supported by strong local market positions. Visit us at www.arcadis.com.
Posted October 18, 2010
More Articles: