Subscribe Now
Keep up with the latest news with our magazine and e-newsletter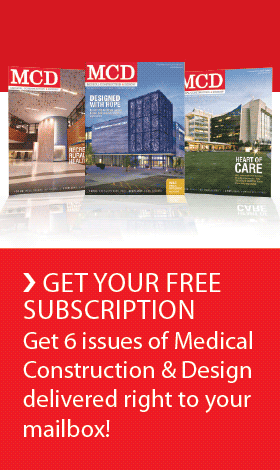 Subscribe to our E‑Newsletter
Hammes Company is helping to bring comprehensive healthcare services back to the New Orleans area in the form of a 40-bed acute care facility and medical office building
CHALMETTE, La., and BROOKFIELD, Wis., — When Hurricane Katrina struck in August 2005, the storm damaged virtually every structure in St. Bernard Parish, five miles southeast of downtown New Orleans – as well as all four hospitals serving the parish and neighboring communities. Incredibly, more than five years later, those hospitals remain closed and parish residents are still making due with a temporary health center housed in double-wide trailers.

But, in a welcome piece of good news for the long-suffering community, ground was broken back in July in the parish seat of Chalmette for the planned $69.1 million St. Bernard Parish Hospital and Medical Office Building (MOB). The program manager for the publicly owned facilities is Brookfield, Wis.-based Hammes Company.
Plans call for a three-story, 40-bed hospital that will include an Emergency Department and an Intensive Care Unit, along with a full range of healthcare services: general medicine, general surgery, orthopedics, urology, endoscopy, radiation therapy, physical therapy and skilled nursing. The hospital could be expanded to 60 beds without additional construction because its design calls for private rooms that would be large enough to be converted to semi-private rooms. The overall size of the hospital could be further increased to 100 beds through additional construction in the form of vertical and horizontal expansions. The two-story MOB will consist of about 40,000 square feet and will house a physician suite, outpatient rehabilitation and administrative offices.
Preliminary site work for the new hospital and MOB is under way and it is anticipated that construction will begin this fall. The project is scheduled to be completed by March 2012.
The architect for the hospital is Nashville, Tenn.-based Gresham Smith & Partners; the MOB was designed by Sizeler Thompson Brown Architects of New Orleans.
The new facilities, which will be owned by the St. Bernard Parish Hospital Service District (HSD), are being developed on an 11.5-acre site donated by the Arlene and Joseph Meraux Charitable Foundation. If more land is needed for future expansion, HSD has an option on another 8-acre future donation from the foundation.
The new hospital and MOB will be located across the road from Chalmette National Historical Park, where the Battle of New Orleans was fought during the War of 1812. But St. Bernard Parish has waged another kind of battle during the past five years. The population, which stood at nearly 68,000 a decade ago, plunged to as little as 12,000 in the wake of Hurricane Katrina. Most of the blight has been removed and, little by little, businesses and basic infrastructure are reappearing. Milestones like a new high school, Winn-Dixie grocery store and Lowe's building center have all helped to lift local spirits in recent years and months. But community leaders say the area can't take the next step in its recovery until it can better provide basic healthcare services.
"After many hurdles, we are delighted to be moving forward with these urgently needed permanent facilities," HSD Chairman Wayne J. Landry says. The HSD Committee also includes Danny Dysart, George Cavignac, John Gray, Jim DiFatta, Dr. Paul Verrette, Dr. Bryan Bertucci and other medical advisors.
"Delivering a full range of high-quality healthcare services to our residents will be another crucial step in the revitalization of St. Bernard Parish," Mr. Landry continues. "As the nation's largest healthcare real estate developer, Hammes Company is providing the expertise and capabilities required to bring this much-needed facility to our communities."
"The hardships St. Bernard Parish endured as a result of Hurricane Katrina were almost unimaginable, but the people's resilience and determination have been equally impressive," Hammes Company Chairman and CEO Jon Hammes says. "We are honored to have been entrusted with the responsibility for helping to bring a broad range of healthcare services back to this area."
Hammes Company has been involved in the project for about three years. The firm was initially brought in by Baton Rouge, La.-based Franciscan Missionaries of Our Lady Health System (FMOL). FMOL took over ownership of the temporary health center in 2006 in partnership with St. Louis-based Ascension Health when an agreement with the U.S. Public Health Service ended. The health center is now operated by Baton Rouge-based Our Lady of the Lake Regional Medical Center, which was also recently selected by the HSD to operate the new St. Bernard Parish Hospital.
HSD hired Hammes Company to be the program manager for the new hospital in June 2008. It has taken more than two years to get to this point because it has been a challenge to raise the $69.1 million needed to build and equip the new facilities. Fortunately, federal, state and local officials have now put together a financing package that will include $41 million in U.S. Department of Housing and Urban Development (HUD) Community Development Block Grant (CDBG) funds, $17 million in Louisiana State Capital Outlay funds, $10 million in U.S. Treasury New Market Tax Credit (NMTC) funds, and $1.1 million in U.S. Health Resources and Services Administration (HRSA) grant funds.

About Hammes Company
Hammes Company is a single source of market-based and financially sound healthcare solutions. The full-service consulting firm is at the forefront of providing strategic planning, facility development, project management and implementation, and real estate acquisition and advisory services to hospitals, healthcare systems, and major physician groups. The company has been ranked as one of the nation's top developers of healthcare facilities for 11 consecutive years by Modern Healthcare magazine. Hammes provides services through a network of regional offices strategically located across the country. For more information, please visit www.hammesco.com.
Posted October 13, 2010
More Articles: