Subscribe Now
Keep up with the latest news with our magazine and e-newsletter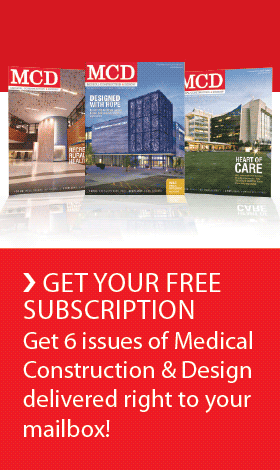 Subscribe to our E‑Newsletter
300,000 Square-Foot Tenant Space Renovated to House 22 Outpatient Specialty Clinics within 880,000 Square-Foot Retail Mall
NASHVILLE, Tenn. — Gresham, Smith and Partners, a leading multi-disciplinary design and consulting firm for the built environment, is pleased to announce Vanderbilt Health at One Hundred Oaks has achieved LEED for Commercial Interiors (CI) Certification from the US Green Building Council (USGBC). Designed by GS&P, the certified project includes renovation of 300,000 square-feet of tenant leased space to accommodate 22 specialty outpatient clinics and support office space within the existing 100 Oaks Mall. The project reduces congestion and creates growth opportunities on the main Vanderbilt campus while showcasing an innovative approach to rehabilitating an existing building.
When considering how to accommodate expansion needs for VUMC, the redevelopment plans for 100 Oaks Mall were reviewed and it was decided the wide open structure of the mall could be perfect for creating flexible, efficient and convenient community health clinics. The Vanderbilt Health at One Hundred Oaks renovation maintained the existing structural elements of the building, construction waste was recycled, and regional and recycled materials were used. More efficient mechanical and lighting systems were installed and 90% of all equipment is Energy Star certified. Public transportation access is simplified through the facility's location on Metro Transit Authority and Vanderbilt University Shuttle routes; bicycle storage and changing rooms are also available onsite. Click here for detailed list of design and construction features which received LEED-CI credits.
"While incorporating elements of sustainability, the design and development process focused on wellness, offering conveniences for the community and enhancing the overall patient experience," commented Steve Johnson, AIA, executive vice president, Gresham, Smith and Partners. "It is great to see how this renovation effort and long-term lease commitment from Vanderbilt Health has returned Nashville's first mall into a destination while also spurring further revitalization efforts in the area."
Each specialty clinic is designed with standardized rooms to enhance patient safety and allow for flexibility among clinics dependant on daily needs. The introduction of essentially continuous parallel patient and staff halls allows all exam and procedure rooms to be flexibly assigned based on the volume of traffic expected on a given day. This allowed the overall space required for the clinics to be reduced and will limit the amount of renovation required as clinics expand and contract. An abundance of seating is available for each clinic waiting area and privacy walls provide separation between common walkways.
Patients enjoy access to several amenities including on-site physical therapy and access to food for patients and family while awaiting treatment. Electronic kiosks allow patients to check in for appointments, access their medical records, make copayments and schedule appointments streamlining the patient access experience and relieving support staff to focus on more complex tasks. Once patients check in, they receive a vibrating pager which allows them to walk to other areas of the facility, get coffee or food, or even to the retail spaces on the ground level.
In addition to the redevelopment of One Hundred Oaks, GS&P also provided design services for the Chef James Bistro at Vanderbilt University which achieved LEED-CI Certification. The 2,000-square-foot student dining facility located within Rand Hall on the University's campus was renovated to meet Vanderbilt's desire for a clean, inviting and timeless look which showcases the hot and grab-and-go cold items.
LEED for Commercial Interiors is the green benchmark for the tenant improvement market. It is the recognized system for certifying high-performance green interiors that are healthy, productive places to work; are less costly to operate and maintain; and have a reduced environmental footprint. LEED for Commercial Interiors gives the power to make sustainable choices to tenants and designers, who do not always have control over whole building operations.
About Gresham, Smith and Partners:
Gresham, Smith and Partners provides design and consulting solutions for the built environment that contribute to the success of national and international clients. For more than 40 years, GS&P has focused on enhancing quality of life and sustainability within communities. GS&P consists of industry-leading professionals practicing architecture and engineering design as well as scientists and highly specialized planning and strategic consultants in Aviation, Corporate and Urban Design, Environmental Compliance, Healthcare, Industrial, Land Planning, Transportation and Water Services. GS&P consistently ranks among the top architecture and engineering firms in the United States. For more information regarding GS&P, visit www.gspnet.com.
Posted September 14, 2010
More Articles: