Subscribe Now
Keep up with the latest news with our magazine and e-newsletter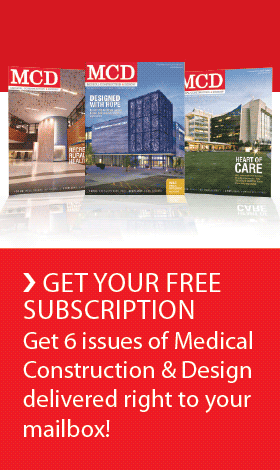 Subscribe to our E‑Newsletter
TRO Jung|Brannen, an international architecture, interior design and engineering firm, has been honored with awards from both the Alabama Council of AIA and Birmingham Council of AIA award for the firm's work on the Shelby Baptist Medical Center South Tower.  The project was showcased at the Southeastern Green Building Focus Conference & Expo in Birmingham August 24-26.

"We are honored that our work for Shelby Baptist Center has been recognized by both the local Birmingham chapter and Alabama state chapter of AIA," said Robert Hoye, CEO of TRO Jung|Brannen.  "The project team's exceptional dedication to meeting our client's goals resulted in a prominent space that embraces contemporary design while respecting the existing character of the medical center. "
The South Tower is a large addition to a rural but growing medical campus.  The project supported the client's quest to transform their facility into an environment for leading edge healthcare while still supporting their strong, faith-based mission. Program highlights included a new lobby, chapel, 85 private patient rooms, 16 intensive care rooms, a new clinical lab, central sterile, and parking deck with an elevated, enclosed pedestrian connector.  The five-story tower was designed to visually integrate into the existing fabric of the campus through the use of the campus red brick.  However, its contemporary southern façade points to the future and the modern innovations taking place within the Hospital.  Great care was placed in creating efficient, clearly comprehensible spaces for both staff and visitors within the Tower.  Warm finishes, concealment of the visual clutter that is pervasive in healthcare, and controllable access to natural daylight were all used to reduce anxiety and to promote wellness.  Motifs of water, light and nature were also used as analogies to promote the Hospital's faith-based mission and to allow for a more holistic healing space.
Project team members included TRO Jung|Brannen, architect and interior design; KLMK, Program Manager; Robins & Morton, General Contractor; Nimrod Long & Associates, Landscape Architects; Hatch Mott MacDonald of Alabama, LLC; MBA Structural Engineers; and SSR Smith Seckman Reid.
ABOUT TRO JUNG|BRANNEN
TRO Jung|Brannen is an international planning and design firm of over 250 professionals with practice areas in commercial, arts & education, healthcare, hospitality & residential, and research.  Services include programming/feasibility studies, architecture, planning, interior design, and engineering.  Based in Boston, the firm maintains regional offices in Birmingham, AL; Sarasota, FL; and Memphis, TN; as well as international offices in Beijing, China and Dubai, United Arab Emirates.
Posted September 7, 2010
More Articles: