Subscribe Now
Keep up with the latest news with our magazine and e-newsletter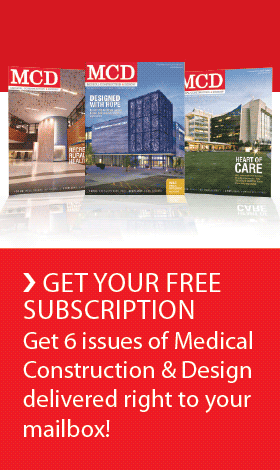 Subscribe to our E‑Newsletter
COLUMBUS, Ohio — Construction has begun on one of the largest healthcare projects in the Midwest and one of the largest job-generating projects in Ohio history – the $1 billion The Ohio State University (OSU) Medical Center ProjectONE in Columbus, Ohio.  Designed by HOK, the project unites integrated research and education with cost-efficient, personalized medical care.  When completed in 2014, the 1,000,000-square-foot complex will generate 10,000 full-time jobs.

ProjectONE is emerging as part of the south campus master plan at OSU. It includes a central tower housing the new 276-bed Arthur G. James Cancer Hospital and Richard J. Solove Research Institute; a 144-bed critical care building; integrated spaces for research, education and patient care; and upgrades to existing facilities. The complex is designed to achieve Leadership in Energy and Environmental Design (LEED) Silver certification.
The expansion will allow OSU to serve an additional 10,000 inpatients and 300,000 ambulatory visits annually in a setting that will make healthcare more accessible.  It will also enable research to advance OSU's leadership in translational and personalized medicine as it furthers the education of medical, nursing and allied health students.
Optimizing the Healing Environment
The 19-story tower will feature private rooms with abundant natural light and visual and physical access to green space to promote healing.  The top eight floors will host the James Cancer Center with seven acute care patient floors and one floor for bone-marrow transplant patients. The middle three floors are devoted to critical care facilities in a family-friendly setting to meet the needs of families required to travel to OSU from a distance.
The main entry will unite all services with a multi-story pedestrian concourse accessing the cancer center, critical care and diagnostic and treatment facilities. Major patient entries for signature programs/services will be organized along the east/ west concourse, articulated and defined architecturally as "portals of care."  Easily identifiable, these entries support patient and family way-finding and deliver patients directly to treatment and diagnostic areas by separate elevators.
To facilitate greater physician and staff productivity and reduce patient movement, perioperative rooms will be located adjacent to procedural areas on the fourth floor.  This also facilitates greater focus on the patient's status before, during and after an actual surgery or interventional procedure.
The architecture and interior design further emphasize the concept of personalized healthcare by introducing abundant natural light into rooms and hallways via large windows, specifying light color finishes and favoring rich textures for materials to balance building scale with how a patient experiences each space with an emphasis on intimacy and privacy. 
Enhancing Research
ProjectONE's state-of-the-art facilities will give educators, researchers and clinicians an ideal collaborative environment as they seek to solve complex health-related issues impacting the nation. These activities are placed in dedicated spaces to ensure that the space is in continuous use for research and/or teaching. The design allows seamless interaction between scientists and physicians to achieve better translational results.
Of the full-time jobs created over the course of the project, 6,000 will be at OSU Medical Center. More than 4,000 indirect, full-time jobs will be generated throughout the region from spending by OSU, its faculty, staff and visitors. An additional 5,000 construction jobs also will be created. It is projected that by 2015, ProjectONE will infuse $4.1 billion annually into the Ohio economy.
Joining HOK on the architecture team is Moody-Nolan, Inc.  Turner Construction Co. and Bovis Lend Lease are leading construction management.  To learn more about ProjectONE, visit http://projectone.osu.edu/.
HOK is a global architectural firm that specializes in planning, design and delivery solutions for buildings and communities. Through its collaborative network of 23 offices worldwide, the firm serves diverse clients within the corporate, commercial, public and institutional markets. HOK is committed to developing resources and expertise to help lead the world toward sustainable communities and building environments. Founded in 1955, the firm's expertise includes architecture, engineering, interiors, planning, lighting, graphics, facilities planning and assessment and construction services.   
For more information visit www.hok.com.
Posted September 13, 2010
More Articles: