Subscribe Now
Keep up with the latest news with our magazine and e-newsletter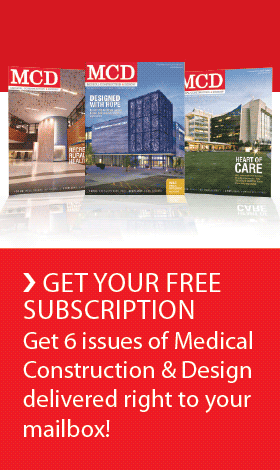 Subscribe to our E‑Newsletter
HGA Incorporates Sustainable Strategies and Integrated Project Delivery to Achieve Benchmark Goals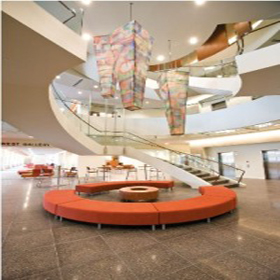 MILWAUKEE, Wis. — Encircle Health Ambulatory Care Center (a partnership with ThedaCare) in Appleton, Wisc. has received LEED Gold Certification. Designed by HGA Architects and Engineers (HGA), the Ambulatory Care Center balances material choices, lighting, building systems, work-flow efficiencies and life-cycle costs to achieve sustainable goals.
"HGA is committed to researching resource-efficient solutions that bring long-term value to our healthcare clients," said Kurt Spiering, AIA, ACHA, vice president and principal with HGA in Milwaukee. "Our commitment to Integrated Project Delivery (IPD) further ensured that we met benchmarks for budget, schedule and sustainability through all phases of planning, design and construction."
Sustainable highlights include a detailed construction-waste management plan that diverted approximately 75 percent of jobsite waste from landfills; native plants that maintain erosion control; low-flow plumbing fixtures that reduce water consumption by 30 percent over standard fixtures; energy-efficient HVAC system that exceeds industry standards by 26 percent; solar panels that heat approximately 75 percent of domestic water load; and a dedicated heat-recovery chiller that reclaims heat generated by medical equipment.
Background
Encircle Health Ambulatory Care Center is a partnership of more than 300 ThedaCare physicians, staff and specialty physicians.
Completed in October 2009, the 156,000-square-foot, three-story facility provides patients in Wisconsin's Fox Valley area with a centralized location for their outpatient healthcare needs. The facility integrates primary care and specialty care through shared registration and scheduling, an electronic medical records system, state-of-the-art diagnostics, and ancillary services.
The Ambulatory Care Center features a light-filled atrium, artwork and sculptures from local artists, and extensive views to the outdoors.
Sustainable Commitment
HGA has a long-standing commitment to promoting sustainable design through site sensitivity, resource efficiency, energy-saving technologies, and conscientious material use. The firm is winner of the national Environmental Stewardship Award from the Construction Specification Institute for the "Practice of Sustainable Design, Promoting Environmental Awareness in the Construction Industry, and Educating others in the Advantages of Sustainable Design."
This is HGA's second LEED Gold for healthcare. St. Elizabeth Hospital-Heart, Lung & Vascular Pavilion, also in Appleton, Wisconsin, previously received LEED Gold.
The LEED certification program is managed by the U.S. Green Building Council.
ABOUT HGA
HGA is an integrated architecture, engineering and planning firm that helps prepare its clients for the future. With offices in Milwaukee, Wisconsin; Minneapolis and Rochester, Minnesota; and Los Angeles, San Francisco and Sacramento, California, the nationally recognized firm has developed expertise in the healthcare, corporate, arts, community, higher education, and science/technology industries since 1953. HGA's culture for interdisciplinary collaboration, knowledge sharing and design investigation enables its clients to achieve success with responsive, innovative and sustainable design. Visit www.HGA.com.
Posted September 23, 2010
More Articles: