Subscribe Now
Keep up with the latest news with our magazine and e-newsletter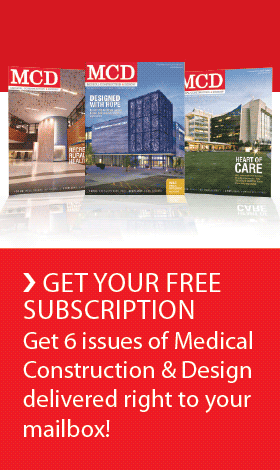 Subscribe to our E‑Newsletter
WASHINGTON — The American Institute of Architects (AIA) Academy of Architecture for Health (AAH) have selected the recipients of the AIA National Healthcare Design Awards program. The AIA Healthcare Awards program showcases the best of healthcare building design and healthcare design-oriented research. Projects exhibit conceptual strengths that solve aesthetic, civic, urban, and social concerns as well as the requisite functional and sustainability concerns of a hospital.

Jurors for the 2010 National Healthcare Design Awards include: John Pangrazio, FAIA, (Chair) NBBJ; Ruth Benefield, Seattle Children's Hospital; Paul Bentel, FAIA, Bentel & Bentel; Mary-Jean Eastman, FAIA, Perkins+Eastman; Kirk Hamilton, FAIA, Texas A&M University; Marlene Imirzian, AIA, Marlene Imirzian & Associates, Architects and Ray Pentecost, FAIA, Clark Nexsen.
Three healthcare facilities were selected in three separate categories; Category A: – built, less than $25 million (construction cost), Category B: built, more than $25 million (construction cost), and Category C: unbuilt.
If you would like more information or images of these projects, please contact Matt Tinder at mtinder@aia.org.
Category A
Duke Integrative Medicine (DIM), Duke University, Durham, NC
Duda/Paine Architects, LLP
Considered to be the first facility designed solely for the combined practice of alternative treatments and conventional medicine, both facility and grounds express DIM's mission: to approach healthcare as a holistic endeavor that embraces the mind, body, and spirit. The goal of creating a warm, non-threatening environment dedicated to physical and mental well-being was achieved by interweaving natural and man-made features. Glass walls break down visual boundaries between exterior and interior and encourage physical access to the exterior elements of the wellness program such as a meditation pavilion, ornamental and functional herb gardens, walking paths and seating areas. The use of wood was incorporated through the project to impart the perception of warmth and comfort to the mind.
Advocate Lutheran General Hospital Center for Advanced Care, Park Ridge, IL
OWP/P | Cannon Design
This project is an addition to and renovation of an existing building that suffered from limited floor-to-floor heights, scarce natural light and poor air circulation. The design team responded by creating an open, light-filled environment for medical/radiation oncology, imaging, and breast health services. Thoughtful planning and design addressed the client's needs. The challenge of matching the low floor to floor heights necessitated a circulation and public space strategy that would build a sense of community within the building while maintaining discretion of use. Circulation and atrium spaces are applied like a kind of "faceplate" to the existing structure of the building. To provide light and facilitate way-finding, the main circulation spine features a three-story atrium. The result is a redefinition of public/program space within the existing vocabulary of the hospital – a kind of semi- transparent community edge. This is architecture of inclusion and connection to the site.
Category B
Children's Medical Center Legacy, Dallas
ZGF Architects LLP
Sited on 84-acres in suburban Plano, Children's Medical Center Legacy was conceived as both a compliment to the main campus in Dallas, and as a community-based hospital to better serve suburban-based families.  Patient rooms are full of light and have a residential character to their furnishings, cabinetry, and material palette.  In the spirit of family-centered care, each room has sleeping accommodations for two family members, along with adequate storage so families can comfortably stay with children.  To reduce noise and improve infection control in a less intimidating environment, patient rooms host just one child along with built-in versus wheeled-in medical equipment.  Water is present throughout the site, from a white rock creek just outside the cafeteria dining room to a peaceful lake on the north end of the site, which draws visitors through landscaped gardens.
Category C
Seoul National University Hospital Medical Mall, Seoul, Korea
Gresham Smith & Partners
Interior functions are arranged in layers with public circulation and waiting on the inside of the arc and transaction, clinic spaces and offices layered to the outside. The layered approach allows flexibility in assigning space to various clinics as needed.  The relationship between flexible clinics, public circulation and an open visitor waiting area allows patient volumes to ebb and flow with the clinic schedules. Each level is expandable around the organizational arc in a horizontal manner. This means growth can be accommodated without compromising the functional and way-finding concepts – as the building grows, it will continue to work as it does on opening day thereby retaining its flexibility and clarity. This project transforms the current on-site pavement and creates a park-like setting for patients and visitors in the midst of this bustling city of over 10 million people.
About The American Institute of Architects
For over 150 years, members of the American Institute of Architects have worked with each other and their communities to create more valuable, healthy, secure, and sustainable buildings and cityscapes.  By using sustainable design practices, materials, and techniques, AIA architects are uniquely poised to provide the leadership and guidance needed to provide solutions to address climate change. AIA architects walk the walk on sustainable design. Visit www.aia.org
Posted September 27, 2010
More Articles: