Subscribe Now
Keep up with the latest news with our magazine and e-newsletter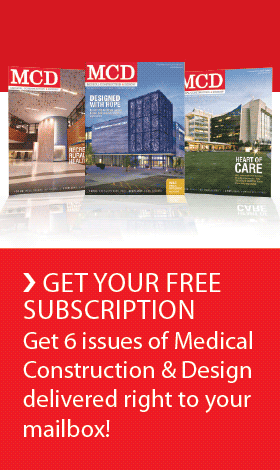 Subscribe to our E‑Newsletter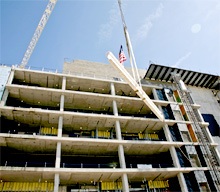 ORLANDO, Fla — Nemours, one of the nation's premiere pediatric health systems, along with Skanska USA Building Inc., construction manager for the Nemours Children's Hospital (NCH) project, today held a topping out ceremony to celebrate significant progress on a vision to improve health care for children and families in Central Florida by placing the final beam on the superstructure. The 630,000-square-foot children's hospital, located in the heart of Lake Nona's Medical City, will include 95 beds and serve as the core of a 60-acre pediatric health campus featuring a children's clinic, emergency department, diagnostic and ambulatory programs along with education and research centers. Nemours plans to open the $380 million hospital in 2012.

The topping out ceremony marks yet another historic milestone for Central Florida families and children from around the world that will come to the hospital for care. A topping out ceremony is a common tradition that recognizes the skill of the craftsmen and summons good fortune for the project. The final beam traveled to all four Nemours Florida sites including the Jacksonville, Orlando and Pensacola clinics as well as the Home Office and was signed by Nemours Associates, Skanska employees and contractors.
The new pediatric hospital honors the legacy of Nemours' founder Alfred I. duPont, by building upon his firmly held belief that "it is the duty of everyone in the world to do what is within his power to alleviate human suffering." This ideal resonates in Nemours' mission to provide leadership, institutions and services that restore and improve the health of children through care and programs that are not readily available. The Nemours Children's Hospital, along with the organization's flagship hospital in Wilmington, DE, the Nemours/Alfred I. duPont Hospital for Children, facilitates the extension of that mission by positioning the organization to successfully improve access and delivery of services for children through the designs based on the Nemours model of care.
The new top-tier pediatric health care system will focus on the unique and varied needs of medically complex children – and bring a comprehensive depth of specialized and family-centered health care that isn't offered today in Central Florida. Nemours' campus will provide access to a full-line of specialty services and will also improve pediatric care to the region through coordinated patient-centered medical services, biomedical research, medical and allied health training, educational programs as well as pediatric prevention services and child advocacy programs.
"Nemours is creating something special in pediatric health care –a new family-centered model for the 21st century that includes an integrated delivery system of health operations combined with research, education, prevention and advocacy. It is the next evolution for pediatric health care in this nation," said Roger Oxendale, CEO of Nemours Children's Hospital. "Our freestanding children's hospital will care for the whole child and bring resources together that will culminate in a pediatric medical and academic health campus that brings world-class care to children and families in Central Florida and beyond."
The Nemours Children's Hospital and pediatric health campus is strategically situated in the heart of Lake Nona's Medical City, and is within close proximity to other major medical entities including the UCF College of Medicine, Sanford-Burnham Institute for Medical Research, Orlando Veterans Affairs Medical Center, M.D. Anderson Cancer Research Institute and the University of Florida research facility. The location will enable Nemours to capitalize on synergies between the various organizations at the emerging medical destination.
In addition to being patient and family-friendly, the Nemours Children's Hospital will incorporate high performance, environmentally friendly and sustainable design concepts into the hospital so that the facility can achieve the US Green Building Council's Leadership in Energy and Environmental Design.
Skanska is currently on schedule with the construction of the top-tier pediatric health campus in Orlando that broke ground in June 2009. Nemours continues to be actively engaged in the operational planning process to determine service structures that will establish equipment and supply needs for the facility. The organization has also begun implementing its broad scale recruitment strategy as the hospital is expected to hire approximately 800 Nemours Associates on site or in direct support positions for NCH by the opening in 2012.
About Skanska
Skanska USA is one of the largest, most financially sound construction networks in the country consisting of four business units: SkanskaUSA Building, which specializes in building construction; Skanska USA Civil, which is focused on civil infrastructure; Skanska Infrastructure Development, which develops public-private partnerships; and, Skanska Commercial Development, which pursues commercial development initiatives in select U.S. markets. Headquartered in New York with 33 offices across the country, Skanska USA has approximately 7,000 employees and its 2009 revenues were $5.7 billion, representing 32 percent of Skanska's global revenues.
About Nemours
Nemours, one of the nation's largest pediatric health systems, is dedicated to achieving higher standards in children's health. Nemours offers an integrated spectrum of clinical treatment coupled with research, advocacy, and educational health and prevention services extending to all families in the communities it serves. Starting with Alfred I. duPont's bequest over seventy years ago, Nemours has grown into a multi-dimensional organization offering personalized clinical and preventive care focused on children.
Nemours owns and operates the Alfred I. duPont Hospital for Children in Wilmington, Delaware and major children's specialty clinics in Delaware (Wilmington), Florida (Jacksonville, Orlando and Pensacola), Pennsylvania (Philadelphia and Bryn Mawr) and New Jersey (Atlantic City and Voorhees). Having recently received preliminary approval from the State of Florida, Nemours will establish a new full-service children's hospital as part of an integrated pediatric health campus in Orlando. KidsHealth.org, the world's most visited pediatric health care Web site for parents, kids and teens, is a project of Nemours.
Nemours employs over 4,400 individuals, including 430 pediatric physicians, specialists and surgeons who cared for approximately a quarter of a million children in 2007. The organization's goal is to align with parents, physicians, community leaders, children's advocates and elected officials to ensure optimal wellness for every child. Additional information about Nemours can be found at www.nemours.org.
Posted August 20, 2010
More Articles: