Subscribe Now
Keep up with the latest news with our magazine and e-newsletter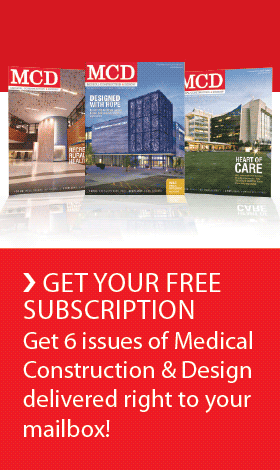 Subscribe to our E‑Newsletter
FREMONT, Calif. – Washington Hospital has earned an Environmental Excellence Award from Practice Greenhealth, a national organization for healthcare institutions that have made a commitment to environmentally responsible practices. The "Partner for Change Award" was presented in recognition of Washington Hospital's achievements in developing programs to prevent pollution, reduce and recycle solid waste, eliminate mercury, reduce water and energy consumption and establish "green" purchasing policies.

"At Washington Hospital Healthcare System, we focus on doing what is best for our patients while also being committed to contributing to a healthier environment," said Bernard Stewart, DDS, president of the Washington Township Health Care District. "My colleagues on the Board and I are very pleased that the Hospital and its staff have been recognized for not only providing great patient care, but doing so in an environmentally conscious manner."
Some of the environmental accomplishments during 2009 and so far this year that contributed to the excellence award include:
• Reduced the use of bottled water by replacing 5-gallon dispensers with filtered tap water in employee break rooms wherever possible.
• Purchased micro-fiber mops that save water, reduce bacteria and reduce use of toxic cleaning chemicals.
• Implemented a hospital-wide recycling program, placing more than 40 recycling bins in employee break rooms and conference rooms and educating staff about proper recycling procedures.
• Implemented food composting in the cafeteria. All food waste is now composted through Fremont's municipal facility.
• Reduced cardboard usage by requesting delivery of fresh produce in re-useable totes.
• Eliminated Styrofoam cups and take-out containers from the cafeteria, replacing them with a combination of compostable and recyclable plastic containers, and replacing plastic eating utensils with compostable ones.
• Assisted over 200 employees with filling out Stop Junk Mail kits. This effort will help eliminate 3.8 tons of paper waste per year and over 5 years will conserve 345 trees and 142,100 gallons of water and prevent the release of 93,380 lbs. of carbon dioxide.
• Converted printing of the hospital's Currents newsletter to recycled paper.
• Installed a new software system called Waste Tracker that records waste and recycling activity hospital-wide to improve future recycling efforts.
• Initiated development of plans for eliminating toxic mercury from hospital products and components.
• Implemented re-useable sharps containers hospital-wide, which is expected to eliminate sending 9.1 tons of plastic to the landfill.
• Developed a plan to introduce re-useable commuter mugs for hospital employees.
• Implemented a medication take-back program for the public, which allows people to drop off unused medications at Washington Hospital. In 2009, the hospital collected one ton of medications that otherwise would have gone into the sewer system or a landfill.
• Installed numerous water-free urinals, which will result in significant water savings.
• Replaced disposable laundry bags with re-useable bags, which will reduce our waste by 13,000 pounds per year and save almost $4,000 per year.
• Conserved energy and produced significant dollar savings by using fluorescent lights in place of incandescent bulbs on the construction site for the new energy plant, saving $149,854 over the 30 months of construction.
• Replaced refrigeration condensers, which will save 1.3 to1.4 million gallons of water per year for a cost savings exceeding $30,000 annually.
• Hosted the first annual "Let's Go Green Together" community event with a farmers market, an exhibition hall for local agencies and vendors engaged in green activities, and educational games for families and children. Also provided free drop off of e-waste, confidential documents for shredding, sharps, and unwanted medications.
• Organized a "Zero Waste" event where no trash containers were available at the annual employee dinner during Hospital Week. All event refuse was composted or recycled instead of being sent to the landfill.
"We worked very hard to earn this award," says Paul Kelley, director of Biomedical Engineering and Green Initiative at Washington Hospital. "Practice Greenhealth presented Environmental Excellence Awards to only 245 institutions nationwide, which is a very slim percentage of the many healthcare organizations around the country. We plan to continue our efforts to educate our staff and the community on ways to reduce our environmental impact, as well as to decrease our use of paper, increase recycling and minimize the use of bottled water. The Partner for Change Award really validates what we are doing."
Washington Township Health Care District is governed by an elected board and includes Washington Hospital Healthcare System. Unlike a municipal or county hospital, Washington Hospital's operating expenses, research, community programs, and employee salaries are funded by revenues generated through providing patient and other health care services. Washington Hospital Healthcare System includes a 359-bed acute-care hospital; the Taylor McAdam Bell Neuroscience Institute; The Gamma Knife® Center; Washington Radiation Oncology Center; Washington Outpatient Surgery Center; Washington Outpatient Rehabilitation Center; Washington Outpatient Catheterization Laboratory; Washington Center for Joint Replacement; the Institute for Minimally Invasive and Robotic Surgery; and Washington West, a complex which houses Washington Women's Center, Outpatient Imaging Center and additional outpatient hospital services and administrative facilities.
Practice Greenhealth is the nation's leading membership and networking organization for institutions in the healthcare community that have made a commitment to sustainable, eco-friendly practices. Members include hospitals, healthcare systems, businesses and other stakeholders engaged in the greening of healthcare to improve the health of patients, staff and the environment.
For more information about Washington Hospital's efforts to reduce its impact on the environment, or to submit suggestions for future improvements, visit www.whhs.com/green.
Posted July 7, 2010
More Articles: