Subscribe Now
Keep up with the latest news with our magazine and e-newsletter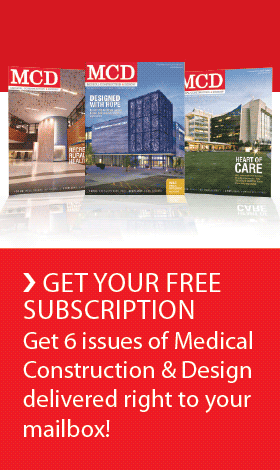 Subscribe to our E‑Newsletter
60,000 sf State-of-the-Art Facility will Provide Coordinated Cancer Care to Treat the Whole Patient in a Dignified, Comfortable Environment
New York, NY — June 14 — The New York office of top international architecture and design firm Perkins Eastman has begun work on the new Tisch Cancer Institute for Mount Sinai School of Medicine, a 60,000 sf state-of-the-art outpatient facility designed around Mount Sinai's multi-disciplinary approach to cancer care coupled with a continuing emphasis on translational research.
The Institute will occupy two floors in Mount Sinai School of Medicine's new Center for Science and Medicine (CSM), a facility dedicated to the advancement of medical research and its potential applications for the future of patient care. It will allow for the growth and development of Mount Sinai's cancer program, providing a modern infusion center along with multiple clinical practice suites for patient examination and consultation. The Institute will be supported by its own dedicated USP 797-compliant pharmacy and laboratory, as well as ample teaching and staff teaming spaces to foster Mount Sinai's multidisciplinary approach to patient care.
"We are so pleased to partner with Mount Sinai School of Medicine for this innovative project that will combine the best in patient-centered design with world-class medical research technologies," says Mary-Jean Eastman FAIA, a principal and executive director of Perkins Eastman and recognized expert in the design for cancer care.
The main floors of the Institute will be linked via dedicated elevators to a new outpatient radiation oncology department, which will be housed on a lower level of the new CSM building, thereby providing direct access to a broad spectrum of outpatient cancer care services at one location. With its mission of "Advancing Care through Research," the new Tisch Cancer Center will set a new standard in the region for compassionate, coordinated cancer care that seeks to treat the whole patient in a dignified, comfortable environment.
Perkins Eastman has worked with Mount Sinai for more than 20 years, completing numerous projects in New York City including the new 140,000 sf Center for
Advanced Medicine, which opened in 2008.
Construction on the $10M facility is expected to start in the fall of 2011 with a planned completion in late 2012.
Posted June 14, 2010
More Articles: