Subscribe Now
Keep up with the latest news with our magazine and e-newsletter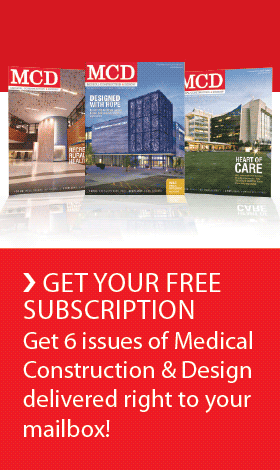 Subscribe to our E‑Newsletter
Carolinas Medical Center-Lincoln, a brand new three-story, 101-bed facility in Lincolnton, will be opening on July 10. The $90 million, 182,000-square-foot replacement hospital represents the Catawba Valley region's largest new hospital construction project in more than decade.
A community open house will be held from 10 a.m. to 2 p.m. on Saturday, June 26. The event is open to the public, and will feature remarks by U.S. Rep. Patrick McHenry, other civic leaders and hospital officials. The new building will be open for guided tours, and family and children's activities are planned. Emergency vehicles and a med-evac helicopter will also be available for inspection.

Located three miles east of downtown Lincolnton on McAlister Road, the hospital anchors a 64-acre medical campus that includes a 40,000-square-foot medical office building housing surgical, orthopedics, cardiology, urology and OB/GYN practices, as well as administrative offices and classrooms. Inpatients hospitalized at the current facility will be re-located starting early in the morning on July 10. The move is expected to be completed by early afternoon.
Emergency departments at both facilities will be open during the move. New directional signs will also be posted that morning also.
The new CMC-Lincoln replaces the hospital on Gamble Drive built more than 40 years ago. Once the new facility is open, the former hospital building will be given debt-free to Lincoln County for use as office space.
The old hospital opened in 1969 and was owned by Lincoln County until 1995, when it became independent Lincoln Medical Center.  Carolinas HealthCare System, one of the leading healthcare organizations in the Southeast serving patients at more than 500 care locations, began managing the hospital in 2000. In 2006, CHS assumed direct responsibility for the operation of Lincoln Medical Center and renamed the facility Carolinas Medical Center-Lincoln.
The new hospital was designed by Davis Stokes Collaborative Architects in Brentwood, Tennessee. The designers were careful to honor Lincoln County's history in putting together a plan for the building's façade. More than 250,000 bricks from the historic Belding-Hausman textile mill were used for the exterior veneer on the main level and for other accents on the hospital and the medical office building.
Each patient room at the new hospital is equipped with flat-panel televisions and wireless Internet access. Each patient room also is equipped with extended-stay furnishings for the comfort of family members.
The "New Beginnings" birth center is located on the first floor of the new hospital and includes a special care nursery with four Level II nursery beds and 10 private LDRP (labor, delivery, recovery, post-partum) rooms. Other patient service areas include:
* 10 critical care unit beds
* 77 medical surgical patient rooms
* 24 Emergency Department examination rooms
* Two Emergency Department trauma rooms
* Four operating rooms
* Helipad for MedCenter Air helicopter transports
In addition, the new hospital includes an on-site laboratory, radiology, imaging, pharmacy and physical therapy services. A full-service cafeteria featuring healthy menu options and outdoor seating is located off the main lobby.
Construction of the new hospital began in 2008 on a former dairy farm across from the Boger City Fire Department. To give the facility direct access to state Highway 150, which links Lincoln County to Cleveland, Gaston, Catawba and Mecklenburg counties, the construction includes a main entrance parkway east of the fire department. This new roadway will relocate the intersection of Highway 150 and McAlister Road.
Posted June 22, 2010
More Articles: