Subscribe Now
Keep up with the latest news with our magazine and e-newsletter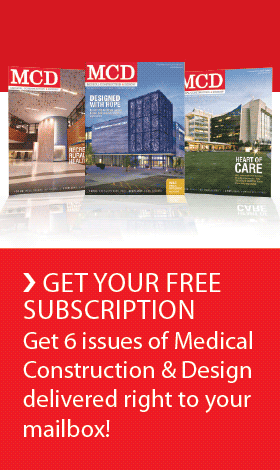 Subscribe to our E‑Newsletter
Flexible Design By HGA Architects and Engineers Accommodates Future Growth and New Technology in Kentucky Designed to Meet LEED® Silver
Milwaukee, WI — June 21 — Construction has begun on the Owensboro Medical Health Center in Owensboro, Kentucky. Designed by HGA Architects and Engineers, the 780,000-square-foot replacement hospital on a 145-acre campus transforms healthcare delivery through a flexible design that accommodates streamlined processes, new technology and future growth.

The hospital includes a 447-bed, nine-story inpatient Bed Tower with nursing and supplies deployed to the bedside; three-story Diagnostic & Treatment Building; 30-bed Transitional Care Unit; Interventional Platform combining surgical and interventional services; Emergency Department organized around pods of care; Women's Center with dedicated drop-off and entry; Heart Center; Neuro Diagnostics Center; and Outpatient Diagnostics Center. "HGA introduced lean design principles into the planning and development process to enable Owensboro to achieve a lean business model," said Kurt Spiering, AIA, ACHA, vice president and principal with HGA in Milwaukee. "The new hospital will be one of the leading medical centers in Kentucky offering state-of-the-art technology and advanced delivery processes to maximize the patient experience." Design Solution HGA developed a long-range master plan that accommodates three phases of campus development. In Phase One under construction, the replacement hospital occupies the center of a ring road that serves as the main circulation artery. A swath of preserved green space through the middle allows future growth. The design emphasizes locally harvested natural materials on the exterior and interior to create a warm, healing environment that is welcoming for the diverse patient population.
The three-story Diagnostic & Treatment building and curving nine-story Bed Tower are linked by a nine-story spine that houses inpatient support and administrative spaces. These components are organized around a central courtyard that serves as an orienting device, bringing views and natural light into all aspects of the patient experience.
The Bed Tower includes twin 24-bed units on each med/surg floor, designed with emphasis on staff efficiency, patient and staff safety, and the quality of the experience for patient and family members. Features include same-handed rooms, nursing and supplies deployed to the bedside, bedside medication distribution and administration, dedicated family space in each patient room, and two-leaf room entry and patient toilet doors.
The hospital also introduces a number of technological innovations that promote efficiency and safety, including registration kiosks, wireless staff communication, electronic medical records, barcode medication administration, patient education network, and computerized physician order entry.

Sustainable Initiatives
The medical center is designed to meet LEED® Silver, as rated by the U.S. Green Building Council's Leadership in Energy and Environmental Design program. Sustainable features include a series of courtyards that provide daylighting to interior spaces; green roofs planned for the women's courtyard, Bed Tower and D&T connector; a heat-recovery chiller; storm water bioswales for the parking lots; use of native grasses and flowers for much of the site; and restoration of the adjacent flood plain beyond the required capacity through additional detention and retention ponds.
The team additionally uses an Integrated Project Delivery (IPD) agreement to ensure on-time, on-budget delivery. Completion is scheduled for 2013.
ABOUT HGA
HGA is an integrated architecture, engineering and planning firm that helps prepare its clients for the future. With offices in Minneapolis and Rochester, Minnesota; Milwaukee, Wisconsin; and Los Angeles, San Francisco and Sacramento, California, the nationally recognized firm has developed expertise in the healthcare, corporate, arts, community, higher education, and science/technology industries since 1953. HGA's culture for interdisciplinary collaboration, knowledge sharing and design investigation enables its clients to achieve success with responsive, innovative and sustainable design. Visit www.HGA.com.
Credits
Project Name: Owensboro Medical Health Center
Project Type: Replacement hospital and medical campus
Client: Owensboro Medical Health System
Location: Owensboro, Kentucky
Size: 780,000 square feet
Completion: 2013
Delivery: Integrated Project Delivery (IPD)
Architect: HGA Architects and Engineers
Scope: Master plan, programming, architecture, interior design, structural engineering, process engineering
Principal: Kurt Spiering
Project Manager: Mark Bultman
Process Engineer: Brent Peterson
Project Designer: Mark Debrauske
Project Architects: Bob Bonesho, Stephen Bruns, Greg Kempen
Interior Designers: Kelly Brainerd, Kate Bautista
Structural Engineer: Jeffrey Millmann, Gordon Pierce
Landscape Designer: Emo Spassov
Construction Services: Turner Construction
Project Management: KLMK Group
Posted June 21, 2010
More Articles: