Subscribe Now
Keep up with the latest news with our magazine and e-newsletter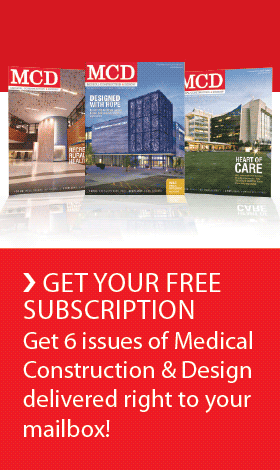 Subscribe to our E‑Newsletter
The expanded firm, with combined revenues exceeding $200 million and more than 300 employees, has notable healthcare clients in the public and private sectors throughout the U.S.
One year before it marks its 20th anniversary, gkkworks, one of California's largest planning, design and construction firms, has acquired Syska Hennessy Group Construction (SHGC), the Los Angeles-based construction unit of New York-based Syska Hennessy Group Inc., one of America's largest multi-disciplined engineering companies.

The SHGC staff of 100 employees, located at offices and job sites throughout the country, has joined Irvine-based gkkworks.
The expanded integrated design and construction firm has combined revenues exceeding $200 million, more than 300 employees, and healthcare-related clients throughout the U.S., including facilities for the Army, Navy, Air Force and such hospitals and medical centers in Southern California as Harbor-UCLA Medical Center, Loma Linda University Medical Center, Pomona Valley Hospital Medical Center and UC San Diego Medical Center.
The acquisition provides additional gkkworks office locations in Atlanta, Chicago, Honolulu, Los Angeles and New Jersey, with major projects in Dallas, New York, and at more than 30 Army, Navy and Air Force locations across the country.
"This acquisition allows gkkworks to provide our clients with the combined strengths of both firms, resulting in a better balance of design, program/construction management and general contracting services," says gkkworks President and CEO Praful Kulkarni. "The Syska Hennessey Group Construction portfolio includes the expansion and renovation of key infrastructure projects for the Department of Defense and mission critical facilities for some of America's largest companies. This depth of specialized experience will provide added assurance and benefits to our clients."
In addition to Kulkarni, other gkkworks corporate officers include David Hunt, AIA, LEED AP, vice president of architectural services, and Charlie Merrick, LEED AP, vice president of construction cervices.
"Our new construction team has the ability to grow faster and more efficiently because gkkworks' staff is able to greatly support them with estimating, pre-construction, and project management processes," says Merrick. "We look forward to providing added value to our current and future clients, and allowing owners throughout the country to take advantage of integrated project delivery."
gkkworks primarily serves clients in healthcare, government, and education. In addition to Irvine, gkkworks has California offices in Oakland, Pasadena, Riverside, Sacramento and San Diego. The firm also has an office in Pune, India.
"This was a strategic decision to find a new home for our construction team members that would allow them to continue their exceptional growth," says Gary Brennen, co-CEO of Syska Hennessy Group. "We look forward to continuing our close collaboration with our construction team members and expanding our relationship with gkkworks."
William "Bill" Line, PE, LEED AP, formerly president and COO of SHGC, is now vice president of federal programs for gkkworks. Line helped to establish SHGC in 1996 after serving in various senior leadership positions during his first 14 years at Syska Hennessy Group.
"In the last three years, we've grown rapidly by developing 'thought leadership' in the planning and design of mission critical and healthcare facilities, and integrating that expertise with strong construction delivery to the Federal Government and Fortune 500 clients," says Line.
A large increase in the number of Department of Defense contracts has contributed to the recent growth surge. "We went from having one or two key contracts to more than a dozen contracts that significantly increased our revenue," Line adds.
Dan McNary, PE, formerly senior vice president of SHGC and now vice president of commercial construction for gkkworks, oversees SHGC's  practice with private sector clients. McNary says projects on the private side range in size, up to $34 million.
McNary says that despite the economic downturn, there has been a steady amount of activity in the mission critical industry.
"I am looking forward to being able to combine gkkworks' world-class architecture practice with our expertise in the delivery of mechanical and electrical intensive technical construction projects," says McNary. "In the private sector, we've had significant growth in our business, including data centers and switching facilities. Our clients told us they needed help with highly technical data center renovations and large scale data center projects. Our integrated project delivery process exceeded all our customer needs, driving significant growth."
McNary joined SHGC 10 years ago. His career credits include serving as a senior project manager with global giant Bechtel.
Having the capability to provide a broad array of integrated design and construction services to its clients has been a cornerstone of the success of gkkworks.  Providing high quality planning, design, sustainable practices and BIM capabilities to each of the new offices will be Hunt's immediate goal.
"The opportunity to serve the federal and mission critical markets nationally is very exciting to the design professionals in the firm," says Hunt. "We look forward to adding our specialized planning and design capabilities in each of the new offices to create even more value for our current and future clients."
Posted May 4, 2010
More Articles: