Subscribe Now
Keep up with the latest news with our magazine and e-newsletter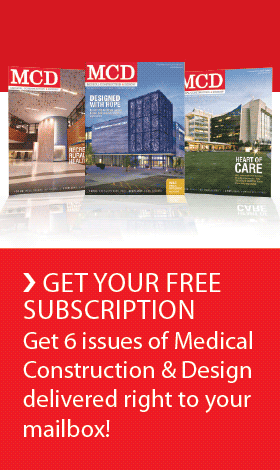 Subscribe to our E‑Newsletter
DETROIT, MI and NASHVILLE, TN — Mar. 19 — The Detroit Medical Center (DMC) Board of Trustees and Vanguard Health Systems Inc. announced today that they have signed a letter of intent for DMC to become part of the Vanguard system and for Vanguard to invest $850 million in capital improvements to DMC's eight-hospital system.

"Vanguard's commitment to DMC and to the City of Detroit will be the single largest private investment in the city's history," said DMC Board Chair Steve D'Arcy. "It represents great confidence in the future of the City of Detroit."
Charles N. Martin, chairman and chief executive officer of Vanguard Health Systems, said the company looks forward to putting its commitment to providing health care in urban communities to work in Detroit.
"We are very excited about entering the Detroit market and look forward to working with the DMC management team, who has an outstanding record of delivering care and managing financial challenges," Martin said.
The Letter of Intent (LOI) has six major provisions:
1)  Vanguard will acquire all of the DMC System's assets (other than donor restricted assets) for a purchase price that includes approximately
$417 million to retire all outstanding DMC bonds and other long-term indebtedness and also requires Vanguard to assume all DMC liabilities
(other than such bonds and long-term indebtedness).
2)  DMC will be owned and operated by a Vanguard subsidiary known as VHS Michigan. VHS Michigan will establish a regional advisory board to
oversee the conduct of the DMC hospitals, consisting of 4 members appointed by Vanguard and 3 appointed by the DMC Board. The hospitals
will continue to operate under the DMC brand and their historic names.
3)  Vanguard has made an extensive commitment to support the historic safety net mission of DMC, including a 10 year commitment to keep all
hospitals open and to maintain DMC's charity care policy.
4)  Vanguard has agreed to spend $850 million in capital investment in DMC over the next 5 years, more than $800 million in the City of Detroit.
$500 million will go for a specific project list agreed to by the DMC Board, including a new Children's Hospital tower, new modern patient
units at Receiving, doubling of the Sinai Grace emergency room, a major renovation of OR space at Harper, and new physician office buildings at
Harper and Sinai Grace. The other $350 million will be for ongoing repairs and capital and equipment needs at DMC.
5)  The existing DMC Board chaired by Steve D'Arcy will remain in place and administer the existing $140 million in charitable funds given to DMC
over the years and will make sure all donor funds are spent as originally intended. The DMC Board will also have the legal right to
enforce Vanguard's commitments under the purchase agreement.
6)  The agreement is conditioned on the approval of a Wayne County sponsored Renaissance Zone for DMC's Central Campus, which will require
state, city, and county approvals.
The LOI is non-binding and extends through June 1, 2010, at which time the parties are required to have completed a mutually acceptable binding definitive agreement, or if not completed, the LOI terminates unless extended mutually by Vanguard and DMC. Prior to the execution of the definitive agreement, Vanguard must complete and must be satisfied with its due diligence of DMC's operations and its assets and liabilities. Additionally, the definitive agreement must be approved by DMC's and Vanguard's boards of directors. That binding definitive agreement will also require the review and approval of the Office of the Attorney General of Michigan.
"DMC is operating in the black for the seventh straight year, but each year it has been a struggle," said Mike Duggan, DMC CEO. "We have had to sit by and watch while West Bloomfield and Novi and Ann Arbor make huge investments in new modern hospitals and we have been frustrated we can't do the same in the City of Detroit.
"Now we can. Detroit will no longer take a back seat to anyone in the quality of our hospital facilities," Duggan said.
With 15 hospitals in four of the largest urban markets in the country, the Nashville, Tenn.-based Vanguard has a strong track record of succeeding in urban communities where economic and social factors make it increasingly difficult to run financially viable hospitals.
Said Trip Pilgrim, Vanguard's chief development officer and senior vice president, "Vanguard has consistently demonstrated our commitment to working with community boards and resources to ensure the best possible outcomes for patients. We have the opportunity to continue this tradition in Detroit, and believe that with the access to capital Vanguard brings, the existing management team will grow DMC into one of the pre-eminent hospital systems in America."
The DMC board and management team have been looking for a way to build a solid financial foundation for the future, according to D'Arcy.
"For years DMC has had significantly less cash-on-hand than any of our competitors," said D'Arcy. "Now we have found the solution to allow us to continue our mission to provide quality care for all, despite state and national economic conditions."
________________________________________________
About DMC
DMC operates eight hospitals, including Children's Hospital of Michigan, Detroit Receiving Hospital, Harper University Hospital, Huron Valley-Sinai Hospital, Hutzel Women's Hospital, Rehabilitation Institute of Michigan, Sinai-Grace Hospital and DMC Surgery Hospital, with 1,734 licensed beds and total revenues for its last reported fiscal year of December 31, 2008 of approximately $1.993 billion. Established as a nonprofit corporation in 1985, the Detroit Medical Center is a leading regional health care system with a mission of excellence in clinical care, research and medical education.
About Vanguard
Vanguard owns and operates 15 acute care hospitals with 4,135 licensed beds and complementary facilities and services in Chicago, Illinois; Phoenix, Arizona; San Antonio, Texas; and Massachusetts. Vanguard's total revenues for its last fiscal year ended June 30, 2009, were approximately $3.2 billion. Vanguard's strategy is to develop locally branded, comprehensive healthcare delivery networks in urban markets. Vanguard will pursue acquisitions where there are opportunities to partner with leading delivery systems in new urban markets. Upon acquiring a facility or network of facilities, Vanguard implements strategic and operational improvement initiatives including expanding services, strengthening relationships with physicians and managed care organizations, recruiting new physicians and upgrading information systems and other capital equipment.
Posted March 19, 2010
More Articles: