Subscribe Now
Keep up with the latest news with our magazine and e-newsletter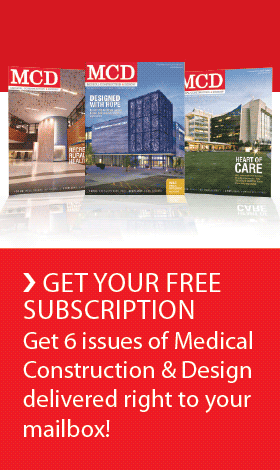 Subscribe to our E‑Newsletter
$50 million gift to help fund $120 million expansion project
NEW HYDE PARK, N.Y., — March 25 — The North Shore-LIJ Health System today announced that the Steven A. and Alexandra M. Cohen Foundation has pledged $50 million for pediatric care provided at the campuses of Long Island Jewish (LIJ) Medical Center in New Hyde Park, NY, and North Shore University Hospital in Manhasset, NY.

North Shore-LIJ's pediatric hospital, formerly known as Schneider Children's Hospital, has been renamed the Steven and Alexandra Cohen Children's Medical Center of New York, in recognition of one of the largest single gifts ever received by the North Shore-LIJ Health System.  The contribution by the Cohen Foundation will enable North Shore-LIJ to move ahead with plans to construct a 100,000-square-foot pavilion in front of the existing children's hospital in New Hyde Park on the border of Nassau and Queens counties, NY. The nearly $120 million project has been on hold since December 2008 because of the economic downturn. Construction is scheduled to begin this spring and be completed in 2013. 
The new pavilion made possible by this contribution will feature: 
* a Pediatric Emergency Center – the region's first dedicated, stand-alone pediatric emergency department;
* a 24-bed Pediatric Intensive Care Unit;
* a 25-bed Medical-Surgical Unit; and
* a state-of-art surgery center that will include six operating rooms solely dedicated to children.
Steven and Alexandra Cohen have had a 14-year relationship with North Shore-LIJ.  Previously, the Cohen Foundation donated $7 million to North Shore-LIJ to build a new ambulatory pediatric chemotherapy unit and establish an endowment called the Philip Lanzkowsky, MD, Professorship in Pediatrics.
"Pediatric healthcare is an issue that is near and dear to our hearts and one that we have supported for many years," said the Cohens. "The hospital is one of America's top children's hospitals and impacts the lives of countless children and families. We hope that our gift will enable the hospital to continue its important work."
"Earning the Cohens' confidence and support is a testament to the progress we have made in advancing pediatric medicine and the reputation of our children's hospital in the New online casino promotions York metropolitan area and nationally," said Michael J. Dowling, the North Shore-LIJ Health System's president and chief executive officer. "We are extremely thankful for the Cohens' extraordinary generosity."
North Shore-LIJ Chairman Saul Katz expressed his appreciation for the Schneider family's more than 25-year commitment to the hospital and looked forward to deepening the health system's existing relationship with the Cohens.  "We're delighted by the Cohens' extraordinary devotion to furthering our mission of providing the highest quality pediatric care to our blackjack flash patients. Their donation is a major development and represents one of the largest gifts ever made for pediatric care in best pokies to play the United States."
Arthur Klein, MD, senior vice president of children's services for the North Shore-LIJ Health System, and the hospital's executive director and chief of staff, added, "We're deeply touched and honored by Steve and Alex Cohen's support of the hospital. As someone who has known the Cohens for many years, I've seen first hand their deep love of children and family. The new construction made possible by this gift will enable us to develop what will truly be a world-class children's hospital unmatched in the New York area."
About the Steven and Alexandra Cohen Children's Medical Center of New York
For three consecutive years, U.S. News & World Reports magazine has ranked the children's hospital as one of the best in the country. Opened in 1983 and known as Schneider Children's Hospital until March 2010, the facility has nearly 600 pediatricians, including 120-full-time physicians, and a total workforce of 1,330, including about 400 nurses.
Annually, the children's hospitals on the New Hyde Park and Manhasset campuses treat nearly 12,000 inpatients, about 170,000 outpatients, nearly 70,000 emergency patients and about 2,500 neonates, and perform about 6,500 surgeries. The New Hyde Park facility is one of only two pediatric trauma centers in the New York area. In addition to its main facilities in New Hyde Park and Manhasset, the children's hospital has satellite centers in Bensonhurst and Williamsburg, Brooklyn; Flushing, Queens; and Commack and Hewlett, Long Island.
SOURCE The North Shore-LIJ Health System
Posted March 25, 2010
More Articles: