Subscribe Now
Keep up with the latest news with our magazine and e-newsletter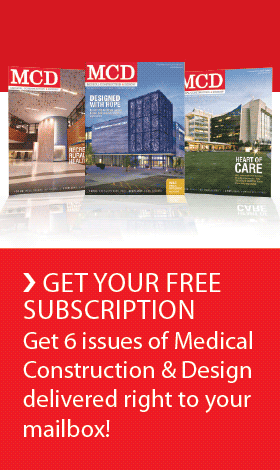 Subscribe to our E‑Newsletter
PATERSON, N.J.  — St. Joseph's Regional Medical Center, Paterson, NJ, recently opened the region's first dedicated Geriatric Emergency Department (Geriatric ED). Treating patients age 65 and older, the department is designed to meet the complex needs of older patients in a senior-friendly environment.
"As people get older, they are more likely to have chronic diseases and other health issues unique to aging that require more frequent emergency department visits," says Dr. Mark Rosenberg, chairman of Emergency Medicine at St. Joseph's Regional Medical Center. "During these visits, it is our responsibility to evaluate their condition as well as help them maintain their health and functionality."

The new 14-bed Geriatric ED is focused on treating highly functional seniors who do not require stabilization. The unit is a separate area away from both the Adult Emergency Department and Pediatric Emergency Department, and is staffed by clinicians trained in geriatric emergency medicine, including physicians, nurses, social workers, pharmacists and toxicologists as well as occupational and physical therapists. Strategically located down the hall from the dedicated inpatient Geriatric Unit, a Geriatric ED nurse practitioner coordinates all required inpatient admissions and helps the patient and family transition from the Emergency Department to the hospital.
"With 79 million baby boomers turning 65 in 2011, we're proud to say that the dedicated Geriatric ED and the construction of the new Critical Care Building, which will house a new Emergency Department, put St. Joseph's in a strong position to treat this growing population and its unique needs," adds Rosenberg.
Along with the dedicated staffing, location and equipment for the department, special protocols are in place to help prevent return visits and to make sure the patient's condition is improving after discharge.  
"Our staff conducts follow-up calls to all patients the day after discharge to determine if they're feeling better, checking if they filled their prescriptions and making sure that they have contacted their primary care physician," says Rosenberg. "If the problem that caused them to visit the Emergency Department is not showing improvement, then the patient is asked to return to the hospital and is prioritized for immediate treatment."
The staff also conducts review of all patients' prescription medication. Any patient who takes five or more prescription medications daily receives a consult with a pharmacist to ensure that there are no negative drug interactions. Those patients who take seven or more medications daily have a toxicology consultation as part of their visit.
The Geriatric ED is open seven days a week, from 8 a.m. to 2 a.m. All patients are triaged in the adult Emergency Department and are transferred to the Geriatric ED if they meet the designated criteria.
St. Joseph's Regional Medical Center is proud of its reputation as innovators in emergency services. St. Joseph's Emergency Medicine Department was the first in New Jersey to perform therapeutic cooling in the field, a procedure that St. Joseph's now extends into the hospital setting to save the heart muscles and protect the brains of heart attack patients.
For more information regarding the Geriatric Emergency Department at St. Joseph's Regional Medical Center, please access www.StJosephsHealth.org.
Founded in 1867 by the Sisters of Charity of Saint Elizabeth, Paterson's first hospital has grown in size and scope of service to encompass St. Joseph's Regional Medical Center, a major academic tertiary medical center and state-designated trauma center, and St. Joseph's Children's Hospital, an acute care state-designated children's hospital, both located in Paterson, NJ; St. Joseph's Wayne Hospital, an acute care community hospital located in Wayne, NJ; St. Vincent's Nursing Home, a long-term care facility located in Cedar Grove, NJ; Visiting Health Services, Inc., based in Totowa, NJ; and nearly two dozen ambulatory sites known collectively as St. Joseph's Healthcare System. For more information, visit www.StJosephsHealth.org or call 877.757.SJHS (7547).
SOURCE St. Joseph's Regional Medical Center
Posted January 26, 2010
More Articles: