Subscribe Now
Keep up with the latest news with our magazine and e-newsletter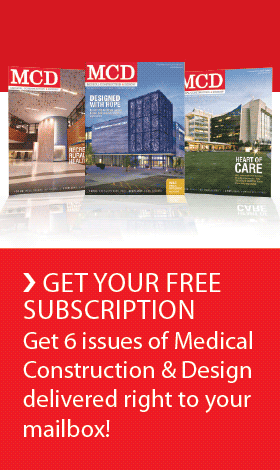 Subscribe to our E‑Newsletter
First Recipient of ASHE Excellence in Facilities Management Award
ST. LOUIS, Jan. 20 /PRNewswire-FirstCall/ — The American Society for Healthcare Engineering (ASHE) will present the first-ever "Excellence in Facilities Management" award to Donald E. Wojtkowski, FASHE, PE, executive director, design and construction, SSM Health Care-St. Louis.

The award honors Wojtkowski for his role in designing and building SSM St. Clare Health Center's patient-focused healing environment. The award, sponsored by Trane, a leading global provider of indoor comfort systems and services, recognizes an ASHE member's outstanding commitment to better patient care through an improved health care environment.
A ceremony honoring Wojtkowski will be held on Monday, Jan. 25, at 11 a.m. in the Education & Conference Center, Room B, at SSM St. Clare Health Center, 1015 Bowles Ave., in Fenton, Mo. 63026. Hospital administrators also will offer tours of the facility, highlighting unique aspects of the patient-centric environment.
Wojtkowski was instrumental in conceptualizing and developing SSM St. Clare Health Center, a 154-bed full-service hospital, which opened March 30, 2009, in suburban St. Louis, Mo. Since opening, the hospital has garnered regional and national praise for its pioneering design and has far surpassed all projections for volume and growth.
To complete the work on SSM St. Clare Health Center, Wojtkowski led a team of dedicated design and construction professionals. From the start, he sought to ensure that the team evaluated all decisions regarding budget, schedule, materials and design based on how each would affect: the overall patient experience, staff productivity and efficiency, and quality and financial performance.
"Don was an essential member of the health care development team—far beyond design or construction issues," said Sherry Hausmann, president, SSM St. Clare Health Center and SSM Service Line executive for Neurosciences. "He truly understands which design elements most directly impact patient care."
With 36 years of experience in the health care industry, Wojtkowski is nationally recognized as a leader in maximizing the impact that infrastructure and building systems can play in patient outcomes.
"Don truly exemplifies the best that facility managers can be in creating patient-focused healing environments that drive better outcomes," said Iona Canada, corporate manager, healthcare business development, Trane. "We're honored to help recognize his thoughtful, inspiring leadership."
About Don Wojtkowski
Wojtkowski began his health care career in 1973 as an administrative engineer overseeing the mechanical and electrical design and construction of a new 400-bed hospital in North St. Louis County. He has been directly involved in hundreds of health care development projects in more than 30 hospitals in Missouri and surrounding states. Active in the health care industry, he previously contributed his expertise as national president for ASHE. He was also director of Region 6 of the society, which included Missouri, Kansas, Minnesota, Iowa and Canada. In addition, Wojtkowski served as chairperson of the National Institute of Building Sciences task force, which reported to Congress on the U.S. Department of Veterans Affairs construction delivery processes.
Hospital Focuses on Healing Environment
Reflecting Wojtkowski's strong leadership, patient-centric care is found throughout the new hospital. To reduce hospital-acquired infections, all patient/family suites at SSM St. Clare Health Center are private. Caregivers are stationed right outside patient doors, and family members are considered part of the healing team.
The hospital encourages family involvement in the care process and increases comfort by featuring a pull-out sofa bed, refrigerator and visitor area in each patient suite. Each of the patient suites also features same-handed design, which means every room is identical in layout. This improves safety and efficiency by eliminating variation.
Other details throughout the facility reduce noise and improve safety, such as slip-resistant seamless linoleum flooring, night lighting, handrail to restroom, sound buffers between rooms, a soothing "sound machine" in each patient suite and bacteriostatic carpeting.
An automated, one-of-a-kind in-room medication system safely locks each patient's medication in his or her own room. The bar codes ensure that the right medicine and the right dose are always administered. This system allows caregivers to spend more time at a patient's bedside and quickly and accurately deliver medications. Pharmacy staff members restock medications daily, encouraging improved communication with patients.
For easy access and a more personal touch, patients enter directly into the appropriate service area of the hospital for treatment. Separate parking and entryways for each key hospital area (emergency, outpatient, inpatient and surgical/specialty care) add convenience for all patients. For example, cancer patients enter via a separate door that provides quick access to treatment, as well as to a nearby healing garden. Information desks and intuitive directional markings greet patients and visitors as they enter each hospital area.
The overall design of the SSM St. Clare Health Center and campus encourages interaction, healing and support. The facility and grounds feature walking paths, water features, multiple courtyards and wide open spaces. Each floor offers a large family area with huge windows overlooking the campus, a convenient kitchen area and separate spiritual/quiet areas where family members can pray and gather. Floor-to-ceiling windows and carefully selected artwork also contribute to the therapeutic atmosphere.
About SSM Health Care-St. Louis and SSM St. Clare Health Center
SSM Health Care-St. Louis serves the comprehensive health needs of St. Louis-area residents through a network that includes seven hospitals, including SSM St. Clare Health Center, nearly 12,000 employees and 2,500 staff physicians. Replacing SSM St. Joseph Hospital of Kirkwood, SSM St. Clare Health Center (www.ssmstclare.com) is a full-service, 154-bed hospital with the latest in clinical technology and information systems. The hospital is located in southwest St. Louis County at Highway 141 and Bowles Avenue. For more information on SSM Health Care-St. Louis, go to www.ssmhealth.com.
SSM Health Care is a Catholic, not-for-profit health system with an international reputation as a pioneer in the use of quality measures to improve care. SSM serves more than 2 million people annually. With 5,400 physicians and 23,000 employees (6,600 of them nurses) in four states (Wisconsin, Oklahoma, Illinois and Missouri), SSM is one of the largest employers in every community it serves. For more information, visit www.ssmhc.com.
About ASHE
The American Society for Healthcare Engineering (ASHE) is one of the personal membership groups of the American Hospital Association (AHA). ASHE represents a diverse network of more than 9,800 members dedicated to optimizing the health care physical environment. For information on ASHE, go to www.ashe.org.
About Trane
Trane, a business of Ingersoll Rand – the world leader in creating and sustaining safe, comfortable and energy-efficient environments – improves the performance of homes and buildings around the world. Trane solutions optimize indoor environments with a broad portfolio of energy-efficient heating, ventilating and air conditioning systems, building and contracting services, parts support and advanced controls for homes and commercial buildings. For more information, visit www.Trane.com.
Posted January 20, 2010
More Articles: