Subscribe Now
Keep up with the latest news with our magazine and e-newsletter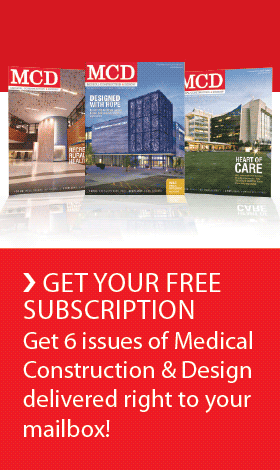 Subscribe to our E‑Newsletter
Healthcare keep institutional market strong;  Modest increase in spending possible by 2011
Washington, D.C. – January 6, 2010 – Despite signs that the overall U.S. economy is beginning to improve, nonresidential construction spending is expected to decrease by 13.4 percent in 2010 with a marginal increase of 1.8 percent in 2011 in inflation adjusted terms. Commercial and industrial projects will continue to see the most significant decrease in activity. Thanks, in part, to federal stimulus spending, institutional building categories will fare better over this period. These are highlights from the American Institute of Architects (AIA) semi-annual Consensus Construction Forecast, a survey of the nation's leading construction forecasters.

"When economies emerge from this prolonged recession, recovery for nonresidential construction activity typically takes longer," said AIA Chief Economist, Kermit Baker, PhD, Hon. AIA. "Hardest hit will be the commercial and industrial sectors with projected declines in the 20 percent range for 2010 in most building categories. Led by the healthcare market, the institutional sector will see far less dramatic declines and should help lead the construction industry into recovery in 2011."
Market Segment Consensus Growth Forecasts
2010 2011
Overall nonresidential             -13.4%     1.8%
Commercial / industrial
• Industrial                              -24.3%    -7.8%
• Hotels                                  -23.5%     5.4%
• Office buildings                    -18.6%    11.8%
• Retail                                   -17.2%    3.2%   

Institutional
• Amusement / recreation       -12.9%    4.4%  
• Religious                               -5.8%    2.0%
• Education                              -5.6%    6.0%
• Healthcare facilities              -0.3%    2.5%
• Public safety                          0.8%    -0.1%
About the AIA Consensus Construction Forecast Panel
The AIA Consensus Construction Forecast Panel is conducted twice a year with the leading nonresidential construction forecasters in the United States including, McGraw Hill Construction, Global Insight, Moody's economy.com, Reed Business Information, the Portland Cement Association, and FMI. The purpose of the Consensus Construction Forecast Panel is to project business conditions in the construction industry over the coming 12 to 18 months. The Consensus Construction Forecast Panel has been conducted for 12 years.
About The American Institute of Architects
For over 150 years, members of the American Institute of Architects have worked with each other and their communities to create more valuable, healthy, secure, and sustainable buildings and cityscapes. By using sustainable design practices, materials, and techniques, AIA architects are uniquely poised to provide the leadership and guidance needed to provide solutions to address climate change. AIA architects walk the walk on sustainable design. Visit www.aia.org/walkthewalk.
Posted January 7, 2010
More Articles: