Subscribe Now
Keep up with the latest news with our magazine and e-newsletter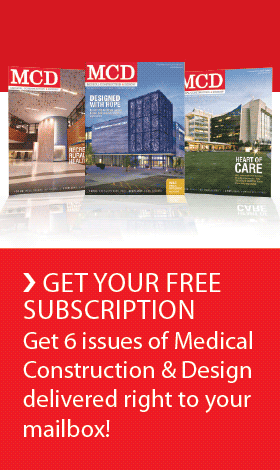 Subscribe to our E‑Newsletter
Major Energy-Efficiency Grant Also Announced
PLAINSBORO, N.J., — The development of University Medical Center of Princeton at Plainsboro (UMCPP) reached a milestone on December 3rd with a "topping out" ceremony, marking the completion of steel-frame construction at the new hospital that will replace University Medical Center at Princeton (UMCP).

A topping out ceremony is a steelworkers' tradition in which a steel beam carrying an evergreen tree to symbolize good luck is raised to a structure's highest point.
The 30-foot steel beam used today – signed by hundreds of physicians, employees and community members – was hoisted by crane to the 91-foot apex of what will be the hospital's patient tower carrying the traditional tree as well as an American flag.
"This is an exciting milestone on our journey to create one of the finest regional hospitals in the United States," said Barry S. Rabner, Princeton HealthCare System President and CEO. "Just as this beam occupies the high point of our hospital, so this hospital will soon occupy the high point of care for our region."
Designed in a joint venture by architecture firms HOK and RMJM with architect J. Robert Hillier, formerly of RMJM Hillier, the $447-million hospital has already earned national recognition for plans that incorporate evidence-based design principles that improve the quality of care. In addition, innovative sustainability features will enhance the health of the environment and the health and well being of its patients and employees.
Princeton HealthCare System's goal to make UMCPP a national model of sustainability for healthcare facilities received a significant boost today with a $7 million incentive package from PSE&G. The New Jersey utility's award of a $5.5 million grant and $1.5 million loan will help support some of the approximately $60 million in green initiatives that PHCS has planned for the new hospital. The hospital's major "green" technology features are:
* Cogeneration Plant – The hospital will be powered by a 4.6 megawatt natural gas-fired cogeneration plant, developed in partnership with NRG Energy, Inc., a Princeton based wholesale power generation company. By producing electricity and heat from a single-fuel source, cogeneration is up to twice as efficient as a traditional electric generation system that produces heat and power separately.
* Solar Shading – The exterior of the patient tower will be clad with a large system of sun-shielding exterior louvers allowing for the building to benefit from expansive windows providing 90 percent of interior spaces with natural light, while shielding the interior from the sun's heat and saving on cooling costs.
* Solar Power – Known as solar groves, the solar cells convert sunlight directly into electricity. The 15 panels placed over a portion of the hospital's parking lot will produce energy equivalent to what would be needed to power 30 average sized single family homes. Developed in partnership with NRG Energy.
* Thermal Energy Storage – By producing and storing chilled water at night, and using it to cool the hospital when needed, the hospital removes thousands of kilowatt hours of demand from the power grid during periods of peak demand, as well as reduces energy costs.
The funding from PSE&G comes from the utility's new Hospital Efficiency Program, which is available for new construction and retrofit projects at facilities in PSE&G's service territory.
"These investments will enable hospitals and medical centers install energy efficiency measures so that they can focus on their critical function of saving lives," said Al Matos, PSE&G's vice president for renewables and energy solutions. "The Princeton HealthCare System is working hard to make this new hospital a national model of energy efficiency, and we're glad that the funding PSE&G is providing will help them reach that impressive goal."
The Topping Out ceremony ushers in a new phase of construction of the hospital. With the steel "skeleton" of the main patient tower complete, construction crews will now turn their focus to the exterior "skin" of the building.
When it opens its doors in late 2011 the hospital will consist of approximately 630,000 square feet of interior space, with 237 single patient rooms, state-of-the-art emergency services, operating suites and a comprehensive array of ambulatory services and laboratories.
The building will also incorporate many findings and best practices of evidence-based healthcare design, which has demonstrated how the layout of patient rooms, floor configuration and numerous other design details can improve patient care.
Located on Route One, between Scudders Mill Road and Plainsboro Road, the new facility is located about 2.5 miles from the center of Princeton and will take the place of the current hospital on Witherspoon Street in Princeton, founded in 1919.
More than just a replacement for that legacy facility, the new hospital will serve as the hub of a 160-acre health campus that will include uses for: medical offices, health education, assisted living residential, skilled nursing and rehabilitation, pediatric services and passive recreation in the form of a 32-acre public park along the Millstone River.
The decision to relocate UMCP emerged after the hospital conducted extensive analysis of the feasibility of renovating and expanding the current downtown Princeton facility. Members of the community and local government officials were involved in dozens of public meetings devoted to determining a course of action that would allow the hospital to fulfill its mission and meet the changing healthcare needs of the Central New Jersey region.
The current nine-acre Witherspoon Street site of UMCP will be redeveloped by a private developer in accordance with Princeton Borough and Township zoning ordinances that call for a multi-unit residential complex with a small retail component, parking garage, and open plazas.
SOURCE Princeton HealthCare System
Posted December 7, 2009
More Articles: