Subscribe Now
Keep up with the latest news with our magazine and e-newsletter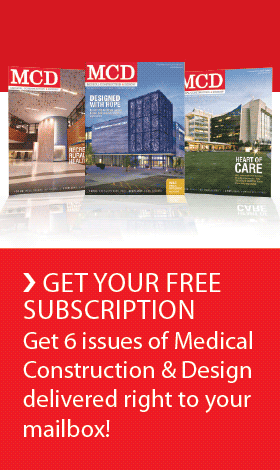 Subscribe to our E‑Newsletter
CHARLOTTE, N.C. — Nov. 11  — MedCath Corporation , a healthcare provider focused on high acuity healthcare services, today announced it has received licensure by the Arizona Department of Health Services and accreditation by The Joint Commission for its new 70-bed Hualapai Mountain Medical Center in Kingman, Ariz, which opened October 15th. The new hospital, which also has shelled space for another 36 beds, is MedCath's biggest step in a three-year transformation strategy to expand the services offered.
The $70 million project is located in one of Arizona's fastest growing regions and a city whose population has doubled since 1990. Hualapai Mountain Medical Center will focus on providing high acuity services, and includes four operating rooms, one cath lab and a 22-bay emergency department. The hospital's services will include heart services, inpatient and outpatient surgery, medical services, intensive care and emergency services while employing state-of-the-art diagnostic imaging and laboratory services.
"We are looking forward to delivering our differentiated and leading healthcare to Kingman and the surrounding area, and becoming a longstanding member of the region's healthcare community," says O. Edwin French, MedCath's president and CEO. "We're excited about opening Hualapai, because this continues our drive to transform our Company by diversifying beyond cardiovascular care."
The opening of the 189,000-square-foot facility marks the completion of MedCath's second significant construction project in 2009, following the 79-bed expansion of Louisiana Medical Center and Heart Hospital in May. MedCath has now added more than 235 beds since January 2008, an increase in capacity of more than 40 percent. MedCath's hospital average bed size has increased by approximately 36 percent over the past three years, with average license capacity now at 82 beds, up from 60 in 2006.
MedCath Corporation, headquartered in Charlotte, N.C., is a healthcare provider focused on high acuity services with the diagnosis and treatment of cardiovascular disease being a primary service offering. MedCath owns an interest in and operates 10 hospitals with a total of 825 licensed beds, located in Arizona, Arkansas, California, Louisiana, New Mexico, South Dakota, and Texas. In addition, MedCath and its subsidiary MedCath Partners provide services in diagnostic and therapeutic facilities in various states.
SOURCE MedCath Corporation
Posted November 12, 2009
More Articles: