Subscribe Now
Keep up with the latest news with our magazine and e-newsletter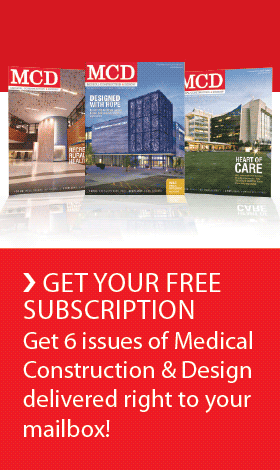 Subscribe to our E‑Newsletter
GAINESVILLE, Fla. — Heading to the hospital? These days, the newest member of your medical team just might be the building itself — and it's likely to play a bigger role in your healing than you might think.
New trends in hospital design are helping health-care systems to better choreograph care and provide a soothing yet energy-efficient environment.

Consider the Shands Cancer Hospital at the University of Florida, which opens Nov. 1. The new 500,000-square-foot, $388-million medical tower is an extension of the Shands at UF academic medical center on its new south campus. The tower will feature 192 private beds and will house the Shands Critical Care Center for emergency and trauma services. Medical teams will serve a variety of inpatients, including those receiving diagnostic and therapeutic oncology care.
"Through academic medicine, we offer patients novel diagnostic and treatment options by expert physicians, researchers and teachers, and skilled and compassionate nurses and clinical teams," said Timothy Goldfarb, Shands HealthCare CEO. "Now we have added a truly innovative, healing setting that incorporates industry best practices and therapeutic design to enhance our patient's overall health-care experience. This is the hospital of tomorrow."
Shands and Gainesville Regional Utilities partnered to establish the GRU South Energy Center to provide 100 percent of the hospital's energy needs. The onsite power plant will ensure uninterrupted power, independent of the city's energy grid, regardless of a prolonged outage elsewhere in the community. It will efficiently convert fuel into electricity and provide 46 percent savings compared with traditional fossil fuel-burning generations. Officials estimate this will save 27 million kilowatts per year, enough to power about 3,000 homes.
The commitment to use environmentally sustainable construction methods to build the hospital has earned Shands HealthCare the silver Leadership in Energy and Environmental Design designation per the U.S. Green Building Council rating system.
"We used insulated windows that are treated to reduce solar glare and white rooftops designed to reflect heat," said Brad Pollitt, Shands HealthCare vice president for facilities. "The facility's air-conditioning heat wheels help to recover lost energy and irrigation and drainage systems use reclaimed water. We provide showers for employees who bike to work and special parking for hybrid cars."
Pollitt says that Shands is now being considered for gold-level LEED certification and will be one of a few academic medical centers nationwide to achieve this rating.
"Opening the Shands Cancer Hospital at UF marks a milestone for us," said Dr. David S. Guzick, UF senior vice president for health affairs and president of the UF&Shands Health System. "It will enable us to meet the growing needs of cancer patients, advance our ability to care for emergency and critical care patients and ensure our long-term commitment to meeting the region's health-care needs."
In designing the building, hospital facilities teams worked with architects whose expertise is health-care environments. Nursing and medical staff provided input to incorporate features such as nurse stations that improve sight lines to patients and monitoring systems and details that give patients control of their environment, allowing them to adjust lighting and window shades with the click of a remote. There is abundant natural light on each floor and hallway lights are wall-mounted or recessed so patients aren't subjected to blinding glare as they are wheeled from place to place.
"Every planning and design decision we made as a team was centered on patient comfort and ease for hospital staff in providing safe and healing care," said Laura Stillman, principal-in-charge/project director at Flad Architects.
"The new building is light-filled, welcoming and easily navigable for patients, families and staff — and we believe it offers hope to those who will experience it," she added.
In 2009, more than 100,000 cancer cases will be diagnosed in Florida, second only to California in the nation's cancer cases. In north Florida alone, at least 4,500 new cases are diagnosed annually. One in seven adults treated at Shands at UF has a cancer-related condition.
The new tower also includes the Shands Critical Care Center at UF, which combines an emergency department and Level I trauma center. The emergency room has 62 treatment areas and provides clinical teams the capacity to treat 100,000 patients a year. The trauma center has four large treatment rooms and is strategically located directly beneath the rooftop helipad that can hold the weight of two helicopters at once — making care a brief elevator ride away when every moment counts.
In addition, in mass-casualty situations the emergency department capacity can be quickly doubled. The private exam rooms have break-away doors, are 18 inches wider than code requirements and can hold side-by-side beds.
The hospital also includes 12 high-tech operating rooms designed to accommodate anticipated evolutions in robotics and 3-D imaging; surgical intensive and intermediate care units; and a bone marrow transplant unit, outpatient clinic and stem cell lab. A full-spectrum radiology department features the "crown jewel" of imaging, the Aquilion ONE 320-detector row CT scanner. The $2.5-million diagnostic tool, the second Shands HealthCare has acquired, helps physicians diagnose cancer, and it can detect stroke and heart disease in minutes, replacing dozens of other tests that typically take hours or even days. Shands was the first in Florida and one of only a handful in the nation to acquire this technology.
Ultimately, hospital officials worked hard to create a setting that underscores their commitment to hope and healing, from the Garden of Hope, which provides a place for quiet reflection, to the Sanctuaries of Silence and Peace, areas for meditation and prayer.
"As our clinical teams focus on each patient's medical and physical condition, the beautifully designed building creates a healing environment and helps us support their emotional well-being," Goldfarb said.
Some studies indicate that design improvements lead to improved patient outcomes, although more research needs to be done, according to Robert Cassidy, editor-in-chief of Building Design+Construction magazine, based in Oak Brook, Ill.
"There's great value in saving energy, improving day-lighting and providing views of nature and other amenities, such as healing gardens and family centered patient rooms and facilities," Cassidy said. "One of the ways the patients and families evaluate a health-care setting is how bright and cozy it is. Whether those elements have a benefit in reduced length of stay or other clinical benefits is not scientifically proven, but our gut tells us they do."
This news release was issued on behalf of Newswise(TM). For more information, visit http://www.newswise.com.
SOURCE University of Florida Health Science Center
Posted October 26, 2009
More Articles: