Subscribe Now
Keep up with the latest news with our magazine and e-newsletter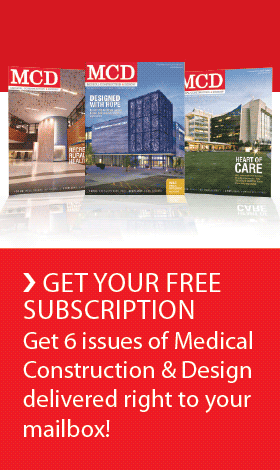 Subscribe to our E‑Newsletter
Thought-Provoking Sessions, Ground-Breaking Exhibits Among Many Highlights as Healthcare Design Industry's Most Popular Conference Brings Attendees Another Thriving Event
TRUMBULL, CT  – The 22nd Healthcare Facilities Symposium & Expo (HFSE) celebrated yet another successful showing at its annual conference, held September 30 – October 2, 2009 at Chicago's famed Navy Pier. Despite industry-wide concerns about the economy's impact on tradeshows, HFSE closed the conference unscathed with 2,199 attendees, nearly matching last year's record high.

Attendees had the opportunity to explore facility design and management best practices and new technologies, as well as network and exchange information with nearly 200 companies on the exhibit show floor. HFSE organizers also raised a record $9,600 during the conference, for Access Community Health Network, Chicago's largest private primary health care provider to the underserved and the nation's largest community health center organization.
Bringing together the professionals who design, plan, construct and manage healthcare facilities, HFSE uses expert sessions and features focused on major trends and challenges at the forefront of the industry to help educate their attendees and keep them tapped into the latest news impacting their facilities and businesses. Among the show's many highlights was an opening keynote from Ron Galloway, director of the noted documentary film "Why Wal-Mart Works & Why That Makes Some People Crazy." In his presentation, Ron explained the role Wal-Mart plays in today's healthcare industry, and how the competitive force will affect the future. Also on display for the second year was the popular Green Patient Lab 3.0 exhibit, which demonstrated how sustainable products and green practices could be incorporated into facility design to not only protect the environment, but benefit patients, staff and patient families as well.
"Healthcare Facilities Symposium and Expo has been a committed conference partner over the past two years by giving us a spotlight to demonstrate the Green Patient Lab to the hundreds of healthcare industry professionals and influencers who attend the show," said Marty Waldron of Anshen + Allen. "The Lab and its partners continue to improve and benefit from participating in the Symposium each year, as it is the optimum platform for us to communicate with key healthcare facilities decision-makers and showcase the GPL's research, ideas and products."
Conference-goers were also treated to a "Symposium Party," held at the Hyatt Regency Chicago on the opening night of the conference. The party was hosted as part of the fourth annual Symposium fundraiser, and raised $9,600 for Access Community Health Network. The proceeds were gathered through a raffle drawing, which was open to all exhibitors, sponsors, media and other attendees. This year's raffle prizes included: a David Yurman necklace; a Men's Burberry watch; a Coach handbag; a Nikon digital camera; various gift cards and more than 15 other prizes. Those organizations donating to the raffle included Gurtz Electric, Navigant, Ragnar Benson Construction, Skender Construction and Thorne Associates.
"Access Community Health gives underserved children and families the opportunity to walk into a facility's doors and benefit from top medical care," said Jenabeth Ferguson, Event Director. "The organization aims to give everyone the medical attention they deserve and access to today's modern advancements in facilities and treatments, which is a cause our show will stand behind."
The conference featured more than 55 informational sessions presented by first-rate industry experts, with session topics ranging from ethics in the design environment and feng shui for healthcare, to removing the institutional feeling from a medical facility and balancing art and science in cancer centers. HFSE also proudly announced a new award to be presented at the 2010 Healthcare Facilities Symposium and Expo, called "A Place to Flourish: The 'Generative Space' Health Improvement Award." The annual international award will recognize and promote healthcare provider organizations that are cultivating 'generative space' with the intentional design of their environments to make both systemic and sustainable improvements to whole-community health. For details on the award program, visit http://www.thecaritasproject.info/aplacetoflourish/.
The 2009 Symposium Distinction Awards also were given out during a special luncheon on Tuesday, September 29 sponsored by FacilityCare Magazine. The highly esteemed competition honored design teams and individuals who have made a profound contribution to the healthcare design industry and recognizes the best and most innovative new products exhibited at the Symposium. This year's winners included:
PRODUCT AWARDS
Architect's Choice & Best in Show
Evolve Collection by Momentum Textiles
Most Innovative
Furniture Feel EMR Workstation by Cygnus Inc
Most Sustainable
The VYCON(r) Direct Connect by VYCON
DESIGN AWARDS
Team Award
Perkins & Will
The Arlington Free Clinic
User-Centered Award
OWP/P
ALGH Bed Replacement Tower
Individual Award
Richard L. Kobus, Founding Principal, Tsoi/Kobus & Associates
About JD Events
JD Events is dedicated to the creation of targeted and innovative industry-leading events that deliver results. The company brings together highly qualified buying audiences, education-rich content and high-level networking opportunities — all geared toward increasing business transactions in the markets it serves. For more information on JD Events, visit http://www.jdevents.com or contact Joel Davis at joel@jdevents.com
Posted October 12, 2009
More Articles: