Subscribe Now
Keep up with the latest news with our magazine and e-newsletter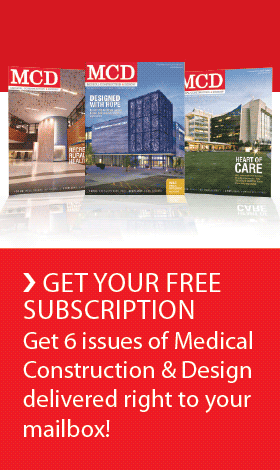 Subscribe to our E‑Newsletter
CHARLOTTE, N.C., — Cogdell Spencer ERDMAN is pleased to announce the signing of a facilities master planning contract for Southeastern Regional Medical Center, located in Lumberton, North Carolina.
Southeastern Regional Medical Center is licensed for 337 beds and operates a 115-bed long-term care center. The medical center serves more than 15,000 inpatients and more than 71,000 emergency room patients annually. There are more than 125 physicians on the active medical staff, representing a comprehensive range of service offerings. The study will focus on an optimal facility plan that enhances the medical center's market position and care delivery model with sensitivity to capital constraints.

Cogdell Spencer ERDMAN's multi-disciplined planning team has partnered with Southeastern Regional Medical Center's team to analyze the hospital's current marketplace and make recommendations for future facility planning that supports the medical center's healthcare delivery vision and mission.
"We are pleased to partner with Southeastern Regional Medical Center to develop a dynamic facilities strategy that anticipates future market opportunities and trends in Lumberton and the surrounding communities," said Matthew Nurkin, President, Mid-Atlantic Region for Cogdell Spencer ERDMAN.
About Cogdell Spencer ERDMAN(SM)
Cogdell Spencer ERDMAN(SM) is the nation's premier integrated healthcare facilities company. Our clients count on us as a trusted partner in defining their healthcare delivery strategies and developing innovative facilities solutions to support them. We are widely recognized for creating sustainable, efficient healing environments for our clients and their patients. The Company has been built around understanding and addressing the full range of specialized real estate needs of the healthcare industry. Cogdell Spencer ERDMAN is a service mark of the wholly-owned operating company of Cogdell Spencer Inc. Learn more about Cogdell Spencer ERDMAN and its parent company Cogdell Spencer Inc. (NYSE: CSA) at www.cogdellspencer.com.
Forward-Looking Statements
This press release contains forward-looking statements within the meaning of the Private Securities Litigation Reform Act of 1995. The forward-looking statements reflect the Company's views about future events and are subject to risks, uncertainties, assumptions and changes in circumstances that may cause actual results to differ materially. Factors that may contribute to these differences include, but are not limited to the following: market trends; our ability to obtain future financing arrangements; our ability to renew ground leases; our ability to comply with financial covenants in our debt instruments; defaults by tenants; and changes in the reimbursement available to our tenants by government or private payors. For a further list and description of such risks and uncertainties, see the reports filed by the Company with the Securities and Exchange Commission, including the Company's Form 10-K for the year ended December 31, 2008. Although the Company believes the expectations reflected in such forward-looking statements are based on reasonable assumptions, it can give no assurance that its expectations will be realized. The Company disclaims any intention or obligation to update or revise any forward-looking statements, whether as a result of new information, future events or otherwise.
SOURCE: Cogdell Spencer ERDMAN
Posted October 22, 2009
More Articles: