Subscribe Now
Keep up with the latest news with our magazine and e-newsletter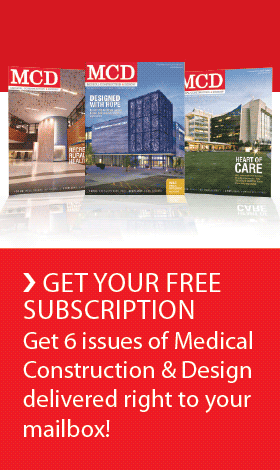 Subscribe to our E‑Newsletter
FARMINGTON HILLS, Mich., — Oct. 6  — Cogdell Spencer ERDMAN is pleased to announce that the Botsford Hospital Cancer Center has been certified at the LEED Silver level by the U.S. Green Building Council. This is the first USGBC LEED Silver Certified health care facility in southeastern Michigan.
Leadership in Energy and Environmental Design (LEED) is an internationally recognized green building certification system developed by the U.S. Green Building Council, providing third-party verification that a building was designed and built using strategies aimed at improving performance across all metrics that matter most: sustainable site solutions, water efficiency, energy and atmosphere optimization, materials and finishes, improved indoor environmental quality, and stewardship of resources and sensitivity to their impacts. LEED is a point-based system where building projects earn LEED points for satisfying green building criteria. Certification is graded at certified, silver, gold and platinum levels.

"We are proud of this recognition and will continue to take steps to protect our environment," said Paul LaCasse, President and CEO, Botsford Health Care. "Green initiatives are important to our employees and are a fine example of our commitment to being a good neighbor."
Botsford Comprehensive Cancer Center achieved sustainable solutions in the following areas
* Site development to maximize open space
* Stormwater management systems
* Interior and exterior lighting
* Water efficient landscaping
* Water use reduction through low-flow lavatories, kitchen and exam sinks and dual-flush toilets
* Optimizing energy performance
* Construction waste management program
* Use of buildings materials with recycled content
* Building materials sourced from within a 500 mile radius of project location
* Use of wood from suppliers who have received Forest Stewardship Certification
* All indoor adhesive and sealant products comply with VOC criteria
* Indoor paint and coating products comply with GreenSeal and other standards
* Carpeting made from low-emitting materials
* No urea-formaldehyde used in indoor composite wood and agrifiber materials
* Green Housekeeping program reducing the use of toxic chemicals
* Innovative design incorporating an onsite healing garden
A highlight of the project is the healing garden designed to bring beauty and serenity to the cancer center. Healing gardens are a vital aspect of the care environment. The garden is accessible through the campus and the facility, providing a place of respite for users and a sanctuary for patients and their families. A LEED innovation credit was achieved for this amenity.
"Botsford Hospital Cancer Center is an excellent example of the healing environments that can be created with the patient in mind, while maintaining stewardship to sustainability," said Scott Ransom, President of Cogdell Spencer ERDMAN.
The $18 million cancer center was designed and built by Cogdell Spencer ERDMAN, working with Botsford's staff and physicians. The 30,000 square foot facility houses the Botsford Radiation Oncology Department and includes space for two medical oncology practices.
About Botsford Hospital
Botsford Hospital, a 330-bed community hospital in Farmington Hills, Mich., was founded in 1965. Nationally recognized for quality, safety and medical education programs, Botsford received the Governor's Award for Improving Patient Safety and Quality of Care in the Hospital Setting and certification as a Chest Pain Center from the Society of Chest Pain Centers. Botsford's web address is www.botsford.org.
About Cogdell Spencer ERDMAN
Cogdell Spencer ERDMAN(SM) is the nation's premier integrated healthcare facilities company. Our clients count on us as a trusted partner in defining their healthcare delivery strategies and developing innovative facilities solutions to support them. We are widely recognized for creating sustainable, efficient healing environments for our clients and their patients. The Company has been built around understanding and addressing the full range of specialized real estate needs of the healthcare industry. Cogdell Spencer ERDMAN is a service mark of the wholly-owned operating company of Cogdell Spencer Inc. Learn more about Cogdell Spencer ERDMAN and its parent company Cogdell Spencer Inc. (NYSE: CSA) at www.cogdellspencer.com.
SOURCE Cogdell Spencer ERDMAN
Posted October 7, 2009
More Articles: