Subscribe Now
Keep up with the latest news with our magazine and e-newsletter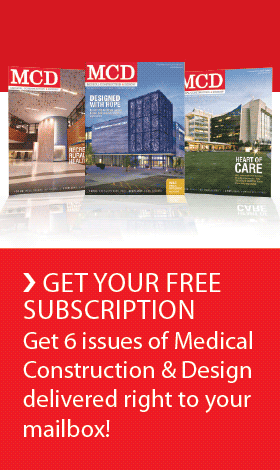 Subscribe to our E‑Newsletter
NEW YORK, NY — Aug. 12 — Turner Construction Company, the nation's largest builder of healthcare facilities, reported that the use of an innovative combination of Building Information Modeling (BIM) and Lean construction practices on the 555,000 sq. ft. Middle Tennessee Medical Center (MTMC) in Murfreesboro, Tenn. resulted in the delivery of $3 million in budgeted costs savings below the Owner's initial target at the beginning of the project and an additional projection of nearly $1 million in savings from BIM-enabled prefabrication alone by the end of the project.

Construction of the medical center is also on track to be completed two months early. The 286-bed regional hospital, which will feature 10 operating rooms, 27 post-partum rooms and 40 emergency department rooms, will be substantially completed in May 2010 largely due to Turner's implementation of a Lean construction approach enhanced by the use of Building Information Modeling as a visual and data-rich work planning tool.
"Not only can the new Medical Center open its doors earlier than originally anticipated, we are also going to benefit from a cost savings that is thanks in part to the early involvement of Turner and its use of BIM in conjunction with Lean construction practices," said Jennifer Garland, MTMC Project Director.
In the early planning stages of the project, the team decided to pursue a Lean approach to minimize waste and increase efficiencies throughout the life of the project. Applying the slogan of "build digitally first," Turner is achieving large percentages of pre-fabrication on major components of the building systems through a comprehensive digital coordination process. Subcontractors are using their trade BIM's to visually "prototype" all aspects of their work in detail long before fabrication or construction even starts.
"BIM combined with a Lean culture enabled us to achieve levels of prefabrication we have not seen on previous projects," said Andy Davis, Turner Universal Senior Project Manager. "For example, most of the building's ductwork is being prefabricated off-site and then assembled at the project. In some cases, up to 16 feet of ductwork is being delivered to the site to be installed in single piece."
The use of BIM coupled to a Lean workflow also allowed a significantly reduced crew of only three workers over five days to stand on the metal deck before concrete was poured and place hundreds of pipe hangars across a 30,000 sq. ft. area. The traditional placement of hangers from lifts or on ladders would have taken the same crew about four times as long, would have increased costs, and, most importantly, would have created unsafe conditions on-site.
"We are proud to serve as the construction manager and be part of a building team employing innovative construction methods to benefit the patients of Middle Tennessee Medical Center and the surrounding communities served by this important new hospital," said Shannon Hines, President, Turner Universal.
About Turner
Turner is the leading general builder in the U.S., ranking first or second in the major segments of the building construction field. During 2008, Turner completed $10.7 billion of construction. Turner is the only builder offering clients a nationwide network of offices across the U.S. Founded in 1902, the firm is a subsidiary of HOCHTIEF, a publicly traded company and one of the world's leading international construction service providers. For more information, visit Turner's website at www.turnerconstruction.com.
SOURCE Turner Construction Company
Posted August 12, 2009
More Articles: