Subscribe Now
Keep up with the latest news with our magazine and e-newsletter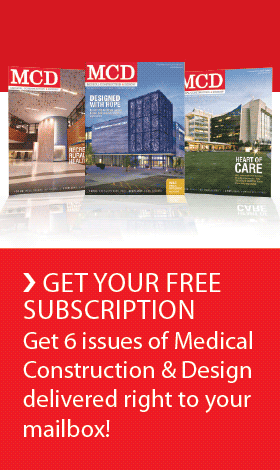 Subscribe to our E‑Newsletter
CHICAGO, IL –  The American Society for Healthcare Engineering (ASHE) of the American Hospitals Association (AHA) honored members during the opening session of its 46th Annual ASHE Conference and Technical Exhibition on August 3rd.

The 2009 awards and winners include:
Crystal Eagle
The Crystal Eagle Recipient is Ken Cates who has achieved Senior status (SASHE) is a  principal at Northstar Management in St. Louis, Mo.  This is the highest honor ASHE bestows upon a member and it recognizes an individual for their leadership, innovation and accomplishments in the fields of healthcare engineering and facilities management, planning, design and construction, safety & security and technology.
Emerging Regional Leaders
The Emerging Regional Leadership award is presented to one individual from each of ASHE's ten regions who has shown a commitment to the field and has demonstrated leadership qualities:
Region 1 —      Steve Jalowiec, P.E., CHFM, Director, Engineering, Waterbury Hospital, Waterbury, Conn.
Region 2 —      Henry K Schuurman, Vice President, Facilities Development, Christian Health Care Center, Wyckoff, N.J.
Region 3 —      James R Bonar, CHFM, Manager Plant Operations & Maintenance, Charleston Area Medical Center Memorial Hospital, Charleston, W.Va.
Region 4 —      Richard P Zurich, Administrative Director, Facilities Engineering, Martin Memorial Medical Center, Stuart, Fla.
Region 5 —      Howard E Jones, Assistant Director, Plant Operations, St. Mary's Good Samaritan Inc., Mount Vernon, Ill.
Region 6 —      Joseph R Lange, HEM, Facilities Manager, St. Joseph's Hospital, Marshfield, Wis.
Region 7 —      Chet N Howard, Director Maintenance, Arkansas Children's Hospital, Little Rock, Ark.
Region 8 —      Donald Stevens, CHFM, Director Facilities Management, Bothwell Regional Health Center, Sedalia, Mo.
Region 9 —      Dan P James, Engineering Supervisor, NorthBay Medical Center, Fairfield, Calf.
Region 10 —      Roger W Dean, Director, Building Services, St Luke's Regional Medical Center, Boise, Idaho
President's Award
The 2009 President's award was presented to Gordon D. Burrill, PE, who has achieved Fellow status with ASHE (FASHE) is President of Teegor Consulting in Fredericton, New Brunswick, Canada. The President's Award is presented by the current ASHE president to an individual who has made significant advancements to our profession and has gone above and beyond the call of duty in an effort to optimize the physical healthcare environment.

Fellow Status
Fellow status is granted to ASHE active members who have achieved Senior status and continue to demonstrate commitment to the healthcare facilities management profession.  The status recognizes one's contribution to the field through one's leadership, education and publishing.  This year, the following individuals earned Fellow status:
* Timothy E. Adams, CHFM, FASHE, Associate Director, Engineering & Compliance American Society for Healthcare Engineering, Chicago, Ill.
* Gordon D. Burrill, PE, FASHE, President, Teegor Consulting Inc., Fredericton, New Brunswick, Canada
* Robert R. Feldbauer, MHA, FACHE, CHFM, FASHE, Division Director, Facilities Planning & Support Services, The University Hospital, Cincinnati, Ohio
* Don L. Garrison, FASHE, CHFM, Chief, Facilities Management, Franklin Community Health Network, Farmington, Maine
* John F. DiGirolomo, MBA, CHFM, FASHE, Senior Vice President, St. Barnabas Hospital, Bronx, N.Y.
* Hugh O. Nash, FASHE, Engineer, Nash Lipsey Burch LLC., Nashville, Tenn.
* Rajendra N. Shah, PE, MBA, BSME, FASHE, Corp. Director, Construction & Facilities Management, CentraState Healthcare System, Freehold, N.J.
* Skanda V. Skandaverl, MBA, CHFM, FASHE, Director, Facilities & Construction, Lawrence Memorial Hospital, Lawrence, Kan.
Senior Status
Senior status is granted to an ASHE active members demonstrating a commitment to the healthcare facilities management profession and recognizes their contribution to the industry through leadership, education and publishing. This year the following ASHE members earned Senior Status:
* Robert H. Bartels, CHFM, SASHE, President, Safety Management Services, Inc., Arlington Heights, Ill.
* Dave Dagenais, BS, CHSP, CHFM, SASHE, Director, Plant Operations/Security, Wentworth Douglass Hospital, Dover, N.H.
* Leon C. Dender, SASHE, Director of Plant Operations, Philadelphia Nursing Home, Philadelphia, Pa.
* Raul J. Franco, CHFM, SASHE, District Manager, Facilities Solutions, Sodexo Health Care Services, San Diego, Calif.
* Mark A. Mears, CHFM, SASHE, Director, Support Services, Union Hospital, Elkton, Md.
About ASHE
The American Society for Healthcare Engineering (ASHE) is one of the personal membership groups of the American Hospital Association (AHA). ASHE represents a diverse network of more than 9,200 members dedicated to optimizing the healthcare physical environment. For information on ASHE go to www.ashe.org.
Posted August 11, 2009
More Articles: