Subscribe Now
Keep up with the latest news with our magazine and e-newsletter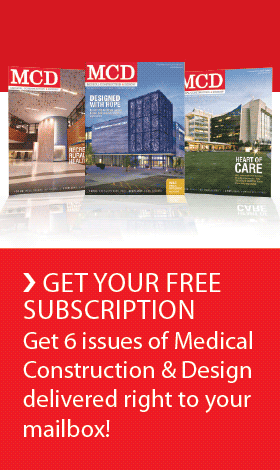 Subscribe to our E‑Newsletter
Elgin, IL – Sherman Hospital was awarded a $400,000 grant from the Illinois Clean Energy Community Foundation for its geothermal lake project at the new Sherman Hospital campus. The Foundation supports projects to improve energy efficiency and develop renewable energy resources throughout Illinois. Overall, the foundation has awarded over $6 million in grants to advance the use of geothermal in Illinois. The Sherman Hospital grant is the foundation's largest individual award to support a geothermal system.
Sherman was notified of the grant in 2006, and has received portions of the funding throughout the construction process. The grant will off-set a portion of the incremental construction cost of Sherman's geothermal system, and be used educate the community on geothermal energy.

"Illinois Clean Energy applauds and looks to Sherman's leadership. By constructing the largest geothermal system in the state to provide its new building with conditioned air, Sherman Hospital is setting a "green" benchmark for how hospitals and large institutional energy users can cool and heat their facilities in an environmentally friendly way," says Bob Romo, Senior Program Officer, Illinois Clean Energy Foundation.
"Sherman is honored to receive this grant from the Illinois Clean Energy Community Foundation," said Rick Floyd, President and CEO, Sherman Health. 'We are proud to be the first hospital in Illinois to use geothermal energy to heat and cool our facility."
Sherman Hospital's 15-acre geothermal lake is the only geothermal lake in Illinois and one of only two lakes currently cooling and heating medical centers in the U.S. The lake will be the main energy source for the new Sherman Hospital. In addition to saving an estimated $1 million per year in energy costs, the energy produced by the lake is a renewable resource that does not create greenhouse gases or pollution.
"Without a doubt, the Foundation's support of Sherman's geothermal heating and cooling system is spurring market transformation in Illinois for technology the U.S. Environmental Protection Agency calls 'the most energy efficient, environmentally clean and cost-effective space conditioning system available'," says Phil Novak, Chairman, Illinois Clean Energy Board of Trustees.
Posted May 26, 2009
More Articles: