Subscribe Now
Keep up with the latest news with our magazine and e-newsletter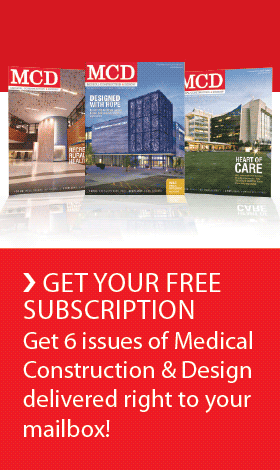 Subscribe to our E‑Newsletter
Chicago — May 19 — Practice Greenhealth, the nation's only membership association devoted to environmentally responsible healthcare, has announced its 2009 Environmental Excellence Award winners. These competitive awards are given to institutions within the healthcare sector for outstanding programs to reduce the facility's environmental footprint.

Fletcher Allen Health Care of Burlington, VT and Metro Health Hospital of Wyoming, MI, were acknowledged with Practice Greenhealth's highest award by being admitted to the Environmental Leadership Circle, which honors facilities that exemplify environmental excellence and are setting the highest standards for environmental practices in health care.
"All of our members are committed to improving health care's environmental performance, but there is an illustrious group of facilities setting the highest standards," said Practice Greenhealth Executive Director Bob Jarboe. "They are the best of the best, the recipients of our top award. Metro Health and Fletcher Allen Health Care have introduced extensive environmental strategies into health care and are committed to achieving further improvements."
Six major health systems, including Advocate Health Care – Oak Brook, IL; Catholic Healthcare West, San Francisco, CA; Cleveland Clinic Health System, Cleveland, OH; Covenant Health Systems, Lexington, MA; Kaiser Permanente, Oakland, CA; and Legacy Health System; Portland, OR, received the System for Change award. This award recognizes health systems that are working cohesively to gather data, set system goals, benchmark, and share successes in environmental performance.
"We are very pleased to see so many leading health systems striving to improve their environmental performance," stated Jarboe. "Each of our Environmental Excellence awards, whether new or old, large or small, represents a tremendous effort on the part of facility staff to reduce the health and environmental impacts associated with health care delivery."
Practice Greenhealth will honor its top performers at the Environmental Excellence Awards today in Chicago, IL, at a dinner ceremony during CleanMed, the premier Global Conference on Environmentally Sustainable Health Care. Awards are presented in seven categories to more than 60 facilities. Practice Greenhealth will sponsor the planting of 100 trees in Haiti for each award presented.
A full list of Practice Greenhealth Environmental Excellence award winners follows.
About Practice Greenhealth
Practice Greenhealth is the nation's leading membership and networking organization for institutions in the healthcare community that have made a commitment to sustainable, eco-friendly practices. Members include hospitals, healthcare systems, businesses and other stakeholders engaged in the greening of healthcare to improve the health of patients, staff and the environment. For more information on Practice Greenhealth, visit www.practicegreenhealth.org.
Award Winners
Environmental Leadership Circle
2009 Inductees
Fletcher Allen Health Care – Burlington, VT
Metro Health Hospital – Wyoming, MI
Sustained Members
Affinity Health System – Appleton, WI
Allegiance Health – Jackson, MI
Borgess Medical Center – Kalamazoo, MI
Bronson Methodist Hospital – Kalamazoo, MI
Dartmouth-Hitchcock Medical Center – Lebanon, NH
Dominican Hospital – Santa Cruz, CA
Gundersen Lutheran – La Crosse, WI
Legacy Emanuel Hospital and Medical Center – Portland, OR
Legacy Good Samaritan Hospital and Medical Center – Portland, OR
Legacy Meridian Park Hospital and Medical Center – Tualitan, OR
Legacy Mount Hood Hospital and Medical Center – Portland, OR
Legacy Salmon Creek Hospital and Medical Center – Vancouver, WA
Mercy Hospital – Janesville, WI
Northern Michigan Regional Hospital – Petoskey, MI
Oregon Health and Science University – Portland, OR
Providence Milwaukie Hospital – Milwaukie, OR
Providence Portland Medical Center – Portland, OR
Providence St. Vincent Medical Center – Portland, OR
Ridgeview Medical Center – Waconia, MN
Sacred Heart Hospital – Eau Claire, WI
Sequoia Hospital – Redwood City, CA
St. Joseph's Medical Center – Stockton, CA
St. Mary's Hospital Medical Center – Green Bay, WI
Texas Health Harris Methodist Hospital – Fort Worth, TX
University Health Network – Toronto, ON
University of Michigan Hospitals and Health Centers – Ann Arbor, MI
University of Texas Health Science Center – San Antonio, TX
University of Washington Medical Center – Seattle, WA
DEHP-Free Award
Magee-Womens Hospital of UPMC – Pittsburgh, PA
Champion for Change Award
Amerinet, Inc. – St. Louis, MO
Ascent Healthcare Solutions – Phoenix, AZ
Boulder Associates Architects – Boulder, CO
Broadlane – Dallas, TX
Consorta, Inc. – Schaumburg, IL
Construction Specialties, Inc. – Muncy, PA
HealthTrust Purchasing Group – Brentwood, TN
Johnson & Johnson – New Brunswick, NJ
Maryland Hospitals for a Healthy Environment – Baltimore, MD
Mazzetti Nash Lipsey Burch – San Francisco, CA
MedAssets Supply Chain Systems – St. Louis, MO
Novation, LLC – Irving, TX
Perkins+Will – Chicago, IL
PharmEcology Associates, LLC – Wauwatosa, WI
Premier, Inc. – Charlotte, NC
SRI/Surgical Express, Inc. – Tampa, FL
System for Change Award
Advocate Health Care – Oak Brook, IL
Catholic Healthcare West – San Francisco, CA
Cleveland Clinic Health System – Cleveland, OH
Covenant Health Systems – Lexington, MA
Kaiser Permanente – Oakland, CA
Legacy Health System – Portland, OR
Partner for Change Award
Advocate Good Samaritan Hospital – Downers Grove, IL
Advocate Christ Medical Center and Hope Children's Hospital – Oak Lawn, IL
Advocate Good Shepherd Hospital – Barrington, IL
Ashtabula County Medical Center – Ashtabula, OH
Baltimore Rehabilitation & Extended Care Center – Baltimore, MD
Baltimore VA Medical Center – Baltimore, MD
Bay Park Community Hospital – Oregon, OH
Cancer Treatment Centers of America at Eastern Regional Medical Center – Philadelphia, PA
Chandler Regional Medical Center – Chandler, AZ
Christiana Hospital – Newark, DE
Cleveland Clinic – Cleveland, OH
Community Hospital of San Bernardino – San Bernardino, CA
Concord Hospital – Concord, NH
Connecticut Children's Medical Center – Hartford, CT
Elliot Hospital – Manchester, NH
Fairview Hospital – Cleveland, OH
Great River Medical Center – West Burlington, IA
Hays Medical Center, Inc. – Hays, KS
Hillcrest Hospital – Mayfield Heights, OH
Huntington VA Medical Center – Huntington, WV
Huron Hospital – East Cleveland, OH
Inova Fairfax Hospital – Falls Church, VA
Kaiser Permanente Antioch Medical Center – Antioch, CA
Kaiser Permanente Fontana Medical Center – Fontana, CA
Kaiser Permanente Fremont Medical Center – Fremont, CA
Kaiser Permanente Hawaii Region – Honolulu, HI
Kaiser Permanente Hayward Medical Center – Hayward, CA
Kaiser Permanente Health Plan of Ohio – Cleveland, OH
Kaiser Permanente Health Plan of the Mid-Atlantic States – Rockville, MD
Lakewood Hospital – Lakewood, OH
Magee-Womens Hospital of UPMC – Pittsburgh, PA
Mercy General Hospital – Sacramento, CA
Mercy Gilbert Medical Center – Gilbert, AZ
Mills Peninsula Health Services – Burlingame, CA
Montgomery General Hospital – Olney, MD
Nova Medical Group – Ashburn, VA
Oscar G. Johnson VA Medical Center – Iron Mountain, MI
Perry Point VA Medical Center – Perry Point, MD
Saint Francis Hospital and Medical Center – Hartford, CT
Salinas Valley Memorial Healthcare System – Salinas, CA
Spectrum Health Blodgett Hospital – Grand Rapids, MI
Spectrum Health Butterworth Hospital – Grand Rapids, MI
Spokane VA Medical Center – Spokane, WA
St. Bernardine Medical Center – San Bernardino, CA
St. Clare Hospital – Lakewood, WA
St. Elizabeth Community Hospital – Red Bluff, CA
St. Francis Hospital – Federal Way, WA
St. John's Pleasant Valley Hospital – Camarillo, CA
St. John's Regional Medical Center – Oxnard, CA
St. John's Riverside Hospital – Yonkers, NY
St. Joseph Manor – Brockton, MA
St. Joseph Medical Center – Tacoma, WA
St. Joseph Regional Health Network – Reading, PA
St. Mary Health Care Center – Worcester, MA
St. Mary's Health System – Lewiston, ME
St. Patrick Hospital and Health Sciences Center – Missoula, MT
St. Vincent Hospital – Green Bay, WI
Stony Brook University Hospital – Stony Brook, NY
Texas Health Arlington Memorial Hospital – Arlington, TX
The University of Chicago Medical Center – Chicago, IL
VA Illiana Health Care System – Danville, IL
Youville Hospital & Rehabilitation Center – Cambridge, MA
Making Medicine Mercury-Free Award
Advocate Illinois Masonic Medical Center – Chicago, IL
Advocate Christ Medical Center and Hope Children's Hospital – Oak Lawn, IL
Advocate Good Shepherd Hospital – Barrington, IL
Cancer Treatment Centers of America at Eastern Regional Medical Center – Philadelphia, PA
Chandler Regional Medical Center – Chandler, AZ
Elliot Hospital – Manchester, NH
Fairview Hospital – Cleveland, OH
Firelands Regional Medical Center – Sandusky, OH
French Hospital Medical Center – San Luis Obispo, CA
Hays Medical Center, Inc. – Hays, KS
Hillcrest Hospital – Mayfield Heights, OH
Kaiser Permanente Antioch Medical Center – Antioch, CA
Kaiser Permanente Hayward Medical Center – Hayward, CA
Lawrence & Memorial Hospital – New London, CT
Mercy Gilbert Medical Center – Gilbert, AZ
Mercy Medical Center Mt. Shasta – Mount Shasta, CA
Northridge Hospital Medical Center – Northridge, CA
Oscar G. Johnson VA Medical Center – Iron Mountain, MI
Saint Clare's Hospital – Boonton Township, NJ
Saint Clare's Hospital – Denville, NJ
Saint Clare's Hospital – Dover, NJ
Saint Clare's Hospital – Sussex, NJ
St. Patrick Hospital and Health Sciences Center – Missoula, MT
Texas Health Arlington Memorial Hospital – Arlington, TX
The University of Chicago Medical Center – Chicago, IL
Wilmington Hospital – Wilmington, DE
Partner Recognition
Arkansas Children's Hospital – Little Rock, AR
Bellin Memorial Hospital Inc. – Green Bay, WI
Beth Israel Deaconess Medical Center – Boston, MA
Bon Secours St. Francis Hospital – Charleston, SC
Carilion Stonewall Jackson Hospital – Lexington, VA
Children's Healthcare of Atlanta – Atlanta, GA
Euclid Hospital – Euclid, OH
Evergreen Healthcare – Kirkland, WA
Frank R. Howard Memorial Hospital – Willits, CA
Franklin Square Hospital Center – Baltimore, MD
Good Samaritan Regional Medical Center – Corvallis, OR
Inova Alexandria Hospital – Alexandria, VA
Inova Fair Oaks Hospital – Fairfax, VA
Inova Loudoun Hospital – Leesburg, VA
Inova Mount Vernon Hospital – Alexandria, VA
Kaiser Permanente Health Plan of Georgia – Atlanta, GA
Kaiser Permanente Roseville Medical Center – Roseville, CA
Kaiser Permanente San Jose Medical Center – San Jose, CA
Kaiser Permanente San Rafael Medical Center – San Rafael, CA
Kaiser Permanente South San Francisco Medical Center – South San Francisco, CA
Little Company of Mary Hospital and Health Care Centers – Evergreen Park, IL
Lutheran Hospital – Cleveland, OH
Maristhill Nursing & Rehabilitation Center – Waltham, MA
Marymount Hospital – Garfield Heights, OH
Mercy Medical Center – Roseburg, OR
Mercy Medical Center Mt. Shasta – Mount Shasta, CA
Mercy San Juan Medical Center – Carmichael, CA
Metrowest Medical Center – Framingham, MA
MI Nursing Restorative Center – Lawrence, MA
New York-Presbyterian Hospital – New York, NY
Northridge Hospital Medical Center – Northridge, CA
NYU Hospitals Center – New York, NY
Peter Lougheed Centre – Calgary, Alberta, Canada
Roper Hospital – Charleston, SC
Saint Francis Medical Center – Grand Island, NE
San Francisco VA Medical Center – San Francisco, CA
South Pointe Hospital – Warrensville Heights, OH
St. Andre Health Care Facility – Biddeford, ME
St. Joseph Medical Center – Towson, MD
St. Mary's Villa – Moscow, PA
Union Hospital, Inc. – Terra Haute, IN
Washington Hospital Healthcare System – Fremont, CA
Youville House Assisted Living Residence, Inc. – Cambridge, MA
Youville Place – Lexington, MA
SOURCE Practice Greenhealth
Posted May 21, 2009
More Articles: