Subscribe Now
Keep up with the latest news with our magazine and e-newsletter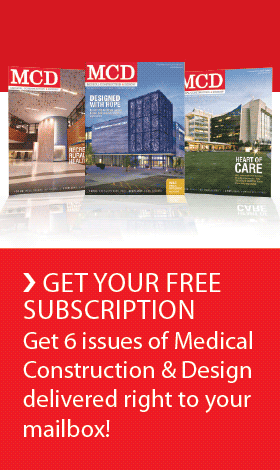 Subscribe to our E‑Newsletter
OAKBROOK TERRACE, Ill., Nov. 12 /PRNewswire-USNewswire/ — The Joint Commission named the 2008 recipients of the 12th Annual Ernest Amory Codman Award to recognize excellence in the use of outcomes measurement to achieve improvements in the quality and safety of health care. Awards are given for organization and individual achievement. The award recipients in the following categories are:
Hospital: Carolinas Medical Center, Charlotte, North Carolina; Cincinnati Children's Hospital Medical Center, Cincinnati, Ohio; and Mission Hospital, Mission Viejo, California.
Multiple Organization: Novant Health, Winston-Salem, North Carolina.
Individual: the late Shukri F. Khuri, M.D.

Established in 1996, the award is named for the physician regarded in health care as the "father of outcomes measurement," and is the first national award to recognize excellence in outcomes measurement. The Joint Commission also recognizes an individual who has played a significant leadership role in promoting the use of performance measures to improve health care services, or who has made major contributions to the development and testing of performance measures or the science and art of quality improvement. A panel of national experts in quality measurement and improvement selected the five recipients of the 2008 Awards.
"The 2008 Codman Award recipients exemplify how performance measurement improves the quality and safety of health care," says Mark R. Chassin, M.D., M.P.P., M.P.H., president, The Joint Commission. "Their achievements demonstrate the progress that can be made when process and outcomes measures are combined into meaningful practices that result in better patient care." The Codman Awards will be formally presented on November 19 during The Joint Commission and Joint Commission Resources' Annual Conference on Quality and Safety in Chicago. The specific achievements of the 2008 Codman Award winners are:
Carolinas Medical Center improved care for emergency department patients with sepsis, a serious illness that requires quick diagnosis. Using a modified version of the early goal-directed therapy (EGDT) protocol, the Code Sepsis Task Force created a major change in the way their emergency department diagnoses and treats this illness. The result was a 30 percent decrease in the mortality of these patients. To eliminate infection and keep blood pressure from dropping too low, sepsis patients were treated more aggressively–with a significantly greater crystalloid volume, higher frequency of vasopressor infusion, and greater packed red blood cell transfusion. The focus on sepsis also resulted in better outcomes for patients with acute respiratory distress syndrome and acute renal failure.
Cincinnati Children's Hospital Medical Center reduced preventable surgical site infection rates from 1.3 per 100 procedure days to .54 per 100 procedure days over a two-year period by using a new, tailored pediatric surgical site infection "bundle" of care components that decreased infection rates and improved efficiency. This bundle is now being used by other children's hospitals in the U.S. Staff emphasized the proper administration of all aspects of their pediatric specific initiative, including correct pre-operative antibiotic administration, skin preparation, and intraoperative oxygen and temperature management. Most importantly, staff made modifications to ensure that approaches were appropriate for the pediatric population.
MissionHospital improved care for seriously ill patients in the emergency department or on a medical-surgical floor by using a specialized nurse-driven Rapid Response Team. The goal was to reduce the incidence and mortality of non-ICU cardiac/respiratory arrests by 50 percent. The program reduced cardiac or respiratory arrests outside the ICU from 36 to 16 during a one-year period, and the associated mortality rate for floor code patients decreased from 62 percent to 23 percent during the same time frame. This initiative is especially relevant given a national trend within hospitals where seriously ill inpatients are at greater risk for increased mortality due to the lack of available ICU or telemetry beds.
Novant Health established a comprehensive program to improve compliance with hand hygiene practices and reduce methicillin-resistant Staphylococcus aureus (MRSA) infections. Hand hygiene compliance rates improved from 49 percent to 98 percent during a four-year period, and MRSA rates decreased from 0.5 per 1000 patient days to 0.3 per 1000 patient days–a 40 percent reduction. This translated to 100 fewer MRSA health care-associated infections for the Novant Health System. The program achieved cultural change by emphasizing patient safety and proved that behaviors can be changed when employees understand that everyone is responsible for patient outcomes.
Shukri F. Khuri, M.D. achieved national and international prominence in the fields of cardiac pathophysiology, cardiac surgery, medical informatics, quality improvement, and health policy research. For 16 years, Dr. Khuri oversaw the National Surgical Quality Improvement Program (NSQIP) in the Department of Veterans Affairs. Recognized today as the model for continuous improvement in surgery, NSQIP is the first national, validated, outcome-based, risk-adjusted and peer-controlled program for the measurement and enhancement of the quality of surgical care. Since the inception of NSQIP, 30-day postoperative mortality and morbidity have dropped by 47 percent and 43 percent, respectively. Dr. Khuri was also instrumental in implementing NSQIP in the private sector through collaboration with the American College of Surgeons. Dr. Khuri died September 26, 2008.
Founded in 1951, The Joint Commission seeks to continuously improve the safety and quality of care provided to the public through the provision of health care accreditation and related services that support performance improvement in health care organizations. The Joint Commission evaluates and accredits more than 15,000 health care organizations and programs in the United States, including more than 8,000 hospitals and home care organizations, and more than 6,200 other health care organizations that provide long term care, assisted living, behavioral health care, laboratory and ambulatory care services. The Joint Commission also accredits health plans, integrated delivery networks, and other managed care entities. In addition, The Joint Commission provides certification of disease-specific care programs, primary stroke centers, and health care staffing services. An independent, not-for-profit organization, The Joint Commission is the nation's oldest and largest standards-setting and accrediting body in health care. Learn more about The Joint Commission at http://www.jointcommission.org
Posted March 30, 2009
More Articles: