Subscribe Now
Keep up with the latest news with our magazine and e-newsletter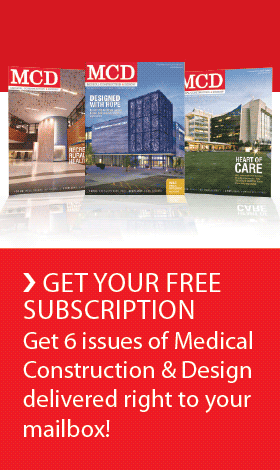 Subscribe to our E‑Newsletter
Construction of the new $623-million, 831,000-square-foot Saint Joseph Hospital in Denver, Colorado is scheduled to be completed this month–nearly 2.5 months earlier than normal—thanks in part to the construction technology of prefabrication. The practice and growing trend of designing and assembling components of a building off-site prior to delivery and installation was a key driver in meeting the regulatory need of having the new hospital open and operational by December 2014. Mortenson now has released a new study on the project that proves how this evolution of construction can pay big dividends to customers today.
Prefabrication: Benefits & Drivers for Successful Implementation presents detailed findings of how prefabricated components of the new Saint Joseph Hospital, such as multi-trade racks, bathroom pods and exterior panels, among others, that were built off-site in warehouses enabled Mortenson to improve the project's overall schedule, cost, quality, sustainability and safety.  Visit mortenson.com/prefab to learn more and download a free copy of the study.
Key insights:
$4.3M in indirect cost savings
Improved cost certainty overall
29,500 hours reduction in required labor
18 percent reduction in schedule
Reduced site congestion resulting in fewer safety incidents and higher overall quality
"The process of construction continues to evolve," said Maja Rosenquist, vice president and general manager at Mortenson. "We simply couldn't have achieved the deadline without prefabrication. The results are real and it was, without a doubt, a major contributor to the success of this project. Prefabrication made construction faster, safer and more predictable."
Construction of the Saint Joseph Hospital included 166 multi-trade prefabricated utility rack systems; 346 exterior wall panels; 440 bathroom pods and 376 patient room headwalls.
"The integrated approach was critical to the timely and successful construction of our new facility. It's precise and helps with the construction speed, without compromising quality," said Bain Farris, president and CEO of Saint Joseph Hospital, the hospital's owner. "We are confident we are building an efficient, sustainable, 21st century healthcare facility that will serve our community's needs for the next 50 years or more."
In recent years, the use of prefabrication versus site-built building components has gained a tremendous amount of attention in the construction industry. The shift in strategy can be attributed to Building Information Modeling, new project delivery methods such as Integrated Project Delivery and project management practices like Lean construction.
These new tools and strategies allow the building industry to use proven methods that have effectively been used by other industries, particularly the manufacturing industry. Prefabrication has emerged as one of these driving methods that benefits construction projects, and the industry as a whole, by increasing efficiency and lowering cost.
In a 2012 industry report by McGraw Hill Construction, the healthcare sector was reported to have the highest use of prefabrication among all types of building construction projects, as well as the sector with the highest opportunity in implementing such construction strategies.
A recent healthcare industry study by Mortenson found new models for healthcare delivery and payment are requiring new design and construction approaches to facilities. With the pressing need to become more efficient and cut costs, they are emphasizing more flexibility in facility design and layouts and project delivery methods–such as prefabrication–to streamline construction to improve success.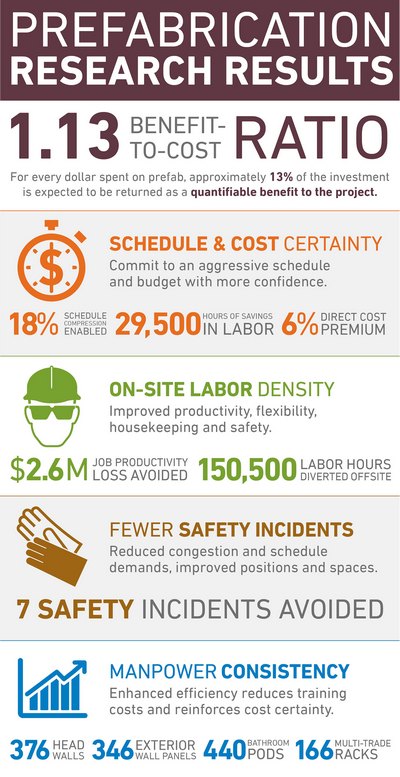 Posted July 22, 2014
More Articles: