Subscribe Now
Keep up with the latest news with our magazine and e-newsletter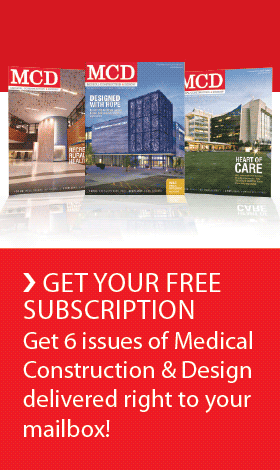 Subscribe to our E‑Newsletter
Residents of San Juan Island in Washington's Puget Sound no longer require expensive helicopter service or slow ferry rides to access professional medical care. The 38,500-square-foot Peace Island Medical Center, with a total of 68 caregivers, now provides clinic access six days a week and 24-hour emergency care service seven days a week to this rural community.
The stunning setting of San Juan Island is treasured for the natural beauty of its hills, forests, inlets and wildlife. Yet until 2012, the island's 7,000 residents lived with the poorest access to healthcare in Washington and had one of the highest rates of uninsured in the state. Procedures typically could require all-day excursions to the nearest hospital on the mainland and emergency care required air transport not covered by standard insurance. An outdated clinic — with insufficient funding and limited equipment — could not provide the services required by the island's mostly senior population, which is twice the age of nearby Seattle's King County.
In 2006, the clinic approached the San Juan Island Community Foundation for help in attaining status as a critical access hospital. As a CAH, the clinic would receive more reimbursement for treatment under Medicare, thereby stabilizing its funding and improving medical care options.
"We saw the opportunity to greatly improve local access to healthcare and significantly increase services in a financially sustainable way. Plus, we wouldn't need to raise taxes," said Foundation Board Chair Charles Anderson.
Natural partnership
Realizing the island needed a new, more robust facility, the foundation discovered PeaceHealth, a nonprofit healthcare provider. Bringing medicine to multiple rural communities in the Northwest, PeaceHealth focuses on truly compassionate, unrestricted care. PeaceHealth was an ideal partner to provide and service the new facility on San Juan Island. Its expertise would not only permit an emergency room and family care clinic, but also an on-island cancer center and access to high-tech diagnostics. Islanders would fund one-third of the $30-million facility through independent philanthropy; PeaceHealth would finance the rest.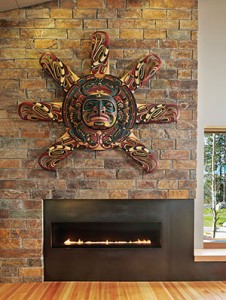 Innovative building design
Mahlum Architects was selected to design the new medical center in 2009. Guiding the design were the community's clear goals to create a comfortable, healing environment that respects the island's natural setting, is a leader in rural healthcare and is financially sustainable.
The Peace Island Medical Center cascades down the site's slope in three narrow bars connected by wide building links. The bars fan out across the 22-acre site allowing daylight and views of the surrounding old-growth forest into almost all clinical and patient spaces. The facility's low profile blends discreetly into the landscape and extensive glazing brings the outdoors in to relieve a typically sterile environment.
The island-appropriate design preserves as much of the site's forest and wetland ecology, basalt topography and native vegetation as possible, while minimal excavation of bedrock, maintaining existing stormwater patterns and placing entries on-grade reduced construction costs.
The community's involvement is evident throughout the building. Local contractors and trades people participated in construction, adding jobs to the island economy and personal attention to finishing touches. The center features wood harvested from the site and local stone, giving a warm, lodge-type feel to interior spaces. Art by islanders and other Puget Sound artists adorns the walls, personally selected and curated by community members. Walking trails weave through locally selected gardens and a new orchard.
Integrated sustainability
Energy and water are genuinely limited on the island, so reducing use in the new center was a conscious decision. Sustainable design strategies integrated throughout the center benefit the environment and the bottom line. The design team followed the tenets of the Living Building Challenge as closely as possible to maximize building performance, while minimizing operational costs.
A hybrid mechanical system, combining a ground-source heat pump, forced air and radiant systems, provides heating and occasional cooling. Waste heat is captured and reused. The system is broken into controllable zones according to specific departmental needs and hours of operation. In sensitive areas such as the surgical suite, a dedicated air handler operates at full capacity only when the rooms are in use. Mahlum's energy model indicates an annual energy use below 100 kBtu/sf, a 63 percent reduction from the average hospital in the Pacific Northwest of 270 kBtu/sf.
The indoor environment is further enhanced through optimal solar orientation for passive heating and cooling. Natural ventilation and daylighting not only decrease electrical costs, but also connect patients to the healing properties of fresh air, natural light and scenic views. Operable windows are incorporated throughout, including private inpatient rooms — for the first time in decades for a healthcare facility in the U.S. Furthermore, the many windows and doors to the outside offer relief from the stresses of healthcare treatment for both patients and staff. Non-toxic and regionally sourced materials infuse the character of the island throughout the facility.
Broad medical services
Creating Peace Island Medical Center offered the rare opportunity for PeaceHealth and San Juan residents to rethink what it means to be a rural community hospital. It offers advanced diagnostics and a cancer center that eliminates medical transport costs, minimizes delays in treatment and enables family and friends to support a patient during his or her stay.
The family care clinic offers health and wellness counseling, chronic disease management support, family planning advice and preventive services. The team of specialists in the emergency room provides care 24 hours a day, seven days a week. An inpatient unit with 10 private rooms provides safe, compassionate care for patients requiring short-term observation or overnight admissions.
The ambulatory surgery suite has two operating rooms that allow a variety of minimally invasive surgeries. In addition, specialists of cardiology, oncology, dermatology, obstetrics and gynecology, midwifery, ENT, general surgery and gastroenterology schedule monthly visits.
PeaceHealth is including the hospital in its telemedicine network, which will add more "virtual" specialty consults and services such as telepsychiatry, telestroke and telehospitalist. Classes and support groups meet at the center, giving cancer patients, expecting parents and caregivers avenues to share experiences and learn from each other.
During its first three months, 43 inpatients and 29 observation patients have been treated in the hospital. The emergency department has seen 710 patients, 38 percent of whom are over age 65.
"Being able to care for our older community members and not transport them to the mainland for care is a blessing," said Beth Williams Gieger, the center's director of administrative services. "Plus, we'll be able to immediately help those who visit the San Juan Islands during the heavy summer tourist season." Charles Anderson, San Juan Island Community Foundation chair who now also serves as chair of the new hospital board, says "The hospital itself encourages wellness and strengthens people. In just a few months, it has already proven itself."
Photos by Benjamin Benschneider
Author: Erik Goodfriend, AIA, ACHA, LEED AP, leads the healthcare practice group of Mahlum Architects, Inc. He collaborates with providers and administrators to find creative solutions that redefine and reinvent healthcare delivery.
Editor's Note: Denise Fornberg, director of Plot Marketing, contributed to this article. Fornberg is a marketing and business development consultant for the architecture, engineering and construction industry in the Pacific Northwest.
Project Team: Peace Island Medical Center
Architect: Mahlum Architects, Inc.
General Contractors: Howard S. Wright/Balfour Beatty
Structural Engineer: PCS Structural Solutions
Civil Engineer: 2020 Engineering
Interior Design: Mahlum Architects
Mechanical Engineer: CDi Engineers
Electrical Engineer: Hargis Engineers
Landscape Architects: Cascade Design Collaborative/Charlie & Pamela Anderson
Posted August 5, 2013
More Articles: