Subscribe Now
Keep up with the latest news with our magazine and e-newsletter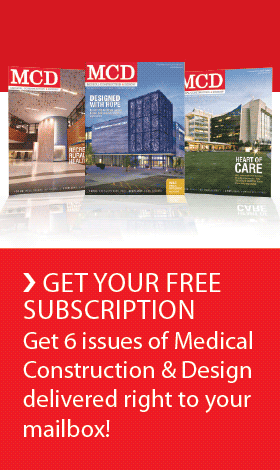 Subscribe to our E‑Newsletter
WASHINGTON, D.C. — Even with many obstacles preventing a full-scale recovery for the overall U.S. economy, the design and construction industry appears to have reasons to be at least modestly optimistic in the coming months and into next year.

A sharp spike in demand for industrial facilities so far this year, along with sustained demand for hotels and retail projects factors into what projects to be a 4.4 percent rise in spending this year for nonresidential construction projects – up from a projection of a 2.1 percent increase in the January Consensus Forecast. The American Institute of Architects semi-annual Consensus Construction Forecast, a survey of the nation's leading construction forecasters, also projects a 6.2 percent increase of spending in 2013.
"With companies looking to bring back manufacturing jobs from overseas, there has been a sharp rise in demand for industrial facilities, which is leading to an upward revision in projections for future construction spending," said AIA Chief Economist, Kermit Baker, PhD, Hon. AIA. "Continued budget shortfalls at the state and local level, along with a depressed municipal bond market are holding the institutional market back from seeing similar upticks in spending."
Market Segment Consensus Growth Forecasts
2012
2013

Overall nonresidential
4.4%
6.2%
Commercial / industrial
• Industrial
• Hotels
• Retail
• Office buildings

Institutional
• Healthcare facilities
• Education
• Amusement / recreation
• Public safety
• Religious

5.7%
12.9%
9.5%
6.2%
4.7%

0.7%
4.0%
0.3%
0.1%
0.0%
-5.0%

10.2%
8.1%
18.2%
9.0%
8.7%

3.0%
7.5%
1.1%
2.3%
0.1%
3.0%
Remarking on what risks exist that could undermine these projections, Baker added, "Federal tax and spending changes – the so-called fiscal cliff – that may come into play in early 2013 could upset the economic applecart and prove detrimental to recovery possibilities. We will likely have a better sense after the presidential election what will happen with regards to the Bush-era tax cuts, Social Security payroll tax, extended unemployment and deficit reduction plans that will have a ripple effect that will extend to the construction industry."
The AIA Consensus Construction Forecast Panel is conducted twice a year with the leading nonresidential construction forecasters in the United States including, McGraw Hill Construction, Wells Fargo Securities, IHS-Global Insight, Moody's economy.com, Reed Business Information, Associated Builders & Contractors and FMI. The purpose of the Consensus Construction Forecast Panel is to project business conditions in the construction industry over the coming 12-18 months. The Consensus Construction Forecast Panel has been conducted for 13 years. For more information, visit www.aia.org.
Posted August 3, 2012
More Articles: