Subscribe Now
Keep up with the latest news with our magazine and e-newsletter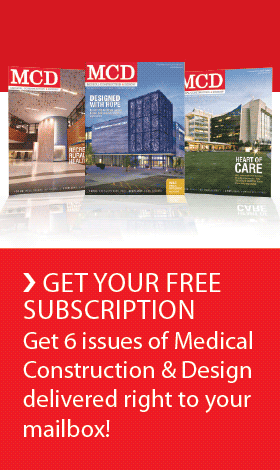 Subscribe to our E‑Newsletter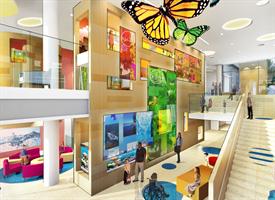 The new Golisano Children's Hospital at the University of Rochester Medical Center will be a place of healing, and a place to celebrate its patients, families, faculty and staff. Ballinger architects and hospital staff released new renderings of the future interior of the hospital that include graphic elements, décor, art and architectural features that will showcase the many beautiful landscapes of upstate New York.

Each floor will have a different theme, such as waterways, meadows, gardens and parks..A customized icon will help families remember which floor they're on and find their way back to it; the floor's theme will provide creative opportunities to engage with children in interactive ways. For example, on the Lake floor, children may push buttons to cause bubbles to rise up through tubes in a wall. On the Park floor, glass in patient rooms may be frosted with leaves that will cast shadows along the floor with a linoleum park path in it.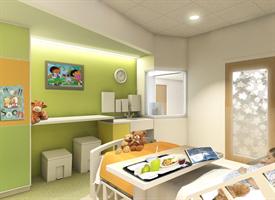 "We want very ill children to feel soothed but we want children who aren't as sick to be as engaged as possible, exploring interactive wall art and kicking leaf shadows down the path of their unit," said Elizabeth Lattimore, chief administrative officer. "We have also been careful to make the design appealing to young children while also making it interesting to teenagers and caregivers, so our older patients and their families know this is their hospital, too."
The new $145-million building, located on Crittenden Boulevard and attached to the Medical Center and Strong Memorial Hospital, will be have eight floors and approximately 245,000-square-feet of space dedicated to children and their families. The groundbreaking is planned for September with an expected opening in 2015.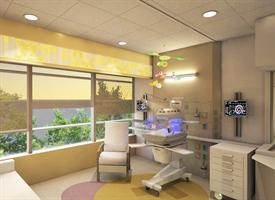 "The new building represents an enormous opportunity to design and configure the space to best serve the way we practice medicine and celebrate health in the 21st century," said Nina F. Schor, M.D., Ph.D., William H. Eilinger chair of Pediatrics and pediatrician-in-chief of Golisano Children's Hospital. "We're not only providing the space for parents to participate in the healing process; we're also giving them the tools they will need to keep their children healthy once they leave the hospital. We're not only providing the equipment our staff needs to do their jobs; we're also giving them an environment that will welcome them each morning and remind them of what an important part of the Upstate landscape they and the healthy habits they foster are."
Floor themes:
Ground Floor (Imaging) – Lake
1st floor (Lobby) – All New York landscapes
3rd floor (NICU) – Meadow
4th floor (future OR) – TBD
6th floor (future PICU) – Gardens
7th floor (General Care) – Park
8th floor (General Care) – City
Themes for other floors, including potential floors above 8, may celebrate the state's mountains and gorges.
Posted August 24, 2012
More Articles: