Subscribe Now
Keep up with the latest news with our magazine and e-newsletter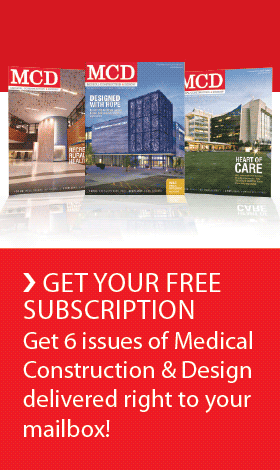 Subscribe to our E‑Newsletter
PHILADELPHIA, Pa. –EwingCole has won three awards from the Delaware Valley Association of Structural Engineers. The projects honored by DVASE are the Outpatient Cancer Center at Pocono Medical Center in East Stroudsburg, Pa.; the New Headquarters for the United Therapeutics Corporation in Silver Spring, Md.  and the Pedestrian Connector for the United Therapeutics Corporation.

"EwingCole's engineers are focused on delivering collaborative solutions that are sustainable, cost-effective and address the long term needs of a building," said Mark Hebden, EwingCole's president. "We are honored that our creative solutions to these structural challenges have been recognized by our peers."
The winning projects were announced during the recent Excellence in Structural Engineering design awards program held at the Top of the Tower at 3 Logan Square, Pa.
The Dale and Frances Hughes Cancer Center of Pocono Medical Center won the "2012 Outstanding Project Award." Completed this past spring, the 65,000-square-foot cancer center consists of composite slab on metal deck construction with a lateral system composed of ordinary steel concentrically braced frames. Drilled piers make up the structure's foundation. The building was designed for future expansion up to six additional stories. A skywalk footbridge of steel trusses connects the Cancer Center to the main hospital.
United Therapeutics' New Headquarters project won an "Award of Merit." This eight-story office tower with two below-grade parking levels beneath an elliptical auditorium structure presented structural challenges. Support of the auditorium shape, the limited floor heights below the auditorium and the limited locations of columns due to parking clearances required many 6'-0"x3'-0" transfer beams to carry both the vertical and lateral load of the structure.
United Therapeutics' Pedestrian Connector project also won a "2012 Outstanding Project Award." The Connector spans 90 feet between buildings, allowing employees to traverse the street at the 6th floor level. The full cross section of the connector is a truss, comprised of exposed 7-inch high-strength-steel rings that follow the extended circular cross section of the connector and are spaced at 9-foot centers. The rings are composed of two half circular sections (top and bottom) with a 10-foot radius separated by straight sections of varying length that match the slope of the floor slab.
Formed in 1991, the Delaware Valley Association of Structural Engineers consists of firms and individual engineers who are committed to improving the quality of engineering services and promoting the profession of structural engineer throughout the Southeastern Pennsylvania region.
Posted July 5, 2012
More Articles: