Subscribe Now
Keep up with the latest news with our magazine and e-newsletter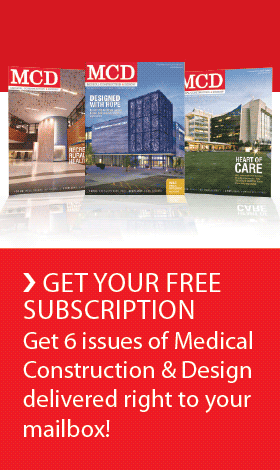 Subscribe to our E‑Newsletter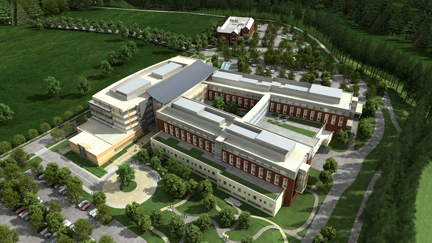 ISSAQUAH, WASH.– Swedish Medical Center recently unveiled the final draft site plan and schematic design for its long-planned Issaquah Campus. The documents have been submitted to the City of Issaquah for review, exterior renderings of the buildings are now available, and a ceremonial groundbreaking featuring Washington state Governor Chris Gregoire as well as Issaquah Mayor Ava Frisinger took place on Monday, Oct. 12.
A new medical campus will be constructed on the 12.5-acre parcel on N.E. Blakely, just off I-90 at Exit 18. Plans call for a comprehensive ambulatory care center, five-story medical office building and acute-care community hospital.

Site preparation work began in mid-August and foundation excavation is slated to start in late January 2010, with the ambulatory care center and medical office building targeted to open in summer 2011, and the first phase of the hospital following at the end of first quarter 2012. The site and surrounding area were pre-developed by Port Blakely Communities and an expedited process for permitting is in place.
"In the past, Eastside patients often had to travel to multiple locations on congested roadways for needed care," said Kevin Brown, senior vice president and chief administrative officer, Issaquah Campus. "We've designed this as a one-stop, integrated 'health-care commons' with a strong emphasis on ambulatory services, backed up by an acute-care hospital. The facility will be both high-tech and high-touch, building on the success we've had at our existing freestanding emergency department and ambulatory care center in Issaquah."
In a 'virtual multi-specialty clinic' concept, spaces will be organized around specialty programs with physicians from different organizations working side by side and using common support systems (i.e., patient registration, medical records, billing, etc.) and support staff. Patients will also have bedside access to the latest wireless communication and entertainment systems, plus consumer health education and training.
"Too often, getting health care is complicated, confusing and time consuming," said Chuck Salmon, executive director for Issaquah operations and development. "We will present a far different experience by bringing services to the patient and minimizing waiting times everywhere – in the emergency department, as well as for admission, discharge and other processes."
From the outset the new campus will provide a broad range of outpatient and inpatient care, including obstetrics, pediatrics, and a wide spectrum of medical and surgical specialties. The master site plan also allows for future growth as the needs of the community evolve over the next 100 years.
"No one knows what health care is going to look like 50, 20 or even 10 years from now, so flexibility is our mantra," said Brown. "With a majority of our care today provided on an outpatient basis, we've designed the campus with an emphasis on ambulatory care, backed by a full service community hospital. In addition, our campus plan has been designed to allow us to adapt and grow in a cost-effective manner as health care evolves."
The East King County communities of Sammamish, Snoqualmie, Redmond, North Bend, Fall City and others are experiencing tremendous growth. At the same time, trends in health care suggest the need for primary care and new care models will expand. Swedish plans to double its primary-care practices in east King County over the next five years, including new models for care such as the medical home. In addition to providing a primary-care clinic in the new medical office building, Swedish will maintain and expand its existing clinics in Issaquah, Factoria, Pine Lake as well as Redmond and has plans to open a clinic in Snoqualmie in early January 2010. Swedish will also continue operating its freestanding emergency department and ambulatory care center at 2005 N.W. Sammamish Road in Issaquah, as well as its Cancer Clinic and Pediatric Specialty Clinic in Bellevue.
Swedish/Issaquah is the largest and most complex health-care facility under development in Washington state. When fully operational in 2012, Swedish will create 600 to 750 new jobs for people working in the ambulatory care clinics and hospital settings. Swedish officials also estimate the project will spur 250 to 300 construction-related jobs as well as 1,000 to 1,500 other non-hospital jobs at area businesses (i.e., retail, housing, city permitting, other contracted services, etc.).
Medical Office Building
The first-phase opening in July 2011 will include a women's health center, a Swedish Physicians (primary care) clinic, offices for numerous medical and surgical specialists, emergency care, outpatient imaging, laboratory and pharmacy services, an education/conference facility, retail shops and cancer center. The Swedish Cancer Institute facility will feature radiation and medical oncology services, as well as advanced PET/CT imaging systems. In addition, intravenous infusion therapy (chemotherapy) and a linear accelerator (external beam radiation delivery device) will occupy the base level of the building so Eastside oncology patients can receive care close to home.
Focus on Community
Swedish has worked diligently to weave the planned campus into the fabric of Issaquah and has relied on community input for the project since filing its certificate of need application with the Department of Health in 2005. Swedish continues to gain input on the project through a Community Advisory Council, comprised of Issaquah and Sammamish citizens and chaired by retired superintendent of Issaquah Public Schools Janet Barry.
"We are grateful for the guidance our community advisory group has provided. As an integral part of the community, the Issaquah Campus will not only be a great place to receive medical care but will serve as a hub for community activities and health education," said Salmon.
Now that design plans are more concrete, Swedish officials have plans to showcase them to surrounding communities. A standing-room-only crowd attended a public information session held Sept. 29 at Issaquah City Hall South. Swedish is hosting slots games a second of these 90-minute Q&A sessions for the public on Monday, Oct. 19 from 5:30-7 p.m. at Sammamish City Hall (801-228th Ave SE, Sammamish).
Advanced Information Technology
All physicians who practice at the Issaquah Campus will have access to Epic, real online casino Swedish's secure electronic medical records system, so vital information can be conveyed easily among a patient's authorized caregivers. The system provides a common platform for clinicians to share medical documentation, test results, prescriptions and more. It will be used in both outpatient and inpatient settings so information can be easily accessed at any Swedish facility where a patient is treated.
Patients may soon be able to schedule multiple appointments with just one phone call. And Swedish plans to improve a frustrating fact of life that tops many patients' health-care wish list – simplifying the billing associated with a hospital stay, physician appointments, therapy treatments and related services.
"The Issaquah Campus will be all about simplifying processes and expanding convenient access to care," said Susan Gillespie, Swedish project manager. "The goal is to build a unified medical community linked tightly through modern systems and technology."
Design and Construction
For design work on the project Swedish selected Seattle-based CollinsWoerman to provide architectural services and develop the campus master plan. Sellen Construction Co. is the general contractor.
CollinsWoerman introduced Swedish to an integrated design approach where the building owners, architects and contractors co-located and designed the entire project together. Sellen has a long history with Swedish, most recently having constructed the 372,000-square-foot Swedish Orthopedic Institute on the First Hill Campus completed in June 2008.
The new Issaquah Campus is being programmed to be the most energy efficient health-care complex in Washington state and one of the most energy efficient in the country.
Swedish/Issaquah will reflect a true healing environment, with emphasis on natural light into patient rooms and staff work areas, and a quiet connection to the outside world. It is designed with links to and design elements from the outdoors – territorial views, courtyards, as well as wood and rock finish materials. The overall impression will be warm, comforting and non-clinical.
The entire campus will feature a highly intuitive layout with rational transportation and circulation plan. Visitors will not have to think too much about how to get from one area to another because routing will be clear and sensible. Signage will be unobtrusive but clear enough to assure easy way-finding.
Since Swedish has a long history of incorporating art into the healing process at its facilities, officials also have plans to commission numerous East King County-area artists to create works for public spaces at the new medical office building and hospital.
About 700 stalls of free ground-level parking will be available at the campus, and the medical office building will be supported by one level of underground parking for about 160 vehicles.

Key People
* Kevin Brown, senior vice president and chief administrative officer, Swedish/Issaquah Campus
* Chuck Salmon, executive director for Swedish/Issaquah operations and development
* John Milne, M.D., medical director for strategic development and ER physician at Swedish/Issaquah
* Albert B. Einstein Jr., M.D., executive director, Swedish Cancer Institute
* Susan Gillespie, Swedish/Issaquah project manager
* Architects: CollinsWoerman; Phil Giuntoli, principal who heads their health-care practice
* General contractor: Sellen Construction Co.; Bob McCleskey, CEO
* Development partner: Hammes Company; Eric Oliner, Principal
For More Information
For the latest information about plans for the new hospital and MOB, including exterior renderings and construction site photos, visit www.swedishissaquah.org. This Web site now includes aerial- and ground-level animation showing what Swedish Medical Center/Issaquah will look like once completed, which is also posted on YouTube.
About Swedish
Swedish is the largest, most comprehensive nonprofit health provider in the Greater Seattle area. It is comprised of three hospital campuses – First Hill, Cherry Hill and Ballard – a freestanding emergency department and ambulatory care center in Issaquah (near the entrance to Lake Sammamish State Park), Swedish Visiting Nurse Services, and the Swedish Physician Division – a network of more than 40 primary-care and specialty clinics, including five in east King County (Issaquah, Pine Lake, Factoria, Redmond and Crossroads). In addition to general medical and surgical care, Swedish is known as a regional referral center, providing specialized treatment in areas such as cardiovascular care, cancer care, neuroscience, orthopedics, high-risk obstetrics, pediatrics, organ transplantation and clinical research. For more information, visit www.swedish.org
Posted October 13, 2009
More Articles: